West Notebook: Stars Will Impact Bubble, Conference Tourneys
Notebook
What's Included:
• Freshman has become Saint Mary's ace
• UC Santa Barbara wants outright title
• ASU goes as Hunter Bishop goes
• David Esquer on Stanford's resume
• Bulldogs don't think they're bubble-worthy
• Fresno State seniors looking for regional
• Grand Canyon's Kade Mechals
• Andre Granillo improving stats in big way
---
Best after adversity
Tyler Thornton had a scoreless streak of 23.1 innings. (Shotgun Spratling)
Saint Mary's will open the West Coast Conference tournament in Stockton, Calif. today as the No. 3 seed. The Gaels have been arguably the conference's hottest team, winning their final five series to march their way into the conference tournament. They've done it relying on the arms of Tyler Thornton, Ken Waldichuk and Carlos Lomeli.
While Waldichuk and Lomeli's names are familiar, it has been the freshman Thornton that has taken the team to another level. He got moved to the front of the rotation during the short Easter week after getting a quick hook in a start against San Francisco where he didn't record an out.
"After that outing, I just felt looser," Thornton said. "I already had a bad outing, I don't need to make everything perfect. Ever since then, I've just been looser, making better pitches and things have been working out."
Thornton was dominant in the subsequent start against Loyola Marymount, striking out 12 and giving up two hits in eight innings. The performance earned Thornton the first of two WCC Pitcher of the Week honor in a three-week span.
It was part of a scoreless streak that would extend over the next two starts. It concluded at 23.1 innings after a solo home run by Santa Clara's Jake MacNichols. Thornton was upset he gave up the home run. He knew it was gone as soon as MacNichols hit it and had a few choice words for himself on the mound.
"He's very emotional on the mound," Saint Mary's head coach Eric Valenzuela said. "He doesn't like to give up hits. I mean he's a super competitor and that's what I love about him."
Santa Clara forced Thornton and the Gaels to make an adjustment. Saint Mary's went in with the mindset to continue doing what had been doing the first three starts.
"His fastball has been key probably the last month," Valenzuela said. "I mean, god man, it jumps on guys. He's able to move it around. He's able to change speeds on it. He'll throw a fastball 86, then he'll throw the next one 94. For a freshman to be able to do what he's done, especially pitch on Fridays in our conference against good teams, it's really, really good to see.
But the Broncos were keying on Thornton's fastball and squaring it up. The freshman had to make an adjustment. He started throwing his slider more and more.
"I think he grew as a pitcher," Valenzuela said. "Those guys forced him to throw his offspeed in all counts. As soon as we felt like they're on the fastball — you're not getting those swings and misses like you normally do — then we had to go to the breaking ball, which he hasn't had to do, and he did, so I'm really excited. For a freshman to do that, is good to see."
Thornton was roughed up for six runs on eight hits in 5.1 innings last weekend against Pepperdine, but that should probably scare WCC tournament opening opponent Gonzaga because Thornton has been at his best following his adversities (start at San Francisco, early home run against Santa Clara) the last month.
---
UCSB wants full bragging rights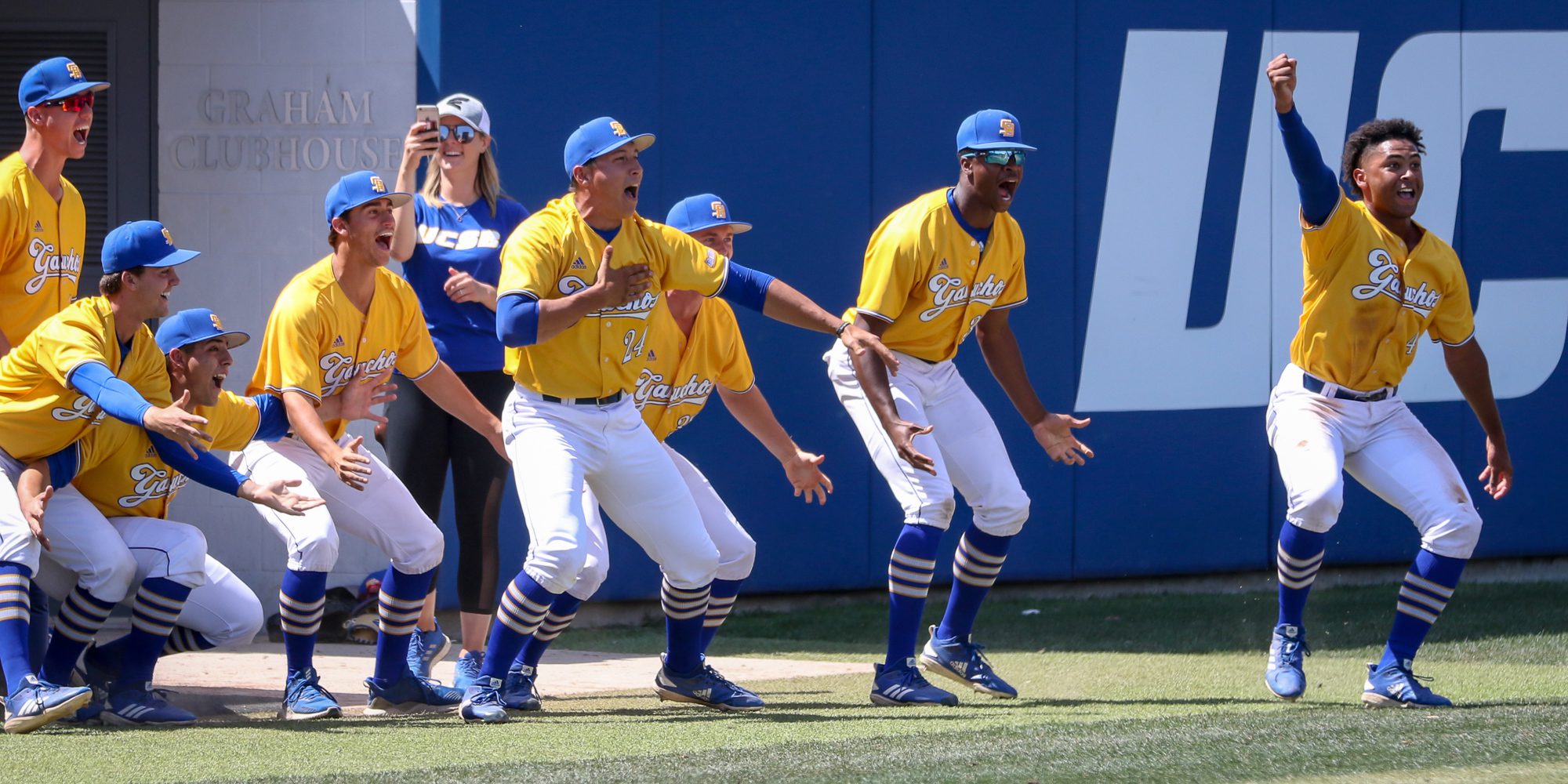 (Shotgun Spratling)
Down to their final out on Sunday, UC Santa Barbara rallied for what head coach Andrew Checketts called a "gritty, gutty win" at Hawai'i that earned the Gauchos a share of their first Big West title since 1986.
"We've been chasing it all year. We've been chasing it for the last seven and a half years since we got there," Checketts said. "Been talking about it a lot, so to get to that point where we share it… We can call ourselves Big West champs right now. We'd like it to not be Co-."
The Blue-Green Rivalry against Cal Poly takes on new intensity this weekend as the Mustangs need to sweep UC Santa Barbara in order to earn a share of the Big West title and the conference's automatic bid. Otherwise, Larry Lee's club will be left home as they enter the weekend with a losing record and an RPI of 150.
The Gauchos would like nothing more to earn the outright title against the Mustangs.
"Winning over Cal Poly, who has swept us the last three years, would be something special," senior catcher Thomas Rowan said. "It's a big deal. We went to the World Series a couple years ago, but we didn't win a Big West title. That's something that I've always wanted to get, I've always wanted to rub in the face of the Clay Fishers, Shane Bieber, the JJ Munos that I'm really close friends with that never got that chance."
Sunday's win over Hawai'i moved UC Santa Barbara to 44-7, breaking the school record for most wins against Division I opponents, set in 2016 when the Gauchos racked up postseason wins on their journey to the College World Series. The 1986 UCSB team that last won the Big West tile won 46 games total — another record that could be broken this weekend.
---
The Bishop leads the way
Hunter Bishop has helped turn Arizona State into a regional-caliber club. (Shotgun Spratling)
Hunter Bishop has been the game changer for the Sun Devils this season, having put up All-American caliber numbers (.362, 22, 61). The Devils were 23-32 in 2018 when he slumped to a .250, 5, 26 sophomore season following a .301, 5, 26 freshman campaign.
He's forced teams to pitch more to Spencer Torkelson (.359, 21, 60). Whereas a guy like Oregon State's Adley Rutschman has been walked 69 times without significant protection in the lineup (Alex McGarry is the only other hitter in the lineup with more than four home runs), teams are forced to pitch to Torkelson more knowing that the hitters behind him can do damage as well. And Bishop is the one that can do the most damage with 40 extra-base hits and 56 RBIs, which is second-most in the Pac-12.
Bishop credits his work with hitting coach Michael Earley to stabilize his swing and his approach. Bishop has become more comfortable in the box and the results have followed.
"When he uses the whole field, he's deadly," associate head coach Ben Greenspan said. "When he uses the whole field, he's really, really tough to pitch to because the hands can get to anything middle in and if he covers the whole plate, there's just not a lot of holes."
Bishop has slowed down the load of his swing and is sinking into his back leg earlier to help create better timing at the plate and a more in sync approach. It has helped Bishop stay on his back side more, which has in turn helped his plate discipline. He's chasing pitches out of the zone more infrequently and is able to gear up to unleash his power more.
A big key for Bishop has been consistency of approach. He has stopped tinkering with his swing and his batting stance every couple of games when things weren't going well.
"Last year, I would have a few bad games and I kind of let that spiral out of control," Bishop said. "It's a long season and I've definitely realized that you're not going to hit a home run every game and you're not going to go 4 for 4 every game so just kind of trying to keep my mindset as consistent as possible and just keep rocking."
But as Hunter Bishop goes, so goes Arizona State.
When Hunter Bishop is rolling, so are the Sun Devils. (Shotgun Spratling)
The Sun Devils began the season 25-1 with Bishop clobbering the ball all over the yard, but have been just 11-14 in the second half of the season. Their second-half struggles have coincided with a Bishop power drought.
He hit only two home runs over a sub-.500, 19-game stretch from March 31 to May 4 that concluded with an 18-3 thumping at the hands of No. 1 UCLA. Bishop hit homers in each of the next three games and suddenly Arizona State was back to its winning ways. That has not been the case the last four games as Bishop has had only three hits and one RBI while the Sun Devils have gone 1-3.
While Bishop's power numbers are a good indicator of Arizona State's success, there is an even more dramatic determiner. The Sun Devils are nearly unbeatable when Bishop contributes multiple runs — scoring or driving in two or more runs. They have a .929 winning percentage when Bishop is able to accomplish the feat, winning 26 of 28.
When Bishop doesn't contribute multiple runs, Arizona State has gone 10-13. It has gone as Bishop goes even more the last month, going 1-8 in the last nine games that he has not had multiple runs/RBIs.
Bishop being on "completely changes" the Sun Devils lineup, Greenspan said. "I mean if you look at our season, we won all those games early, he was on fire. He cooled off and we've been almost a .500 ball club."
The Sun Devils are on the right side of the bubble heading into the final weekend of the Pac-12 regular season, but a strong showing in a home series against No. 4 Stanford could help catapult Arizona State into the postseason with some momentum. And it's been proven over and over this season that the Devils need Bishop playing well for that to happen.
---
Esquer fine with Stanford resume
Andrew Daschbach hit four homers in a game last week. (Shotgun Spratling)
This weekend's series in the desert will also be an opportunity for Stanford to add to their resume heading into Selection Sunday and Monday. Is the Cardinal worthy of a top eight national seed with a schedule that only features five games (2-3) against top 25 RPI teams and a top 50 record of 7-5?
The Stanford schedule featured traditional powers Cal State Fullerton and Texas once again and an opening weekend tournament filled with mid-major programs that are typically very good. The only other non-conference weekend they played UNLV and likely top 10 pick Bryson Stott. So head coach David Esquer isn't really sure what else you want him to do.
"We can't control [the top 25, top 50 games]. We play the schedule that we play," Esquer said. "Texas and Fullertons aren't having the years. If they have their typical year, I don't think we're having that conversation. I don't think we can be faulted. We're not ducking the strongest opponents out there. I thought we went to Arizona, played a tournament at the start of the year. I thought all four of the teams we played were regional type teams — Ball State, Wichita State, Grand Canyon and Pepperdine.
"It's hard when you schedule. You just don't know what kind of years people are going to have. Last year when we played Rice, Texas, Fullerton and Michigan, I think we had the No. 2 RPI for the whole year because they played well and we won games. It hasn't worked out that way for us and I know a lot of people are questioning the validity of where we stand in the rankings based on our opponents, to be quite honest, and not based on our record. We just win the games that we play, but they question based on our opponents. I don't think we can control that.
"We're just going to win as many games as we can and let the chips fall where they may. That's why we're trying to make sure we're really good on the road, in case they ship us out somewhere."
---
Fresno State not happy with being on bubble
Fresno State second baseman Nolan Dempsey charges a grounder. (Shotgun Spratling)
Fresno State wrapped up the Mountain West regular season title last weekend in emphatic fashion. The Bulldogs stomped UNLV in a series sweep by the combined score of 34-9. No game was closer than seven runs.
The Bulldogs enter today's Mountain West tournament as one of the hottest teams in the country, having only lost three of their last 24. They have boosted their RPI up to No. 37. We think they will receive an at-large regional bid should they falter in Reno, Nev. this weekend (where they open against host Nevada), but they aren't a lock for a spot.
That really grinds the gears of head coach Mike Batesole.
"You know what you should do? Talk to the selection committee," Batesole said when asked about the importance of reaching a regional this year. "I'm tired of winning our league and not going. The last three years the winner of our league hasn't gone to a regional and it's happened to us twice that we've won the league and didn't go to a regional. That's some crap.
"They've been taking the ninth-place team from the SEC for crapsake. You're trying to tell me in '16 and '12 we wouldn't have been the ninth-place team in the SEC. That's crap."
In 2016, Fresno State was 36-20 heading into the Mountain West tournament, but went two-and-Q and did not receive an at-large bid. It was the best opportunity the program has had in recent years.
Fresno State has not made the postseason since 2012, marking the longest drought of Batesole's career and the program's longest since ending a 10-year dry spell in 1977. The Bulldogs had been a NCAA tournament mainstay from that point until this most recent drought, advancing to the postseason 26 times in 35 years.
"It'd mean everything to us," fifth-year senior McCarthy Tatum said of making a regional. "That's our goal from Day 1 in August. We're almost there, so have to keep on going."
---
Bulldogs trying to end drought
McCarthy Tatum leads the Mountain West with 65 RBIs. (Shotgun Spratling)
Tatum has been the lynchpin for a five-man senior class that has propelled the Bulldogs' offense. As we detailed last month, Tatum has gone from a .220 hitter with one home run and 14 RBIs in four injury-filled years with the Fresno State program to the center piece of their lineup.
Tatum has 11 home runs and leads the Mountain West with 65 RBIs while hitting .356. Tatum has driven in at least one run in 40 of the 50 games he's played this season, including 22 of the last 25.
"This season has been amazing," Tatum said. "We have a good environment and good team chemistry and we refuse to lose. It's nice coming out here every day knowing who are going to work for you and work for each other and win games."
The player scoring most often on Tatum's drives is another senior, center fielder Zach Ashford. The Fresno State leadoff hitter is slashing .371/.482/.522. Ashford has scored a team-high 57 runs, which is second in the Mountain West behind UNLV's Bryson Stott.
Hitting behind Tatum is senior second baseman Nolan Dempsey (.340, 7, 54), who may be the hottest Bulldog entering the Mountain West tournament. He has had multiple hits in seven of the last 10 games and scored 14 runs. He's hit three of his seven home runs, four doubles and two triples in the last 10 games. Dempsey has driven in 18 runs over the span.
He's made a dynamic middle infield duo this season with third-year sophomore JT Arruda (.358, 8, 43), but Dempsey has also played third base and the outfield previously for the Bulldogs. Batesole thinks that versatility will make him a coveted prospect.
"That's kind of the new thing," Batesole said. "You see that in the big leagues a lot where they are paying the bigger guys the big bucks and then having somebody to give them a day off at the different spots. That's basically how we used him last year to give guys a rest and this year he's held it down and second base has been his."
Arruda said the rest of the team wants to send the seniors out with a postseason appearance after how much the group has grinded through, but said the senior group is fighting just as hard to try to give the freshman on the team a postseason experience.
"These guys they've earned it," Batesole said. "They've put themselves in a position where they can finish this off and earn that. That's always special."
---
Trip to Cape helped Kade Mechals
Kade Mechals hasn't lost in two months. (Shotgun Spratling)
The Cape Cod League is the ultimate summer proving grounds. Big-name players come and try to prove what they can do against others in the all-star wood bat league. But other players, particularly those from smaller schools, come to make a name for themselves and show that they have real talent rather than conference-inflated production against lesser teams.
Righthander Kade Mechals fell into the latter category. He was coming off a year where he struck out 77 batters and allowed only 17 hits in 47 innings while posting a 1.72 ERA in eight starts for Skagit Valley College in Washington. Committed to Grand Canyon, Mechals went to the Cape to prove his abilities before taking on the WAC.
Mechals held his own with the Orleans Firebirds. He started four games and held hitters to a .186 average. He finished 1-0, 3.85 with 19 strikeouts in 18.2 innings.
He's carried that success into the spring. Mechals has gone 10-1, 2.31 ERA, producing a quality start in 10 of his 14 starts for the Antelopes. He has failed to notch a quality start in two recent outings, but only because he hasn't met the distance requirement. He went five innings against Cal State Bakersfield, cruising to a double-digit win total in a run-rule shortened 12-2 victory over the Roadrunners. He followed that with one earned run (three runs) given up in 5.2 innings in a win over Northern Colorado.
He'll be tasked with shutting down UT Rio Grande Valley's offense this afternoon when Grand Canyon tries to advance in the WAC tournament. For Mechals, it's a shot at redemption after he had arguably his worst outing of the year against the Vaqueros  on April 13. He allowed five runs on seven hits, including two home runs, in six innings. He took a no decision.
Mechals showed when we saw him against Bakersfield what has made him the most indispensable pitcher on the Grand Canyon staff in his first year wearing the purple and black. He struggled to work ahead in the count early in his outing. A walk and single put runners on the corners in the first inning, but Mechals pitched around the jam with a popup and strikeout despite falling behind both hitters. He didn't escape unscathed in the second inning. Damian Henderson hit a two-run home run on a 3-1 pitch to put Bakersfield ahead early. That's when Mechals bared down.
"He gave up the home run and it was like 'Okay, okay. Not a big deal. Let's just keep working,'" Grand Canyon head coach Andy Stankiewicz said. "Then he just turned the corner and just became even more of a bulldog after that point. That's typical of what you get out of him. It's just he gets punched, but he's not going down. He just keeps on fighting."
Mechals had to deal with multiple runners in four of his five innings. He allowed six hits in five innings — just the third time he has allowed more hits than innings pitched in a start this season. Mechals struck out five with four coming with runners on base.
He doesn't overpower hitters. His fastball was a tick over the 90-mph mark early in the season but has settled in around 88-90. However, he can throw his fastball wherever he wants and he can devastate hitters with a changeup that has some armside fade when he stays on top of the baseball.
"He can really spot up his fastball. And he's not afraid to work his fastball in. He can elevate when he wants to and he can sink it when he wants to and then he's got a good changeup," Stankiewicz said. "He's just consistent. He's a really competitive young guy. He's a bulldog on the mound. He wants the ball. He's aggressive.
"He's got 10 wins. That's pretty dog gone good from a little 5-foot-10 righthanded pitcher, so we'll take it."
---
Andre Granillo is UCR closer of future
Andre Granillo has lowered his ERA by 14 runs. (Shotgun Spratling)
Eyes will be on UC Irvine's series at UC Riverside this weekend as the Anteaters can't afford a slip up to a Riverside team that is 19-34. Brandon Lewis, Andre Pallante, Trenton Denholm and company have to perform, but there's a player to watch on the other side as well.
Not much has gone right for the Highlanders' pitching this year. Injuries to expected starters, such as ace Cole Percival, left roles up in the air as Abbott Haffar (4-2, 3.63) became the only pitcher head coach Troy Percival could trust to provide a consistent performance.
But over the last six weeks, the staff has discovered they have their closer of the future in big righthander Andre Granillo. The 6-foot-4 freshman had thrown 10.2 scoreless innings over eight appearances, striking out 14 while only allowing five hits over the period before allowing a run in a tie game against Cal State Fullerton two weeks ago.
It's been a dramatic turnaround for Granillo. His ERA was 22.30 after his first five appearances when he allowed 19 earned runs. He didn't pitch for 17 days. Percival began tinkering with a new pitch for Granillo.
"He's a freshman, so we had to go through that time of the nerves and all that," Percival said, "but he has a big curveball and it's so big that it's hard to get umpires to call it for a strike, so I taught him how to throw that slider/cutter. He just immediately took to it and threw strikes with it. Not only that, he throws 90-92, so we got him in the strike zone. We made some mechanical changes. From that time, he's been really good."
Granillo collected his first scoreless outing with a clean inning against UNLV on March 26. He allowed a two-run home run in three innings against CSUN on April 5, but he struck out six. In the month after that, he allowed only a solo home run in 11 outings. He slowly lowered his ERA down to a less obscene number (now at 7.80) and has taken over the closer's role at the backend of games for the Highlanders.
"Being that I did that for so many years, what I look for are guys that can control their breathing. You look in their eyes, they're not intimidated," Percival said about the closer spot. "He's not scared by any situation. I brought him in bases loaded, one out [against UNLV during a midweek on April 30] and I knew he wasn't going to get beat due to fear and that's half the battle when you come in those situations and you have to close. He fits the mold. He's got the stuff. We just needed him to have some time to mature and he's done that."
Against UNLV, Granillo was brought in to hold an 8-7 lead against the heart of the Rebels' lineup. He got ahead of Edarian Williams and got him to fly out, which turned into a double play when Bryson Stott was called out at the plate trying to tag up. With a bigger cushion in the ninth inning, Granillo let two runners reach with two outs, but struck out Trevor Rosenberg to end the game and collect the third save of his young career.
He picked up his fourth save on Monday when UC Riverside beat Oregon, 3-1. Granillo struck out Evan Williams to end the game, stranding the tying runs on base.
Join the Discussion