| | | | | | | | | | | | | | | | | | | | |
| --- | --- | --- | --- | --- | --- | --- | --- | --- | --- | --- | --- | --- | --- | --- | --- | --- | --- | --- | --- |
| Year | Team | POS | AVG | OBP | SLG | OPS | GP | AB | R | H | 2B | 3b | HR | RBI | HP | BB | SO | SB | CS |
| 2020 | | | .243 | .317 | .243 | .560 | 12 | 37 | 6 | 9 | 0 | 0 | 0 | 2 | 1 | 3 | 6 | 1 | 1 |
| 2021 | | | .167 | .231 | .208 | .439 | 17 | 24 | 0 | 4 | 1 | 0 | 0 | 3 | 1 | 1 | 8 | 0 | 0 |
| 2022 | UL-L | C | .303 | .347 | .468 | .815 | 59 | 201 | 28 | 61 | 12 | 0 | 7 | 35 | 7 | 9 | 39 | 3 | 5 |
Player Wire
Fall Report: Louisiana
Louisiana finally has a team with the hallmarks coach Matt Deggs is looking for. Here's what could be in store for UL in 2022.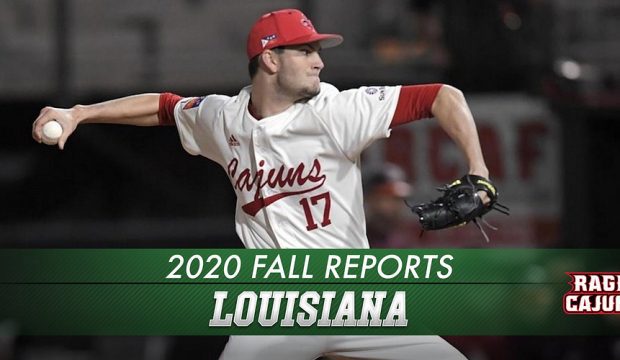 Fall Report: Louisiana
Matt Deggs' inaugural season at Louisiana will get a redo with hard-throwing righthander Conor Angel and others leading the charge.
Fall Report: Louisiana
As the Matt Deggs era begins in Lafayette, the Ragin' Cajuns hope to make some noise in the Sun Belt. Hayden Cantrelle anchors a new-look lineup, and the pitching staff has a nice core of arms to build around.