| | | | | | | | | | | | | | | | | | | |
| --- | --- | --- | --- | --- | --- | --- | --- | --- | --- | --- | --- | --- | --- | --- | --- | --- | --- | --- |
| Year | Team | W | L | ERA | APP | GS | CG | SHO | SV | IP | H | R | ER | BB | SO | WP | HP | OBA |
| 2017 | | 4 | 6 | 4.89 | 13 | 8 | 0 | 0 | 0 | 53.1 | 66 | 36 | 29 | 21 | 28 | 0 | 0 | .315 |
| 2018 | | 5 | 2 | 3.82 | 15 | 13 | 0 | 0 | 0 | 77.2 | 77 | 36 | 33 | 25 | 73 | 0 | 0 | .270 |
| 2019 | | 2 | 3 | 4.62 | 8 | 8 | 0 | 0 | 0 | 39.0 | 43 | 27 | 20 | 20 | 28 | 0 | 0 | .290 |
| 2021 | BRY | 4 | 2 | 3.49 | 12 | 11 | 1 | 1 | 0 | 59.1 | 70 | 31 | 23 | 19 | 57 | 3 | 4 | .286 |
Player Wire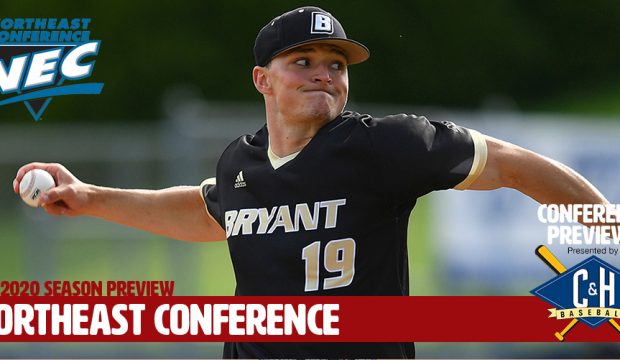 2020 Northeast Conference Preview: Bryant Aims To Take Charge
Central Connecticut State looks to make it back-to-back NCAA trips, but Bryant's Tyler Mattison and others might have something else in mind.
Bashin' Bryant Homes In On Postseason Run
Ryan Ward helps lead a high-powered offense for Bryant, which is the class of the NEC as usual. The Bulldogs have bounced back strong from an injury-hampered 2018 campaign, and they look poised to make some noise in June.
2018 Conference Previews: NEC
Reigning Northeast Conference pitcher of the year Steve Theetge should help Bryant remain the team to beat in the NEC.