| | | | | | | | | | | | | | | | | | | | |
| --- | --- | --- | --- | --- | --- | --- | --- | --- | --- | --- | --- | --- | --- | --- | --- | --- | --- | --- | --- |
| Year | Team | POS | AVG | OBP | SLG | OPS | GP | AB | R | H | 2B | 3b | HR | RBI | HP | BB | SO | SB | CS |
| 2018 | | | .287 | .382 | .438 | .820 | 52 | 178 | 37 | 51 | 7 | 1 | 6 | 25 | 8 | 20 | 37 | 1 | 0 |
| 2019 | | | .327 | .423 | .473 | .896 | 58 | 226 | 47 | 74 | 20 | 2 | 3 | 40 | 9 | 32 | 38 | 7 | 3 |
| 2020 | UTSA | OF | .365 | .449 | .508 | .957 | 17 | 63 | 14 | 23 | 6 | 0 | 1 | 10 | 3 | 9 | 13 | 10 | 1 |
Player Wire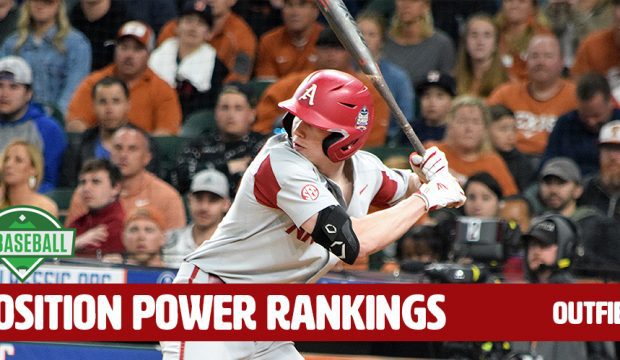 Final 2020 Power Rankings: Outfield
Arkansas slugger Heston Kjerstad edged fellow first-team All-American Austin Martin of Vanderbilt for the No. 1 spot on our list of college baseball's top 100 outfielders. Find out who else made the cut.
2018 Conference Previews: C-USA
Matt Wallner and Southern Miss lead the way for Conference USA, but Rice and others are close behind. We take an in-depth look at C-USA.