| | | | | | | | | | | | | | | | | | | | |
| --- | --- | --- | --- | --- | --- | --- | --- | --- | --- | --- | --- | --- | --- | --- | --- | --- | --- | --- | --- |
| Year | Team | POS | AVG | OBP | SLG | OPS | GP | AB | R | H | 2B | 3b | HR | RBI | HP | BB | SO | SB | CS |
| 2018 | | | .080 | .207 | .080 | .287 | 14 | 25 | 2 | 2 | 0 | 0 | 0 | 1 | 2 | 2 | 9 | 0 | 0 |
| 2019 | | | .223 | .337 | .412 | .749 | 45 | 148 | 28 | 33 | 9 | 2 | 5 | 21 | 7 | 19 | 28 | 6 | 1 |
| 2020 | MD | OF | .333 | .413 | .500 | .913 | 15 | 66 | 18 | 22 | 8 | 0 | 1 | 7 | 3 | 6 | 10 | 6 | 1 |
Player Wire
Duke's Jarvis Leads 2020 All-Fitt Team
The spring of 2020 didn't go down the way anybody expected, but Aaron Fitt still saw enough baseball to put together his annual list of favorite players to cover. We turn the page on the 2020 season by unveiling the All-Fitt Team.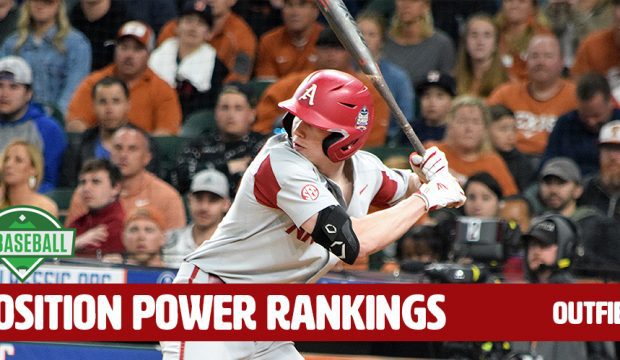 Final 2020 Power Rankings: Outfield
Arkansas slugger Heston Kjerstad edged fellow first-team All-American Austin Martin of Vanderbilt for the No. 1 spot on our list of college baseball's top 100 outfielders. Find out who else made the cut.
Fall Report: Maryland
Maryland is counting on returning players like Taylor Wright to take big steps forward, and on a bunch of newcomers to hit the ground running for a team with plenty of question marks but improved depth.