| | | | | | | | | | | | | | | | | | | | |
| --- | --- | --- | --- | --- | --- | --- | --- | --- | --- | --- | --- | --- | --- | --- | --- | --- | --- | --- | --- |
| Year | Team | POS | AVG | OBP | SLG | OPS | GP | AB | R | H | 2B | 3b | HR | RBI | HP | BB | SO | SB | CS |
| 2018 | | | .319 | .419 | .363 | .782 | 59 | 226 | 43 | 72 | 4 | 3 | 0 | 19 | 6 | 34 | 34 | 5 | 5 |
| 2019 | SDSU | OF | .320 | .403 | .394 | .797 | 57 | 241 | 48 | 77 | 12 | 3 | 0 | 28 | 5 | 30 | 20 | 6 | 6 |
Player Wire
Fall Report: San Diego State
San Diego State has become a postseason mainstay, but it wants much more. Here's our in-depth look at the Aztecs after fall workouts.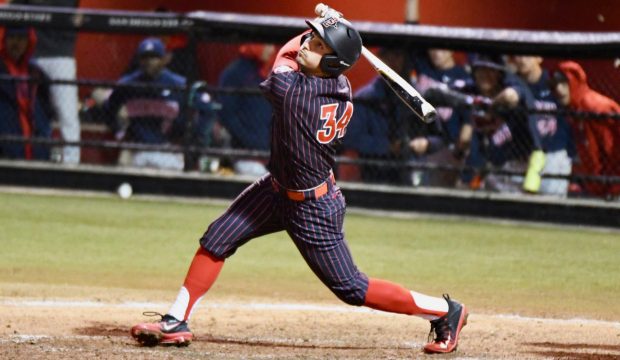 Heady Calabuig Keys SDSU's Hot Start
Chase Calabuig is a winning veteran player who helps San Diego State in so many different ways, helping the exciting Aztecs get off to a 6-2 start.