| | | | | | | | | | | | | | | | | | | | |
| --- | --- | --- | --- | --- | --- | --- | --- | --- | --- | --- | --- | --- | --- | --- | --- | --- | --- | --- | --- |
| Year | Team | POS | AVG | OBP | SLG | OPS | GP | AB | R | H | 2B | 3b | HR | RBI | HP | BB | SO | SB | CS |
| 2016 | | | .281 | .349 | .422 | .771 | 50 | 135 | 22 | 38 | 13 | 0 | 2 | 21 | 5 | 10 | 25 | 2 | 0 |
| 2017 | | | .333 | .393 | .541 | .934 | 41 | 159 | 24 | 53 | 12 | 0 | 7 | 34 | 5 | 12 | 17 | 3 | 0 |
| 2018 | | | .289 | .383 | .566 | .949 | 47 | 159 | 30 | 46 | 11 | 3 | 9 | 30 | 10 | 16 | 30 | 2 | 0 |
| 2019 | FDU | C | .319 | .423 | .548 | .971 | 52 | 188 | 39 | 60 | 13 | 0 | 10 | 37 | 9 | 25 | 34 | 1 | 1 |
Player Wire
2018 Conference Previews: NEC
Reigning Northeast Conference pitcher of the year Steve Theetge should help Bryant remain the team to beat in the NEC.
Stat Roundup: Feb. 24 Top Performers
Florida's Alex Faedo was dominant against Miami, earning him a spot on the Friday individual leaderboard.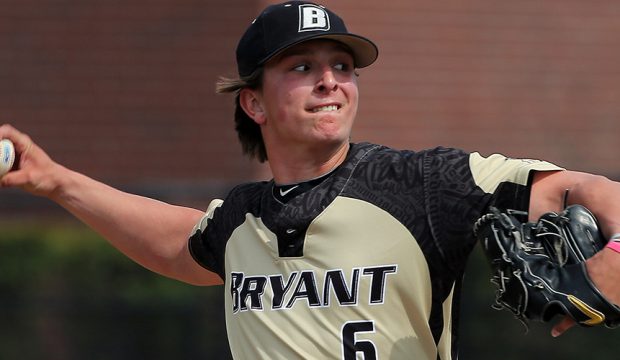 2017 Conference Previews: Northeast
James Karinchak and Bryant have had a nice run over the past few seasons and hope to emulate that again this season.