| | | | | | | | | | | | | | | | | | | | |
| --- | --- | --- | --- | --- | --- | --- | --- | --- | --- | --- | --- | --- | --- | --- | --- | --- | --- | --- | --- |
| Year | Team | POS | AVG | OBP | SLG | OPS | GP | AB | R | H | 2B | 3b | HR | RBI | HP | BB | SO | SB | CS |
| 2016 | | | .323 | .397 | .379 | .776 | 47 | 124 | 22 | 40 | 7 | 0 | 0 | 22 | 6 | 10 | 28 | 1 | 1 |
| 2017 | | | .253 | .325 | .306 | .631 | 56 | 186 | 27 | 47 | 5 | 1 | 1 | 22 | 0 | 20 | 47 | 1 | 3 |
| 2018 | | | .251 | .364 | .291 | .655 | 52 | 199 | 29 | 50 | 8 | 0 | 0 | 14 | 6 | 30 | 50 | 1 | 4 |
| 2019 | KENN | INF | .267 | .370 | .321 | .691 | 55 | 187 | 35 | 50 | 5 | 1 | 1 | 19 | 7 | 24 | 44 | 6 | 1 |
Player Wire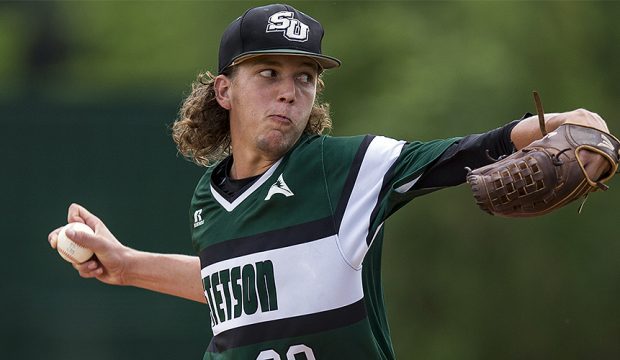 2018 Conference Previews: Atlantic Sun
Logan Gilbert is one of the hottest prospects in college baseball. Can he lead Stetson to the A-Sun crown and much more? Our in-depth preview is here.
2016 Conference Previews: Atlantic Sun
Jake Noll and Florida Gulf Coast hope to make some waves in the Atlantic Sun, as Kendall Rogers previews with team breakdowns and much more.