| | | | | | | | | | | | | | | | | | | |
| --- | --- | --- | --- | --- | --- | --- | --- | --- | --- | --- | --- | --- | --- | --- | --- | --- | --- | --- |
| Year | Team | W | L | ERA | APP | GS | CG | SHO | SV | IP | H | R | ER | BB | SO | WP | HP | OBA |
| 2019 | | 2 | 4 | 9.27 | 14 | 6 | 0 | 0 | 0 | 33.0 | 40 | 38 | 34 | 39 | 29 | 9 | 6 | .305 |
| 2020 | | 1 | 1 | 2.16 | 4 | 4 | 0 | 0 | 0 | 16.2 | 9 | 7 | 4 | 16 | 24 | 7 | 0 | .153 |
| 2021 | | 0 | 3 | 11.25 | 8 | 3 | 0 | 0 | 0 | 12.0 | 6 | 16 | 15 | 22 | 12 | 5 | 4 | .154 |
| 2022 | FIU | 0 | 1 | 11.57 | 8 | 1 | 0 | 0 | 0 | 4.2 | 4 | 7 | 6 | 19 | 8 | 6 | 0 | .222 |
Player Wire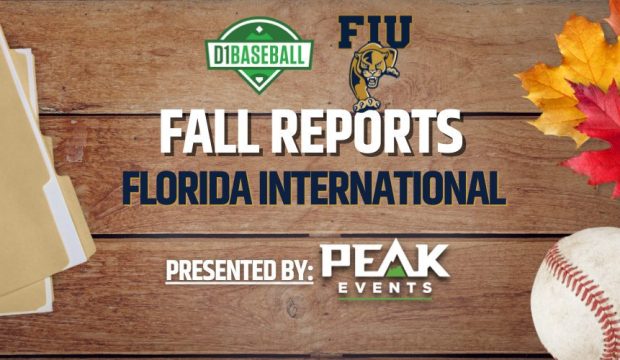 Fall Report: FIU
Florida International's club is loaded with big league ties, including its new assistant coach — former major leaguer Jeff Conine. Walter Villa breaks down the intriguing Panthers.
2020 American Athletic Conference Preview: Pirates Seek Repeat
Houston looks poised to return to its customary position in the NCAA tournament and challenge East Carolina for AAC supremacy, but UConn and Tulane are part a characteristically deep group of contenders.