| | | | | | | | | | | | | | | | | | | |
| --- | --- | --- | --- | --- | --- | --- | --- | --- | --- | --- | --- | --- | --- | --- | --- | --- | --- | --- |
| Year | Team | W | L | ERA | APP | GS | CG | SHO | SV | IP | H | R | ER | BB | SO | WP | HP | OBA |
| 2018 | | 0 | 0 | 3.38 | 3 | 0 | 0 | 0 | 0 | 2.2 | 1 | 1 | 1 | 3 | 4 | 0 | 0 | .111 |
| 2019 | UNM | 0 | 1 | 5.19 | 9 | 0 | 0 | 0 | 3 | 8.2 | 8 | 7 | 5 | 6 | 12 | 3 | 2 | .229 |
| | | | | | | | | | | | | | | | | | | | |
| --- | --- | --- | --- | --- | --- | --- | --- | --- | --- | --- | --- | --- | --- | --- | --- | --- | --- | --- | --- |
| Year | Team | POS | AVG | OBP | SLG | OPS | GP | AB | R | H | 2B | 3b | HR | RBI | HP | BB | SO | SB | CS |
| 2017 | | | .317 | .415 | .422 | .837 | 48 | 161 | 35 | 51 | 9 | 1 | 2 | 30 | 5 | 24 | 25 | 8 | 6 |
| 2018 | | | .348 | .453 | .461 | .914 | 49 | 178 | 33 | 62 | 15 | 1 | 1 | 30 | 8 | 27 | 19 | 4 | 4 |
| 2019 | UNM | INF | .317 | .404 | .442 | .846 | 52 | 199 | 43 | 63 | 14 | 4 | 1 | 30 | 6 | 24 | 29 | 15 | 5 |
Player Wire
Preseason Power Rankings: Shortstop
Arkansas super sophomore Casey Martin headlines our list of the top 30 shortstops in college baseball.
Desert Dispatches: Heimlich Returns
Oregon State's Luke Heimlich didn't talk, but he did return to the mound for OSU. We look at the Beavs, UNM, GCU's Jake Wong and much more.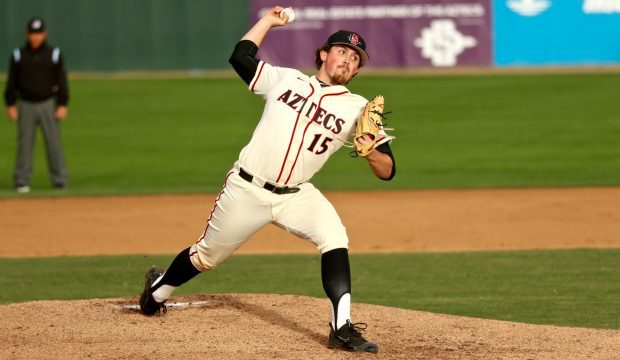 2018 Conference Previews: MWC
Logan Boyer has a big-time arm and San Diego State looks to take control of the Mountain West yet again. How does the MWC stack up? Find out.