| | | | | | | | | | | | | | | | | | | | |
| --- | --- | --- | --- | --- | --- | --- | --- | --- | --- | --- | --- | --- | --- | --- | --- | --- | --- | --- | --- |
| Year | Team | POS | AVG | OBP | SLG | OPS | GP | AB | R | H | 2B | 3b | HR | RBI | HP | BB | SO | SB | CS |
| 2016 | | | .346 | .404 | .450 | .854 | 52 | 191 | 38 | 66 | 12 | 1 | 2 | 24 | 1 | 19 | 22 | 13 | 6 |
| 2017 | | | .219 | .269 | .260 | .529 | 23 | 73 | 8 | 16 | 3 | 0 | 0 | 5 | 0 | 5 | 13 | 0 | 1 |
| 2018 | | | .354 | .397 | .481 | .878 | 52 | 212 | 28 | 75 | 11 | 5 | 2 | 39 | 3 | 14 | 29 | 9 | 3 |
| 2019 | | | 1.000 | 1.000 | 1.000 | 2.000 | 1 | 1 | 1 | 1 | 0 | 0 | 0 | 0 | 0 | 1 | 0 | 0 | 1 |
| 2020 | | | .267 | .346 | .444 | .790 | 12 | 45 | 11 | 12 | 1 | 2 | 1 | 4 | 1 | 5 | 6 | 0 | 1 |
| 2021 | DEL | OF | .370 | .476 | .496 | .972 | 34 | 135 | 31 | 50 | 9 | 1 | 2 | 19 | 3 | 26 | 25 | 5 | 1 |
Player Wire
2019 Conference Previews: Colonial
UNC Wilmington is aiming for its sixth regional in the last eight years, but Elon, Northeastern and College of Charleston should be very formidable contenders in the CAA.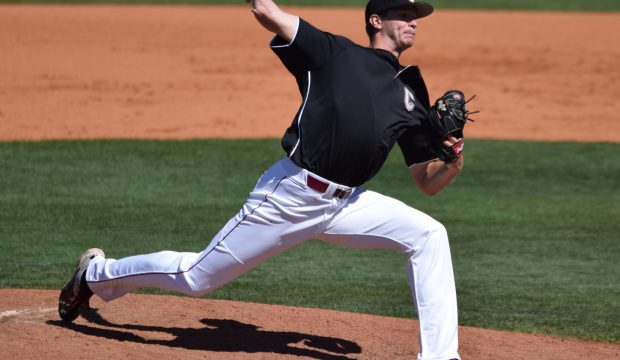 2017 Conference Previews: Colonial
Bailey Ober and College of Charleston lead a group of CAA challengers that also includes William & Mary and Delaware. But UNCW is the team to beat.