| | | | | | | | | | | | | | | | | | | | |
| --- | --- | --- | --- | --- | --- | --- | --- | --- | --- | --- | --- | --- | --- | --- | --- | --- | --- | --- | --- |
| Year | Team | POS | AVG | OBP | SLG | OPS | GP | AB | R | H | 2B | 3b | HR | RBI | HP | BB | SO | SB | CS |
| 2016 | | | .317 | .378 | .583 | .961 | 48 | 180 | 39 | 57 | 16 | 1 | 10 | 40 | 6 | 13 | 46 | 3 | 1 |
| 2017 | | | .297 | .394 | .479 | .873 | 55 | 192 | 46 | 57 | 8 | 0 | 9 | 43 | 12 | 26 | 44 | 9 | 2 |
| 2018 | | | .282 | .383 | .409 | .792 | 50 | 181 | 29 | 51 | 8 | 0 | 5 | 35 | 9 | 22 | 47 | 2 | 0 |
| 2019 | MRST | OF | .297 | .392 | .554 | .946 | 53 | 202 | 49 | 60 | 10 | 0 | 14 | 57 | 8 | 25 | 42 | 4 | 0 |
Player Wire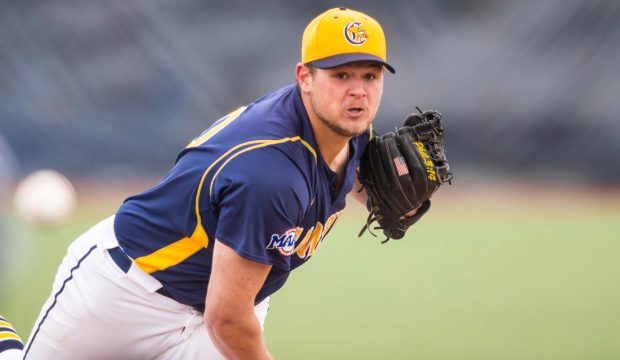 2018 Conference Previews: MAAC
Dominant closer Tyler Smith is back to headline an experienced roster for Canisius, which looks like the team to beat in the MAAC. Get the inside scoop on the Metro Atlantic.
May 15 Top Performers
Kyle Funkhouser had a strong start against NC State, headlining the Sunday leaderboard.
Stat Roundup: April 8 Top Performers
North Carolina's Zac Gallen struck out 13 in a shutout against Virginia Tech, landing him on the Friday individual leaderboard.