| | | | | | | | | | | | | | | | | | | | |
| --- | --- | --- | --- | --- | --- | --- | --- | --- | --- | --- | --- | --- | --- | --- | --- | --- | --- | --- | --- |
| Year | Team | POS | AVG | OBP | SLG | OPS | GP | AB | R | H | 2B | 3b | HR | RBI | HP | BB | SO | SB | CS |
| 2017 | | | .279 | .397 | .417 | .814 | 60 | 204 | 34 | 57 | 8 | 1 | 6 | 37 | 8 | 33 | 38 | 0 | 2 |
| 2018 | | | .324 | .411 | .533 | .944 | 53 | 210 | 36 | 68 | 17 | 3 | 7 | 50 | 8 | 26 | 33 | 7 | 1 |
| 2019 | FGCU | INF | .289 | .404 | .453 | .857 | 55 | 201 | 36 | 58 | 13 | 1 | 6 | 29 | 8 | 33 | 30 | 1 | 0 |
Player Wire
2019 Conference Previews: Atlantic Sun
Coming off a 48-win season and a trip to super regionals, Stetson remains the team to beat in the Atlantic Sun, but Jacksonville, FGCU and Liberty look like formidable challengers.
Week 6 Power Rankings: Third Base
Florida's Jonathan India vaulted to No. 1 on our updated list of the top 30 third basemen in college baseball after six weeks of play.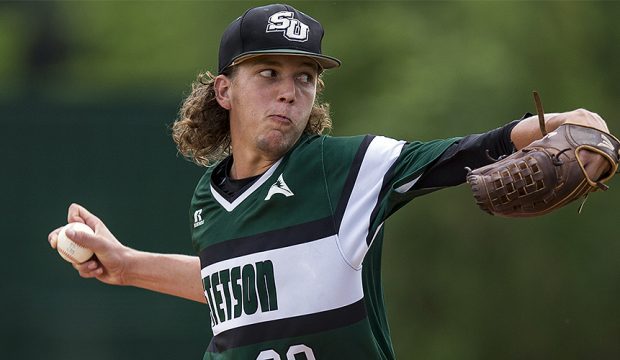 2018 Conference Previews: Atlantic Sun
Logan Gilbert is one of the hottest prospects in college baseball. Can he lead Stetson to the A-Sun crown and much more? Our in-depth preview is here.