| | | | | | | | | | | | | | | | | | | | |
| --- | --- | --- | --- | --- | --- | --- | --- | --- | --- | --- | --- | --- | --- | --- | --- | --- | --- | --- | --- |
| Year | Team | POS | AVG | OBP | SLG | OPS | GP | AB | R | H | 2B | 3b | HR | RBI | HP | BB | SO | SB | CS |
| 2019 | | | .316 | .362 | .423 | .785 | 50 | 196 | 33 | 62 | 10 | 1 | 3 | 23 | 4 | 11 | 29 | 3 | 1 |
| 2020 | VT | INF | .250 | .300 | .453 | .753 | 16 | 64 | 11 | 16 | 2 | 1 | 3 | 15 | 1 | 4 | 11 | 0 | 1 |
Player Wire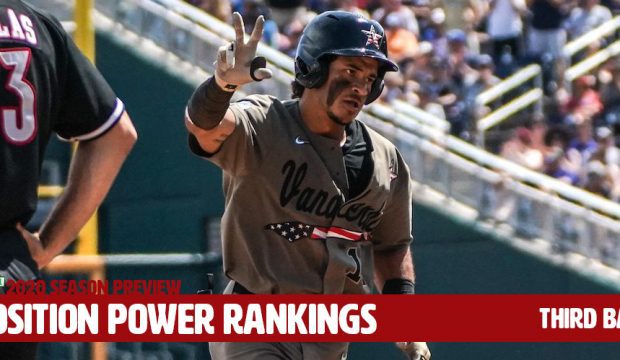 2020 Preseason Power Rankings: Third Base
Vanderbilt's Austin Martin and Louisville's Alex Binelas hold down the top two spots in our list of the top 30 third basemen in college baseball heading into 2020.
2020 ACC Preview: Cards, Canes Headline Deep League
The ACC looks deeper than ever, but it also has a pair of blue-chip contenders at the top in top-ranked Louisville and No. 3 Miami. It all adds up to a potential banner year for the conference.
Fall Report: Virginia Tech
Led by a weekend rotation that should be among the ACC's best and a potential All-America closer, Virginia Tech has the look of a very dangerous sleeper in 2020.