| | | | | | | | | | | | | | | | | | | | |
| --- | --- | --- | --- | --- | --- | --- | --- | --- | --- | --- | --- | --- | --- | --- | --- | --- | --- | --- | --- |
| Year | Team | POS | AVG | OBP | SLG | OPS | GP | AB | R | H | 2B | 3b | HR | RBI | HP | BB | SO | SB | CS |
| 2016 | | | .222 | .337 | .292 | .629 | 41 | 72 | 17 | 16 | 2 | 0 | 1 | 11 | 3 | 10 | 17 | 2 | 0 |
| 2018 | | | .279 | .355 | .422 | .777 | 49 | 147 | 24 | 41 | 9 | 0 | 4 | 32 | 6 | 13 | 23 | 0 | 0 |
| 2019 | FGCU | 1B | .316 | .449 | .560 | 1.009 | 54 | 193 | 43 | 61 | 18 | 1 | 9 | 48 | 14 | 35 | 42 | 0 | 0 |
Player Wire
D1 Analytics: 2019 Top Senior Hitters
When the game is on the line, who most consistently gets the job done? Our analytics team takes an in-depth look at the top senior hitters as the postseason and MLB draft near.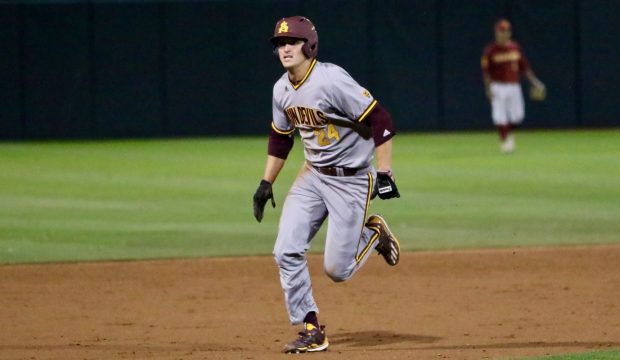 Week 6 Power Rankings: Outfield
Arizona State's Hunter Bishop vaulted to the top spot in our updated ranking of the top 100 outfielders in college baseball.