| | | | | | | | | | | | | | | | | | | |
| --- | --- | --- | --- | --- | --- | --- | --- | --- | --- | --- | --- | --- | --- | --- | --- | --- | --- | --- |
| Year | Team | W | L | ERA | APP | GS | CG | SHO | SV | IP | H | R | ER | BB | SO | WP | HP | OBA |
| 2018 | | 3 | 2 | 4.46 | 27 | 0 | 0 | 0 | 1 | 36.1 | 37 | 19 | 18 | 15 | 31 | 3 | 3 | .270 |
| 2019 | | 0 | 1 | 18.90 | 3 | 0 | 0 | 0 | 0 | 3.1 | 8 | 7 | 7 | 2 | 4 | 0 | 0 | .500 |
| 2020 | CSN | 0 | 0 | 0.00 | 3 | 0 | 0 | 0 | 0 | 2.2 | 2 | 0 | 0 | 2 | 5 | 3 | 1 | .182 |
| | | | | | | | | | | | | | | | | | | | |
| --- | --- | --- | --- | --- | --- | --- | --- | --- | --- | --- | --- | --- | --- | --- | --- | --- | --- | --- | --- |
| Year | Team | POS | AVG | OBP | SLG | OPS | GP | AB | R | H | 2B | 3b | HR | RBI | HP | BB | SO | SB | CS |
| 2016 | | | .192 | .298 | .219 | .517 | 30 | 73 | 6 | 14 | 2 | 0 | 0 | 5 | 1 | 10 | 30 | 0 | 0 |
| 2017 | | | .083 | .214 | .083 | .297 | 24 | 24 | 1 | 2 | 0 | 0 | 0 | 0 | 0 | 4 | 5 | 0 | 0 |
| 2018 | | | .000 | .200 | .000 | .200 | 34 | 8 | 0 | 0 | 0 | 0 | 0 | 1 | 1 | 1 | 6 | 0 | 0 |
| 2019 | | | .404 | .500 | .638 | 1.138 | 16 | 47 | 5 | 19 | 5 | 0 | 2 | 15 | 2 | 7 | 10 | 0 | 0 |
| 2020 | CSN | INF | .333 | .375 | .529 | .904 | 14 | 51 | 9 | 17 | 4 | 0 | 2 | 13 | 0 | 4 | 10 | 0 | 0 |
Player Wire
Preseason Power Rankings: Relief Pitcher
Stanford's Jack Little leads our list of the top 125 relief pitchers in college baseball heading into 2019.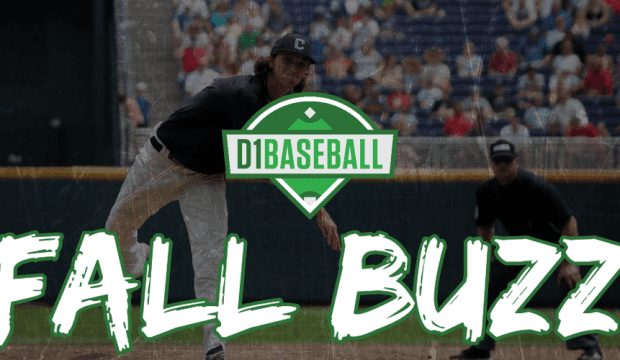 Fall Workouts Buzz: October 25
Our latest fall buzz has the inside scoop on Oregon, Washington, Alabama, Coastal Carolina, Lipscomb, Lamar, St. Mary's, FAU, Eastern Kentucky, Texas State and Cal State Northridge.
Summer Scouting Trail: Northwoods League
The Northwoods League continues to truck along and our friends at Prep Baseball Report take an in-depth look at collegiate prospects who are standing out so far this summer.