| | | | | | | | | | | | | | | | | | | | |
| --- | --- | --- | --- | --- | --- | --- | --- | --- | --- | --- | --- | --- | --- | --- | --- | --- | --- | --- | --- |
| Year | Team | POS | AVG | OBP | SLG | OPS | GP | AB | R | H | 2B | 3b | HR | RBI | HP | BB | SO | SB | CS |
| 2017 | | | .229 | .322 | .271 | .593 | 22 | 48 | 9 | 11 | 2 | 0 | 0 | 8 | 3 | 5 | 7 | 1 | 0 |
| 2018 | | OF | .244 | .404 | .289 | .693 | 26 | 45 | 14 | 11 | 2 | 0 | 0 | 10 | 6 | 6 | 6 | 1 | 0 |
| 2019 | | | .279 | .402 | .328 | .730 | 62 | 204 | 27 | 57 | 4 | 0 | 2 | 20 | 12 | 31 | 34 | 19 | 7 |
| 2020 | CIN | OF | .360 | .439 | .680 | 1.119 | 15 | 50 | 13 | 18 | 7 | 3 | 1 | 13 | 3 | 4 | 8 | 2 | 2 |
Player Wire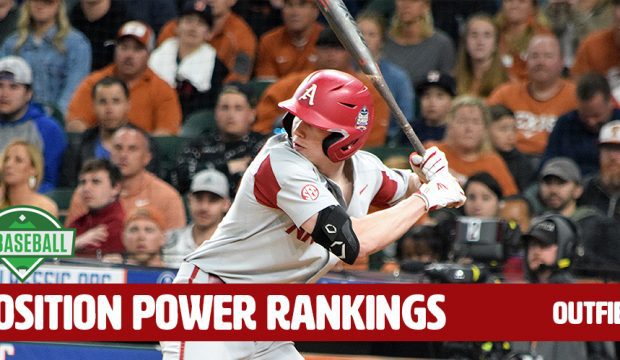 Final 2020 Power Rankings: Outfield
Arkansas slugger Heston Kjerstad edged fellow first-team All-American Austin Martin of Vanderbilt for the No. 1 spot on our list of college baseball's top 100 outfielders. Find out who else made the cut.
Shaffer Shines For Struggling Terps
Maryland ace Brian Shaffer was outstanding in a complete game, but the Terp bats continued to scuffle, and High Point got just enough offense to win.
Fall Report: Auburn
Casey Mize is one of several returning players who have taken steps forward for Auburn, which hopes to be competitive in Butch Thompson's second year.