| | | | | | | | | | | | | | | | | | | |
| --- | --- | --- | --- | --- | --- | --- | --- | --- | --- | --- | --- | --- | --- | --- | --- | --- | --- | --- |
| Year | Team | W | L | ERA | APP | GS | CG | SHO | SV | IP | H | R | ER | BB | SO | WP | HP | OBA |
| 2018 | | 0 | 0 | 7.24 | 9 | 0 | 0 | 0 | 0 | 13.2 | 16 | 12 | 11 | 2 | 11 | 3 | 3 | .296 |
| 2019 | | 1 | 3 | 3.72 | 10 | 9 | 0 | 0 | 0 | 36.1 | 32 | 20 | 15 | 15 | 30 | 2 | 3 | .229 |
| 2020 | | 4 | 0 | 0.68 | 5 | 4 | 1 | 1 | 0 | 26.2 | 13 | 4 | 2 | 4 | 21 | 1 | 2 | .144 |
| 2021 | JMU | 1 | 2 | 4.37 | 6 | 6 | 0 | 0 | 0 | 35.0 | 29 | 20 | 17 | 10 | 22 | 0 | 2 | .223 |
Player Wire
2020 Conference Wrap: Colonial Athletic Association
Landen Roupp was a key part of a strong pitching staff that helped UNC Wilmington get off to a strong start in 2020. Find out which other CAA players and teams stood out in the abbreviated season.
Final 2020 Power Rankings: Starting Pitcher
Texas A&M lefthander Asa Lacy takes over the No. 1 spot on our list of the top 150 starting pitchers in college baseball this season. Find out who else made the cut.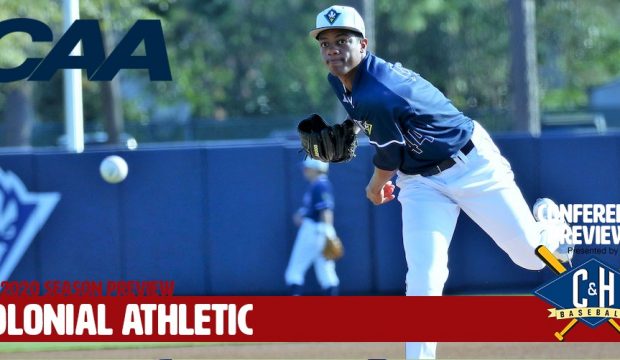 2020 Colonial Preview: UNCW Still The One
Perennial power UNC Wilmington is the clear-cut team to beat in the Colonial Athletic Association, but Northeastern, James Madison and Elon lead a hungry pack of capable challengers.