| | | | | | | | | | | | | | | | | | | | |
| --- | --- | --- | --- | --- | --- | --- | --- | --- | --- | --- | --- | --- | --- | --- | --- | --- | --- | --- | --- |
| Year | Team | POS | AVG | OBP | SLG | OPS | GP | AB | R | H | 2B | 3b | HR | RBI | HP | BB | SO | SB | CS |
| 2019 | | | .292 | .382 | .479 | .861 | 32 | 96 | 12 | 28 | 9 | 0 | 3 | 17 | 2 | 12 | 22 | 0 | 3 |
| 2020 | | | .172 | .294 | .172 | .466 | 9 | 29 | 1 | 5 | 0 | 0 | 0 | 1 | 2 | 3 | 6 | 0 | 0 |
| 2021 | NEV | C | .281 | .359 | .496 | .855 | 36 | 135 | 22 | 38 | 9 | 1 | 6 | 22 | 5 | 12 | 27 | 2 | 2 |
Player Wire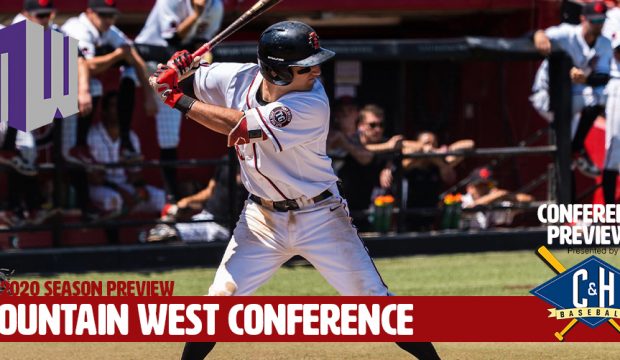 2020 Mountain West Preview: Fear The Aztecs
San Diego State's coaches think they might have their most talented and complete team ever in 2020, making the Aztecs the team to beat in the always-competitive MWC. But Fresno State and Nevada are lying in the weeds.
2019 Conference Previews: Mountain West
San Diego State might lead the charge, but Nevada and others look to shake things up in the Mountain West.