| | | | | | | | | | | | | | | | | | | | |
| --- | --- | --- | --- | --- | --- | --- | --- | --- | --- | --- | --- | --- | --- | --- | --- | --- | --- | --- | --- |
| Year | Team | POS | AVG | OBP | SLG | OPS | GP | AB | R | H | 2B | 3b | HR | RBI | HP | BB | SO | SB | CS |
| 2017 | | | .333 | .500 | .608 | 1.108 | 36 | 51 | 10 | 17 | 5 | 0 | 3 | 8 | 4 | 13 | 23 | 2 | 2 |
| 2018 | | | .270 | .361 | .506 | .867 | 52 | 174 | 30 | 47 | 11 | 0 | 10 | 45 | 5 | 22 | 60 | 5 | 2 |
| 2019 | ND | OF | .271 | .323 | .576 | .899 | 21 | 85 | 12 | 23 | 8 | 0 | 6 | 23 | 1 | 6 | 30 | 1 | 0 |
Player Wire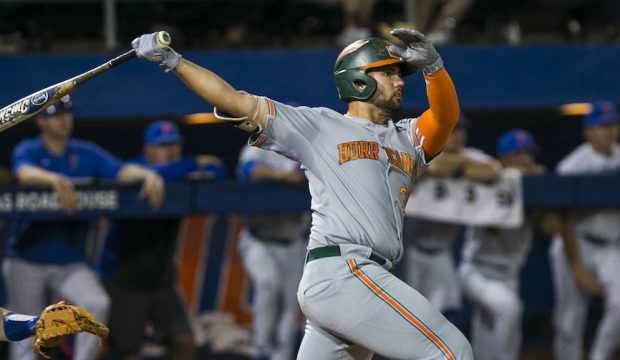 Weekend Insider: Major Storylines In ACC Play
As ACC play begins this weekend, Aaron Fitt takes a look at major storylines for each of the conference's 14 teams.
Preseason Power Rankings: Outfield
East Carolina slugger Bryant Packard headlines our list of the top 100 outfielders in college baseball heading into 2019.
On The Upswing: Week One
Ken Waldichuk and Saint Mary's won a big road series at Long Beach State, earning the Gaels a spot on our list of 10 teams that boosted their profiles in Week One.