| | | | | | | | | | | | | | | | | | | |
| --- | --- | --- | --- | --- | --- | --- | --- | --- | --- | --- | --- | --- | --- | --- | --- | --- | --- | --- |
| Year | Team | W | L | ERA | APP | GS | CG | SHO | SV | IP | H | R | ER | BB | SO | WP | HP | OBA |
| 2018 | | 1 | 2 | 10.24 | 17 | 3 | 0 | 0 | 0 | 29.0 | 48 | 42 | 33 | 29 | 15 | 9 | 3 | .375 |
| 2019 | | 2 | 8 | 4.00 | 13 | 13 | 0 | 0 | 0 | 78.2 | 74 | 44 | 35 | 32 | 56 | 13 | 8 | .254 |
| 2020 | | 0 | 3 | 5.03 | 4 | 4 | 0 | 0 | 0 | 19.2 | 25 | 15 | 11 | 10 | 17 | 1 | 2 | .287 |
| 2021 | TOWS | 2 | 4 | 6.60 | 9 | 9 | 0 | 0 | 0 | 46.1 | 61 | 46 | 34 | 28 | 36 | 8 | 4 | .324 |
Player Wire
Prospect Notebook: ACC, SEC Talents Headline Coastal Plain Action
Wake Forest's Ryan Cusick headlines a strong group of ACC and SEC prospects playing for High Point-Thomasville and Martinsville this summer. Aaron Fitt breaks down some of the standouts.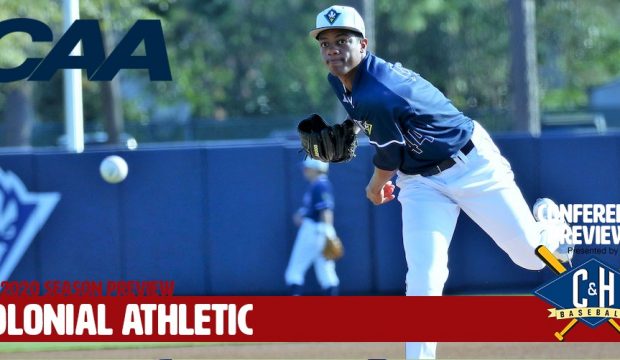 2020 Colonial Preview: UNCW Still The One
Perennial power UNC Wilmington is the clear-cut team to beat in the Colonial Athletic Association, but Northeastern, James Madison and Elon lead a hungry pack of capable challengers.