| | | | | | | | | | | | | | | | | | | |
| --- | --- | --- | --- | --- | --- | --- | --- | --- | --- | --- | --- | --- | --- | --- | --- | --- | --- | --- |
| Year | Team | W | L | ERA | APP | GS | CG | SHO | SV | IP | H | R | ER | BB | SO | WP | HP | OBA |
| 2018 | | 1 | 2 | 5.79 | 20 | 2 | 0 | 0 | 0 | 37.1 | 43 | 24 | 24 | 17 | 38 | 5 | 3 | .297 |
| 2019 | | 4 | 2 | 3.14 | 13 | 5 | 0 | 0 | 0 | 48.2 | 45 | 20 | 17 | 11 | 56 | 2 | 8 | .245 |
| 2020 | | 1 | 0 | 1.69 | 4 | 4 | 0 | 0 | 0 | 21.1 | 15 | 6 | 4 | 8 | 28 | 2 | 2 | .200 |
| 2021 | PSU | 3 | 8 | 5.09 | 13 | 12 | 0 | 0 | 0 | 63.2 | 68 | 40 | 36 | 24 | 69 | 6 | 6 | .271 |
Player Wire
Fall Report: Penn State
Penn State turned the corner with a strong showing in the shortened 2020 campaign, and the Nittany Lions are confident and hungry heading into 2021.
2019 Conference Previews: Big Ten
Michigan, Minnesota and Indiana look like the teams to beat in the ever-competitive Big Ten, which has no shortage of viable contenders.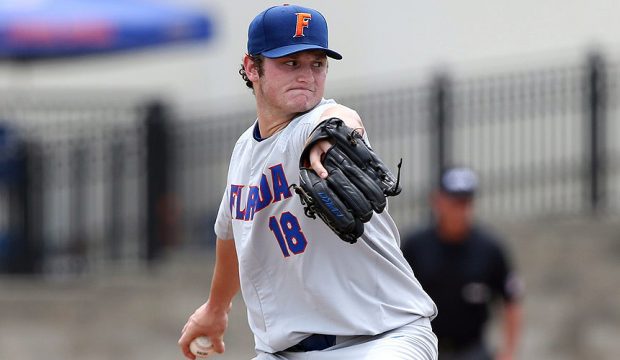 Fall Workouts Buzz: September 27
Our first fall NuggetBook is out, and includes scoop on Eric Walker and LSU, plus more on Oregon State, Florida, TCU, West Va., Penn St., Michigan St., Iowa, Liberty, Wichita St., Nebraska, Texas A&M, Illinois, Virginia and Missouri St.