| | | | | | | | | | | | | | | | | | | | |
| --- | --- | --- | --- | --- | --- | --- | --- | --- | --- | --- | --- | --- | --- | --- | --- | --- | --- | --- | --- |
| Year | Team | POS | AVG | OBP | SLG | OPS | GP | AB | R | H | 2B | 3b | HR | RBI | HP | BB | SO | SB | CS |
| 2017 | | | .291 | .339 | .424 | .763 | 54 | 203 | 22 | 59 | 13 | 1 | 4 | 19 | 0 | 15 | 49 | 1 | 2 |
| 2018 | | | .283 | .387 | .478 | .865 | 54 | 205 | 37 | 58 | 13 | 3 | 7 | 40 | 10 | 26 | 61 | 6 | 3 |
| 2019 | ULM | U | .333 | .408 | .688 | 1.096 | 57 | 231 | 45 | 77 | 15 | 2 | 21 | 61 | 1 | 30 | 51 | 2 | 3 |
Player Wire
D1 Analytics: 2019 Top Senior Hitters
When the game is on the line, who most consistently gets the job done? Our analytics team takes an in-depth look at the top senior hitters as the postseason and MLB draft near.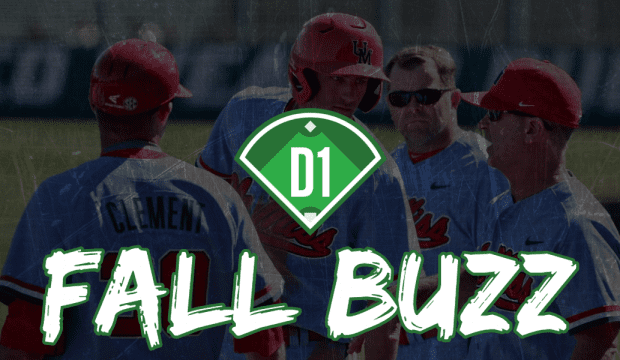 Fall Workouts Buzz: October 19
Our latest fall nuggetbook has inside scoop on Ole Miss, Texas, TCU, Clemson, Cal, UCSB, VCU, South Florida, Louisiana Tech, UL Monroe and Kent State.
2018 Conference Previews: Sun Belt
Travis Swaggerty and South Alabama are the clear-cut favorites to win the Sun Belt, but several teams hope to spoil their season. How should the Sun Belt stack up?