| | | | | | | | | | | | | | | | | | | |
| --- | --- | --- | --- | --- | --- | --- | --- | --- | --- | --- | --- | --- | --- | --- | --- | --- | --- | --- |
| Year | Team | W | L | ERA | APP | GS | CG | SHO | SV | IP | H | R | ER | BB | SO | WP | HP | OBA |
| 2017 | | 1 | 0 | 3.55 | 12 | 0 | 0 | 0 | 0 | 12.2 | 13 | 5 | 5 | 11 | 11 | 1 | 2 | .260 |
| 2018 | | 5 | 6 | 5.63 | 14 | 14 | 1 | 0 | 0 | 86.1 | 108 | 64 | 54 | 29 | 71 | 5 | 11 | .306 |
| 2020 | | 0 | 2 | 81.00 | 3 | 1 | 0 | 0 | 0 | 0.2 | 5 | 8 | 6 | 5 | 0 | 3 | 0 | .714 |
| 2021 | UNM | 1 | 2 | 2.50 | 14 | 0 | 0 | 0 | 1 | 18.0 | 19 | 6 | 5 | 8 | 15 | 1 | 2 | .288 |
Player Wire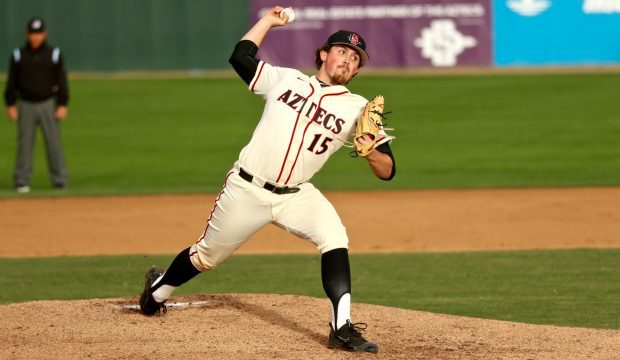 2018 Conference Previews: MWC
Logan Boyer has a big-time arm and San Diego State looks to take control of the Mountain West yet again. How does the MWC stack up? Find out.
2017 Conference Previews: Mountain West
Reigning MWC player of the year Carl Stajduhar leads an explosive offense for New Mexico, but Fresno State, Nevada and San Diego State look like strong challengers.