| | | | | | | | | | | | | | | | | | | | |
| --- | --- | --- | --- | --- | --- | --- | --- | --- | --- | --- | --- | --- | --- | --- | --- | --- | --- | --- | --- |
| Year | Team | POS | AVG | OBP | SLG | OPS | GP | AB | R | H | 2B | 3b | HR | RBI | HP | BB | SO | SB | CS |
| 2017 | | INF | .245 | .333 | .327 | .660 | 24 | 49 | 7 | 12 | 2 | 1 | 0 | 14 | 0 | 7 | 20 | 0 | 0 |
| 2019 | TXST | INF | .312 | .418 | .398 | .816 | 24 | 93 | 28 | 29 | 2 | 0 | 2 | 10 | 3 | 14 | 13 | 4 | 3 |
Player Wire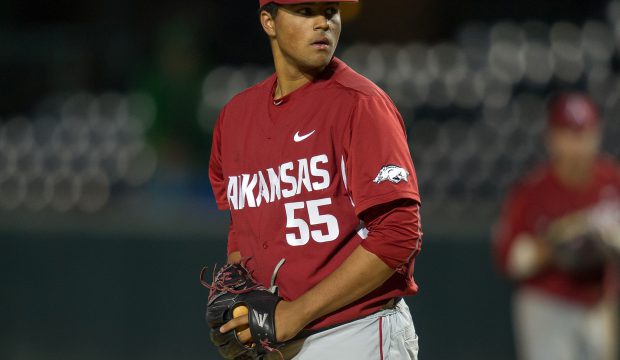 Fall Report: Arkansas
Isaiah Campbell and Arkansas had a tough 2016 campaign, but there's a lot of projection and pieces there for a 2017 rise. We'e got the scoop on the Hogs.
2016 Recruiting Class Rankings: 11-20
As we look ahead to the 2017 season, we examine the top 30 classes of newcomers in the nation beginning with numbers 11-20.