| | | | | | | | | | | | | | | | | | | | |
| --- | --- | --- | --- | --- | --- | --- | --- | --- | --- | --- | --- | --- | --- | --- | --- | --- | --- | --- | --- |
| Year | Team | POS | AVG | OBP | SLG | OPS | GP | AB | R | H | 2B | 3b | HR | RBI | HP | BB | SO | SB | CS |
| 2017 | | | .310 | .357 | .348 | .705 | 53 | 155 | 23 | 48 | 6 | 0 | 0 | 15 | 4 | 8 | 21 | 3 | 2 |
| 2018 | | | .299 | .400 | .344 | .744 | 59 | 224 | 52 | 67 | 8 | 1 | 0 | 26 | 10 | 29 | 37 | 9 | 3 |
| 2019 | JAC | OF | .265 | .374 | .289 | .663 | 21 | 83 | 13 | 22 | 2 | 0 | 0 | 8 | 5 | 10 | 10 | 5 | 2 |
Player Wire
Jacksonville Has That Special Feeling
Chris Gau and Jacksonville are in great shape for a postseason appearance for good reason, but have business to take care of against Stetson in a battle for A-Sun supremacy.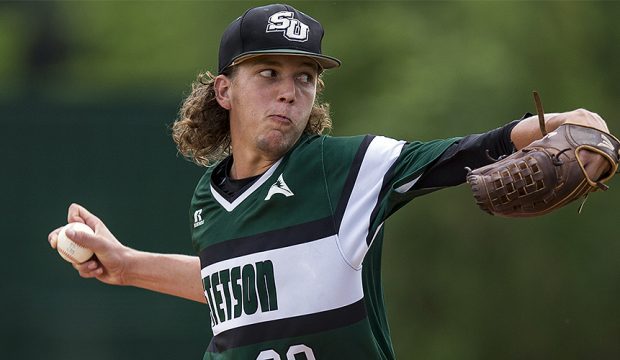 2018 Conference Previews: Atlantic Sun
Logan Gilbert is one of the hottest prospects in college baseball. Can he lead Stetson to the A-Sun crown and much more? Our in-depth preview is here.