| | | | | | | | | | | | | | | | | | | | |
| --- | --- | --- | --- | --- | --- | --- | --- | --- | --- | --- | --- | --- | --- | --- | --- | --- | --- | --- | --- |
| Year | Team | POS | AVG | OBP | SLG | OPS | GP | AB | R | H | 2B | 3b | HR | RBI | HP | BB | SO | SB | CS |
| 2017 | | | .256 | .341 | .339 | .680 | 42 | 121 | 23 | 31 | 7 | 0 | 1 | 17 | 7 | 9 | 23 | 0 | 2 |
| 2018 | | | .377 | .448 | .518 | .966 | 47 | 191 | 46 | 72 | 14 | 2 | 3 | 31 | 12 | 16 | 32 | 5 | 0 |
| 2019 | | | .278 | .373 | .460 | .833 | 60 | 248 | 66 | 69 | 15 | 0 | 10 | 57 | 13 | 27 | 38 | 11 | 4 |
| 2020 | | | .281 | .379 | .474 | .853 | 15 | 57 | 7 | 16 | 3 | 1 | 2 | 14 | 4 | 5 | 16 | 10 | 1 |
| 2021 | BRY | OF | .327 | .417 | .513 | .930 | 39 | 156 | 36 | 51 | 7 | 2 | 6 | 37 | 10 | 17 | 22 | 10 | 3 |
Player Wire
2020 Conference Wrap: Northeast
Merrimack made a smooth transition to Division I and had the most impressive four-week season of any Northeast Conference team in 2020. Find out which other teams and players stood out in the NEC.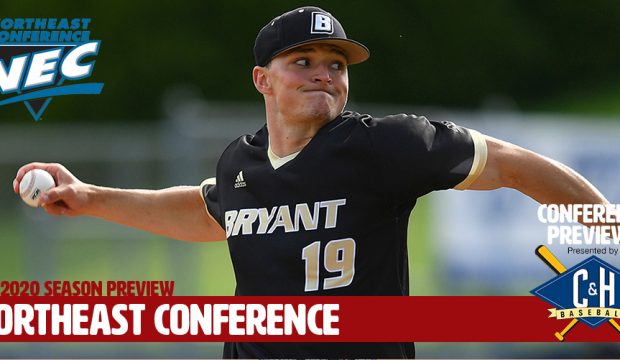 2020 Northeast Conference Preview: Bryant Aims To Take Charge
Central Connecticut State looks to make it back-to-back NCAA trips, but Bryant's Tyler Mattison and others might have something else in mind.
Bashin' Bryant Homes In On Postseason Run
Ryan Ward helps lead a high-powered offense for Bryant, which is the class of the NEC as usual. The Bulldogs have bounced back strong from an injury-hampered 2018 campaign, and they look poised to make some noise in June.