| | | | | | | | | | | | | | | | | | | |
| --- | --- | --- | --- | --- | --- | --- | --- | --- | --- | --- | --- | --- | --- | --- | --- | --- | --- | --- |
| Year | Team | W | L | ERA | APP | GS | CG | SHO | SV | IP | H | R | ER | BB | SO | WP | HP | OBA |
| 2018 | | 5 | 3 | 4.88 | 16 | 7 | 1 | 0 | 0 | 51.2 | 71 | 35 | 28 | 12 | 24 | 5 | 0 | .327 |
| 2019 | | 4 | 6 | 4.90 | 15 | 13 | 1 | 0 | 0 | 82.2 | 96 | 60 | 45 | 30 | 62 | 3 | 4 | .290 |
| 2020 | | 3 | 1 | 1.50 | 4 | 4 | 0 | 0 | 0 | 24.0 | 16 | 5 | 4 | 4 | 23 | 0 | 2 | .186 |
| 2021 | | 8 | 2 | 3.25 | 14 | 14 | 3 | 1 | 0 | 88.2 | 80 | 37 | 32 | 21 | 65 | 1 | 3 | .238 |
| 2022 | ND | 7 | 1 | 2.37 | 12 | 12 | 0 | 0 | 0 | 76.0 | 63 | 24 | 20 | 17 | 80 | 5 | 6 | .222 |
Player Wire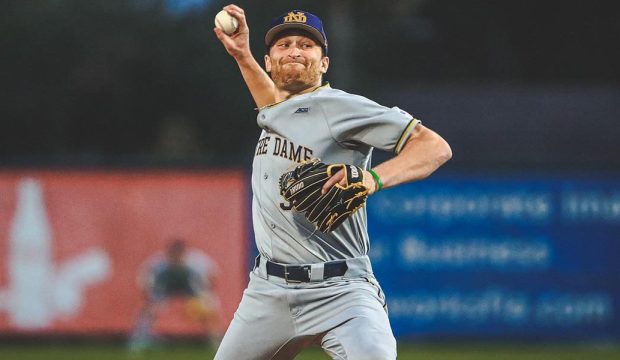 Retooled Notre Dame Hasn't Skipped A Beat
Notre Dame supplemented its experienced core with some key additions to help replace stars Niko Kavadas and Tanner Kohlhepp, and the Irish have not skipped a beat.
Fall Report: Notre Dame
New Notre Dame coach Link Jarrett had Niko Kavadas and the Fighting Irish rolling in 2020. Now, they hope to continue where they left off.
2020 SoCon Preview: Teams Chasing Samford/Mercer
Samford and Mercer have traded NCAA tournament berths the last two seasons. It'll be much of the same in 2020 if things go as planned.