2015 Stillwater Regional Preview
Stillwater Regional Participants

Cowboys

Stillwater, OK

37-18

14-8 (2nd Big 12)

At-Large

Razorbacks

Fayetteville, AR

35-22

17-12 (3rd SEC West)

At-Large

Golden Eagles

Tulsa, OK

41-14

25-5 (1st Summit)

Automatic

Red Storm

Queens, NY

39-14

14-3 (1st Big East)

Automatic
Regional Superlatives
Most Exciting Player: Andrew Benintendi, of, Arkansas. No player in the country has put up better numbers this year than Benintendi, whose blend of power and speed makes him a force of nature.
Best Hitter: Benintendi. He's hitting .391 with 18 homers and more walks (40) than strikeouts (29). Any questions?
Best Defensive Player: Corey Hassel, of, Oklahoma State. Right fielders don't get a lot of love in discussions about defensive standouts, but Hassel is a highlight waiting to happen. He seems to make at least one soaring catch every game — and he has the speed to play center, too.
Best Pitcher: Michael Freeman, lhp, Oklahoma State. A 6-foot-8 southpaw with a low Randy Johnson-esque slot, Freeman's deception, sink and command make him very difficult to square up — especially for lefthanded hitters.
X-Factor: Keaton McKinney, rhp, Arkansas. The blue-chip freshman really came into his own down the stretch, but he left his SEC tournament start with a hip injury, and his health status will play a large role in Arkansas' chances to win this regional.
Best Starting Rotation: Oklahoma State. Freeman and Jon Perrin make a formidable senior duo atop the rotation, giving the Cowboys the edge even though they haven't had a consistent third starter all year.
Best Bullpen: Oklahoma State. Zach Jackson of Arkansas is the best reliever in this regional, but the Hogs don't have nearly the bullpen depth that Oklahoma State has. The Cowboys can run out one quality arm after another, including a couple with mid-90s heat.
Best Offensive Team: Oral Roberts. Sure, the stats are inflated by the Summit League competition, but they are nonetheless too loud to ignore: The Golden Eagles rate second in the nation in batting (.321), 11th in scoring (7.3 runs per game), 10th in doubles (127), fifth in on-base percentage (.405) and 19th in slugging (.455).
Best Defensive Team: Oklahoma State. Donnie Walton and Tim Arakawa form the best double-play tandem in this regional, and the outfield tracks down everything in the gaps.
No. 1 Seed Win Probability (1-10): 5. Oklahoma State is the most complete team in this field and gets my pick to win it, but this is one of the most competitive regionals top to bottom, with four teams that have legitimate shots to advance.
Team Breakdowns
Oklahoma State
Oklahoma State's Michael Freeman (Aaron Fitt)
Under coach Josh Holliday, the Cowboys have a history of improving in the second half of the season, and that's just what they did this spring. OSU lost two of three in its two big early-season tests (at Arizona State, vs. Illinois), but it found its stride in conference play, starting with a huge road series win at TCU. Oklahoma State finished second in the standings and second in the Big 12 tournament to earn a No. 1 seed in regionals for the second straight year.
Oklahoma State is a balanced, experienced club that does a lot of things well, but its biggest strength is its deep, diverse pitching staff, which ranks ninth in the nation with a 2.84 ERA. Six-foot-8 lefthander Michael Freeman (10-2, 1.05) has been a revelation as a senior, giving this staff the true ace it lacked last year. A low-three-quarters slinger with a funky, deceptive delivery, Freeman's 86-89 fastball plays up because of its running, sinking life and his ability to command it at the bottom of the zone, and he effectively mixes in an sweeping slider and a solid changeup. Fellow senior Jon Perrin, who will start Friday, gives OSU a second veteran bulldog starter who has won a lot of big games; he attacks hitters with an 87-92 fastball, a solid-average 80-83 slider and a decent changeup. The No. 3 starter spot has been a revolving door this year, but righties Conor Costello and Trey Cobb combined on a six-hit shutout in the Big 12 tournament, and that piggyback approach works just fine for the Cowboys, who are loaded with power arms, most of whom have an out-pitch secondary offering. Cobb works at 90-93 with a hard slider in the 80-84 range; Garrett Williams reaches 94 from the left side with a sharp low-80s slider, making him capable of dominating when his command is on; RHP Koda Glover sits in the 93-95 range and owns a wicked 82-84 slider; RHP Remey Reed works at 92-94 and features a plus changeup; RHP Tyler Buffett lives off a plus slider in the 81-84 range; LHP Tyler Nurdin sits in the high 80s and features a nice 80-82 slider. Very few staffs in the country – if any — can match that pitching depth.
The lineup is athletic and physical, with a nice blend of power, speed and premium defenders. Veterans Gage Green and Donnie Walton form the backbone of the lineup. The versatile Green (.284/.398/.408, 5 HR, 18 SB) can play left field as well as catch and brings speed and pop to the top of the lineup. The switch-hitting Walton (.346/.422/.512) is OSU's best bat and the defensive glue at shortstop. Undersized grinder Tim Arakawa is another rock-solid defender (.990 fielding percentage) who works counts and finds ways to get on base. Outfielders Corey Hassel and Ryan Sluder bring premium athleticism and the ability to make spectacular defensive plays. Sluder, Dustin Williams and Costello also bring decent power. There are no glaring holes in this lineup, which is extremely patient and has a knack for grinding down opposing pitchers.
Arkansas
Arkansas outfielder Andrew Benintendi is having a terrific season (Arkansas)
The Hogs were the most consistent team in the SEC during the second half of the season, going 7-0-1 in their last eight series to finish 17-12 in the league, just behind the league's Big Four in the standings. Ten games against teams outside the top 150 hurt Arkansas in the RPI, causing it to finish at No. 35 and costing it a chance to host a regional, but this team is confident and talented, and has a real shot to make a run to Omaha. It helps that Arkansas has one of the nation's best players in sophomore outfielder Andrew Benintendi (.391/.492/.738, 18 HR, 52 RBI, 22 SB), whose power/speed package and plate discipline (40 BB/29 SO) helped him put together one of the more impressive individual seasons of the BBCOR bat era. He's got lineup protection from doubles machine Tyler Spoon (.325/.367/.491, 18 2B, 5 HR, 46 RBI), a dangerous presence hitting behind Benintendi in the cleanup spot. Fellow upperclassmen Joe Serrano and Bobby Wernes are solid table-setters in the top two spots, and undersized Hawaiian 2B Rick Nomura is a high-energy spark plug with speed lower in the order. It all makes for a balanced lineup that can start rallies from any point in the order.
Arkansas is not nearly as deep on the mound as it usually is, and it leans heavily upon electric RHP Zach Jackson (2.25 ERA, 6 SV, 70 SO in 48 IP) in the bullpen. Jackson can overpower hitters with mid-90s heat or make them look silly with his filthy secondary stuff. Ace Trey Killian (2-4, 4.72) has had an uneven year after being slowed by injury early in the spring, but he was very strong in his last outing in the SEC tournament, holding Tennessee to four hits and a run over 7 2/3 innings. A fiery competitor, Killian attacks hitters with a solid three-pitch mix and has good command of the strike zone. Sophomore sinkerballer Dominic Taccolini and talented freshman righty Keaton McKinney showed flashes of great promise this year but were inconsistent, and neither pitched well in Hoover. They'll need to be better this week for Arkansas to win this regional. McKinney, who works downhill with a fastball that reaches the low 90s and a sharp mid-70s curve, came on strong down the stretch, throwing seven shutout innings in his final regular-season start against Georgia, but he left his SEC tournament start against Florida early with hip and groin issues, but the Hogs are hopeful he can pitch this weekend.
Oral Roberts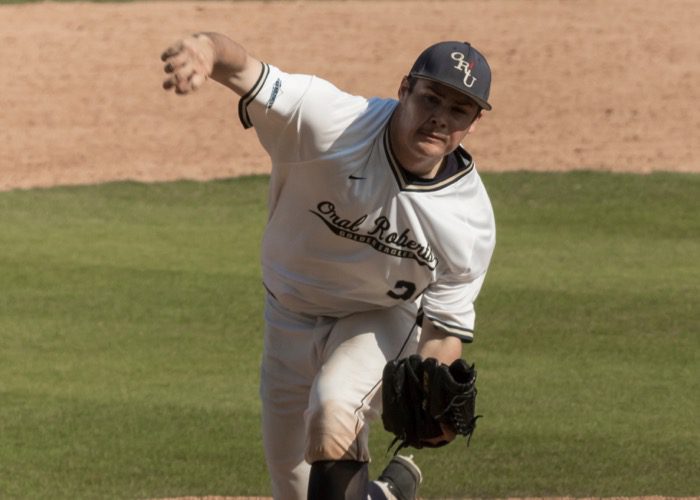 Oral Roberts two-way star Anthony Sequeira (ORU Athletics)
The Golden Eagles made 15 straight regionals as a member of the old Mid-Continent Conference-turned-Summit League from 1998-2012, then missed out on the postseason in 2013 and 2014 as a member of the Southland. They returned to the Summit this spring and resumed their perch atop the conference hierarchy, going 41-14 overall and 25-5 in the Summit to win the regular-season title, then waltzing through the conference tournament undefeated. ORU also proved its mettle against power-conference opponents, going 5-1 against the Big 12, including a pair of wins against Stillwater Regional host Oklahoma State.
Oral Roberts is a balanced team that is very solid in every area, and far better than solid offensively. The Golden Eagles rate second in the nation in batting (.321), 11th in scoring (7.3 runs per game), 10th in doubles (127), fifth in on-base percentage (.405) and 19th in slugging (.455). They have reliable pitching, ranking 24th nationally in ERA (3.10). The only area where ORU lags statistically is fielding percentage (.966), but the Eagles actually have a good group defenders up the middle in ultra-athletic freshman catcher Matt Whatley and gritty senior catcher Audie Afenir, steady senior shortstop Dean Wilson, rock-solid senior second baseman Matt Brandy and speedy senior center fielder Derrian James. ORU's abundance of seniors is one of its major strengths. Brandy (.316/.430/.464, 6 HR) is the leader who sets the tone for the whole team. James (.342/.421/.524) has had a breakout year hitting in front of him in the 2-hole, leading the team with 19 doubles and providing basestealing ability. Precocious freshman Whatley (.343/.430/.520) is the rare catcher who hits in the leadoff spot, and he brings legitimate plus speed, helping him steal 15 bases. And senior two-way talent Anthony Sequeira (.343/.428/.577, 10 HR, 54 RBI) is the team's most fearsome power threat in the middle of the order, as well as the closer (1.50 ERA, 11 SV, 38-11 K-BB in 30 IP). He just started pitching last summer for the first time since high school, but he has a knack for throwing strikes with a 90-93 mph fastball.
Junior righty Xavier Altamirano (8-2, 2.94) emerged as ORU's most consistent starter this year thanks to his advanced command of an 87-91 fastball and ability to mix in three offspeed pitches effectively. Fellow junior righty Guillermo Trujillo (10-3, 4.03) has been a bit inconsistent with his command, but he's very good when he's on, with a 90-94 fastball and a curveball that can be an out pitch, as well as a decent slider/cutter and changeup. Freshman righty Bryce Howe (4-1, 3.14) emerged as the No. 3 starter down the stretch and threw 7.2 shutout innings in the Summit League title game. He doesn't have big stuff but competes with a solid three-pitch mix. Despite some injuries in the bullpen, ORU has enough depth to get to Sequeira at the back of the bullpen, making this a team with no glaring flaws, and a very dangerous sleeper pick.
St. John's
The Red Storm ranks as one of the most dangerous No. 4 seeds in the tournament and probably should have been a No. 3 after finishing the season on a torrid streak, winning its final 15 games and 19 of its last 20. The Johnnies took control of the mediocre Big East and dispatched their primary challenger, Creighton, in back-to-back games on the Bluejays' home field to win the conference tournament. Big East pitcher of the year Ryan McCormick, St. John's Saturday starter, struck out 10 and allowed just one run in a complete-game two-hitter in the first matchup against Creighton. McCormick (10-1, 2.81) is an athletic, quick-armed junior righthander who commands an 88-92 fastball, a plus breaking ball and a decent changeup. But St. John's has started righty Cody Stashak (7-4, 3.32) on Friday all year, and he'll start the opener against Oklahoma State. Stashak has made a big impact after transferring in from the junior-college ranks; he relies on a good fastball and changeup and mixes in a serviceable slider. At the back of the staff, St. John's has a very reliable closer in junior righty Thomas Hackimer (1.89 ERA), who ranks third in the nation with 15 saves (though he was roughed up in the final game against Creighton last week). Hackimer is a submariner with a fairly firm fastball that can reach 88 and the ability to mix in two offspeed pitches. The setup man is senior righty Joe Kuzia (3.16 ERA in 31 appearances), a lanky strike-thrower with an 87-91 fastball and a good slider.
Offensively, St. John's doesn't have a ton of punch, but the lineup is well stocked with contact-oriented hitters who draw walks and make pitchers work. Leadoff man Alex Caruso (.387/.472/.433) makes the offense go, and five other St. John's regulars are hitting .297 or better: doubles hitters Matt Harris, Michael Donadio and Zach Lauricella plus slap hitters Robbie Knightes and Robert Wayman. Four of St. John's top five hitters are lefthanded, so they should be glad to face righty Jon Perrin in the opener instead of southpaw Michael Freeman.
Join the Discussion