Long Beach State Finally Super Again
Postseason
LONG BEACH, Calif. — After first baseman Daniel Jackson caught the throw for the final out of the Long Beach Regional championship, diminutive closer Chris Rivera pogo sticked beside the mound in excitement, looking for someone to hug and celebrate Long Beach State's 2-1 victory with.
The players rushed to converge in the middle of the diamond. One of the final Dirtbags to reach the midfield jubilation from the dugout was Rivera's opposite, 6'4" starting pitcher Dave Smith. The long, languid righthander had a big smile. It was more emotion than the senior had shown in the 13 scoreless innings he had pitched over the weekend, coming back on two-days rest to start the finale.
Rivera yelled into the night as his teammates swarmed for a bounce party (avoiding a dogpile after Rivera had his ribs bruised celebrating the team's Big West title). All the while, Smith's toothy grin bobbed up and down on the exterior ring of the Dirtbag herd.
Rivera and Smith celebrated in different fashions, but celebrate they did. Both did their part, bookending Monday night's win to send the Dirtbags to their first super regional appearance since 2004. Everyone had to pitch in to rise from the ashes of being tossed into the loser's bracket following an exhausting 12-inning loss to Texas on Saturday. They won three games in 36 hours, including twice stifling the Longhorn bats to win one-run games, earning a regional title and redemption.
A double leaping celebration for two wins over Texas. (Eric Sorensen)
"A magical night," Long Beach State head coach Troy Buckley said just before the clock struck midnight. "We are elated. A shoutout goes to the fans. The energy was amazing. When you're fatigued and you've got to play three games, that's tough on your body, but when there's energy in the stands, these guys can get through those type of things."
The Blair Field atmosphere was electric all weekend, especially in the three matchups between the Dirtbags and Longhorns. Smith was unfazed. He took the mound on his normal bullpen day and threw four sterling innings. He set the Texas lineup down in order the first three innings and then worked around a leadoff single in the fourth. He threw 37 of his 51 pitches for strikes and seemed undeterred by having thrown a complete game on Friday. When you are playing for your teammates, you can push yourself further.
"I love these guys to death and I'd take a bullet for any one of them," Smith said. "The least I could do is go out and pitch."
"Smitty was unbelievable," Buckley said.
All-Tournament Team
The NCAA did away with naming all-regional teams, but that won't stop us from naming our own. We did cop out a bit and give three different superlatives, but that's because there was not a consensus amongst everyone, which shows how much of a team effort it was for the Dirtbags:
MIP (Most Important Player): Dave Smith
MVP (Most Valuable Player): Jarren Duran
MOP (Most Outstanding Player): Zak Baayoun
We hear your accolades rolling in as well, Jarren. (Shotgun Spratling)
C – David Banuelos (LBSU)
1B – Sean Bouchard (UCLA)
2B – Jarren Duran (LBSU)
3B – Ryan Reynolds (Texas)
SS – Ryan Kriedler (UCLA)
LF – Lucas Tancas (LBSU)
CF – Zane Gurwitz (Texas)
RF – Brock Lundquist (LBSU)
DH – Travis Jones (Texas)
UTIL – Bret Boswell (Texas)
SP – Dave Smith (LBSU)
SP – Nolan Kingham (Texas)
SP – Morgan Cooper (Texas)
RP – Zak Baayoun (LBSU)
RP – Chase Shugart (Texas)
RP – Jake Bird (UCLA)
CL – CJ Saylor (SDSU)
Wild Pitches Prove Lethal
In a strange occurrence, no one had an RBI in Monday's 2-1 championship finale. In fact, none of the three runs scored on a batted ball. All were related to wild pitches.
The Dirtbags got on the board first with the help of Texas' defense. Jarren Duran singled to center field and took second when the ball bounced away from Zane Gurwitz. He quickly scored when he took third on a ball in the dirt and catcher Michael McCann threw the ball into left field trying to gun him down.
Long Beach's second run didn't score on a wild pitch, but was set up by it. Lucas Tancas led off the third inning with a double. Texas starter Nick Kennedy struck out Ramsey Romano on a slider in the dirt but McCann couldn't block it up, allowing Romano to reach base and Tancas to advance to third. The Dirtbags then scored for the third time this weekend in a first-and-third base running situation against Texas. Romano got picked off and when first baseman Kacy Clemens turned his body to throw to second to get Romano, Tancas took off from third. Tancas dove in head first, but scored without a throw.
The wild pitch also assisted Texas. Second baseman Bret Boswell did the improbable by stealing against David Banuelos in the fifth inning. A groundout moved Boswell to third and he scored when Connor Riley decided to Bob Uecker a slider. He tried to throw the best one ever with a full count and instead threw it 'just a bit outside' sending it to the backstop for the final run of the game.
Fab Frosh
Zak Baayoun is pumped after getting the DIrtbags out a big jam. (Eric Sorensen)
Texas scored a run in the fifth, but its best opportunity to take control of the game came the following inning. Travis Jones shot a double to right-center field to put the tying and go-ahead runs in scoring position for the heart of the Longhorn lineup.
Leading into the final game, Pierce switched up a lineup that had struggled throughout the weekend outside of Gurwitz, Jones and Boswell. Kody Clemens took over the designated hitter duties with Jones moving to left field for Austin Todd. Pierce moved Kody into the two hole, pushing Gurwitz into the leadoff spot and dropping Patrick Mathis down to sixth. Taking Todd out of the fifth slot made the lineup lefty heavy in the middle.
With three lefties due up after Jones' double, Long Beach State went to its bullpen for its lefty stopper, Zak Baayoun, for the fourth time in four games.
"We've been trying to groom him," Buckley said. "He's an extremely talented player, but he is a freshman."
Earlier in the year, the coaching staff went to Baayoun and asked if he realized how good his stuff was. The confidence from that conversation manifested in his season progression on the mound.
"Baayoun is a really good example of getting better, getting better, building more trust, being a little more external, trusting who he is and he is huge. He's been huge."
The freshman southpaw became the Dirtbags most important bullpen arm in the regional. He struck out the only batter he faced in each of his first two appearances on seven total pitches. On Sunday, Texas got to him for a run. He was inserted Sunday right after the Dirtbags had taken a one-run lead. He walked Jones, gave up a hit to Kacy Clemens and Boswell grounded out to bring in Jones.
Clemens was getting his second look at Baayoun while Boswell was facing him a third time in three days. The familiarity didn't help them. Baayoun needed four pitches each to strike out both looking at pitches on the outside corner. Clemens looked at a fastball while the breaking ball was Boswell's poison.
"The ball kind of jumps out of his hands, so you're looking for that fastball and then when he throws a slider, sometimes it's hard to pick up," Boswell said. "We weren't able to get it done and that was probably the biggest point of the game right there."
Bejeweled
Ryan Reynolds' defense was a big reason Texas got to the regional final. (Shotgun Spratling)
When freshman Ryan Reynolds got to campus in Austin, the coaching staff thought his bat would play more than his glove early in his career. Initially, they even mulled the idea of having a late-inning defensive replacement for him. He soon proved that would be unnecessary. He opened the season as the Longhorns' clean-up hitter and started slowly. He hovered around the Mendoza line for the first month of the season before coming on in the middle of the year, working his average up to .250 by late April. But he faded down the stretch offensively, as is apt to occur with freshmen.
Reynolds hit just .138 and had only one multi-hit performance in the final 21 games of the season, but  he remained in the lineup because of how terrific his glove has been. His last error occurred more than six weeks ago and in the Long Beach Regional he seemed to be saving at least one hit per game (if not more).
In three games against Long Beach State, he made play after web gem after play. He was frustrated when any diving attempt he made didn't result in an out.
The first time facing the Dirtbags, he made the game-saving play with the defensive gem of the regional when he had the wherewithal to know he didn't have time to glove and exchange a relay throw. He barehanded a short hop and threw a strike to the plate to nail Jarren Duran from scoring a walk-off inside-the-park home run in extra innings.
"That was incredible," Piece said. "We talk about having a clock in their head, not being passive and going for plays. It was just a perfect example of Ryan being in position and not being afraid to make the play."
Two innings later, Reynolds scored the game-winning run on Travis Jones' two-run single.
In the eighth inning of the second matchup, Reynolds twice kept runs from scoring with terrific plays. With one out, he came in on an in-between hop and smothered it against his body, held the runner and threw across for the out. The run eventually scored on one of Duran's RBI singles, but Reynolds kept Duran from scoring after he got to third with two outs. Reynolds laid out and gloved a hard hit grounder by Jackson and threw to first to end the inning.
Ryan Reynolds comes in on a tough in-between hop with a runner on third. (Shotgun Spratling)
Reynolds went back to the barehand for his final web gem of the regional when he came on a slow chopper just deeper than the mound and fired across to nab the Long Beach State batter just before he reached first.
"Ryan Reynolds played like that all year," Pierce said. "Between him and David Hamilton, it's a great future on our left side and they're both going to be solid, productive offensive players as well."
After playing both left side spots last year, Boswell has been impressed by the freshman duo of Reynolds and Hamilton. Banded together with Kacy Clemens at first, they became an elite defensive infield, which led Texas to being second in the nation in fielding percentage entering the postseason.
"It's awesome," Boswell said of playing with the freshmen pair. "I'm looking forward to watching them grow. They learned so much this year. They just make unbelievable plays and they just do it every day and every night. It doesn't matter how they're doing at the plate. They don't take that out there with them. It's just great to watch and I can't wait to see what they are in like two years."
The Baseball Boz
Bret Boswell celebrates a home run earlier in the regional. (Shotgun Spratling)
When Pierce and his coaching staff got to Texas, they quickly identified that Boswell might be better suited for the right side of the infield after he had played shortstop and third base for the Longhorns in 2016.
A shortstop being shifted to second base can often be seen as a demotion of sorts. Boswell was skeptical of flipping to the right side initially.
"When I first got over there, everything felt backwards and it was a little tough and it was pretty easy, but once I figured it out, I actually grew to like it and really liked it a lot."
It took a couple of weeks, but once Boswell settled in and got used to turning the double play with his back to the runner, he looked like a natural.
"He got more comfortable there and it allowed him to be an offensive player and he became a damn good defensive player. I think he had two errors on the year."
Boswell's two errors essentially bookended the season. He made an error in the first game of the season and didn't have another until late in the Big 12 tournament. He finished with a .993 fielding percentage.
He showed his ability to change the game with his bat and his glove in the Long Beach Regional. After having a hit and an RBI in Texas' regional opener, he would have stole the show in the Horns second game, if it wasn't for Reynolds ridiculous barehand play.
In the first inning, Boswell saved a run and got an out with a backhand flip to Hamilton at second base on a ball up the middle that seemed destined to be an RBI single. Instead of having a run in, Long Beach State had to use a double steal to score a run. The Dirtbags employed a delayed steal. Hamilton hadn't made it to the base to receive Michael Cantu's throw, but Boswell reached out to snag the throw and fired to Hamilton to get the runner that had paused before the throw went high.
Two photos spliced together show Brett Boswell's bankhand flip to David Hamilton. (Shotgun Spratling)
Later, Boswell threw a perfect strike to third base from the fence along the right field line after an errant pickoff attempt went past first base. Luke Rasmussen was so far out, he tried a swim move to avoid the tag. Boswell also showed off the breadth of his power in that game, taking Long Beach State ace Darren McCaughan deep twice — once to left-center field and once into the right field bullpen.
The new staff allowed Boswell to swing away more often, which opened up his power potential.
"One of the big things last year was my first at-bat of every game I was bunting," Boswell said. "It was a little bit more free swinging this year and I kind of took what I learned from the summer, just really sticking to my approach and not trying to be anything else."
Boswell finished the season hitting .273, 7, 33, including hitting .313 in regional play and leading Texas in runs, home runs, RBIs, total bases and having one of the Longhorns' two stolen bases.
Hypnotized
David Banuelos was outstanding despite catching 48 innings. (Shotgun Spratling)
"Banny, Banny, Banny can't you see. Sometimes your defense just hypnotizes me."
Banuelos, Long Beach State's defensive stalwart catcher who was named a Johnny Bench Award finalist earlier Monday, once more proved his value, even if Buckley said his contributions are "immeasurable." After having success stealing a bag earlier in the game, Texas tried again in the eighth inning. Designated pinch runner Tyler Rand entered the game after Kody Clemens walked with two outs. Rand had been a perfect 5 for 5 in stolen base attempts.
Rand took off on an 0-2 pitch, trying to get into scoring position. Banuelos was spread out with reliever Josh Advocate throwing a slider. He wasn't in terrific position to throw initially, but with a perfect exchange and a laser to second base that forced Advocate to dive out of the way, Banuelos nailed Rand to end the inning.
The way Banuelos is able to control the running game and force teams to change their offensive attack on the basepaths reminded the Texas coach of his time at Tulane when he had Jake Rogers, who was drafted in the third round last year.
"He's a difference maker," Pierce said. "He really controls [the running game]. Their defense controls it, but he's the difference there. He's going to be a great pro one day."
Banuelos made the two game-changing plays on Sunday despite catching 18 innings and never had a drop-off in play despite behind the plate for all 48 innings the Dirtbags played this weekend.
"We've rode him like a mule. I mean we really have," Buckley said. "He's not fresh, but he still looks like he's where he needs to be on the defensive side of the ball.
"He's done a great job with his body and he's put himself in a really, really good position to be able to handle the workload and I thank him for it and so do these guys.
On The Path
There was likely no person in the stands that wanted Texas to succeed more this weekend than the man that was at the helm of the Longhorns last year. Augie Garrido, now the Special Assistant to the Athletics Director after being the head coach of Long Beach State's rival Cal State Fullerton prior to his time at Texas, was in the building rooting for the Longhorns. He had to be pleased with what he saw.
A year ago, Texas made the decision to make a change and a month after Garrido accepted the special assistant role while relinquishing his baseball duties, the university hired Pierce from Tulane. The early returns have been promising. A year after going 25-32, the Longhorns returned to the NCAA tournament and finished with a 37-22 record with 10 of those losses coming to national seeds. They had a great opportunity to get to (and possibly host) a super regional winning their first two games of the Long Beach Regional before being shut down by the Dirtbags in the final two games.
David Pierce has the Texas program headed in the right direction. (Shotgun Spratling)
The Longhorns struggled in one-run games this season, but always continued to fight. They weren't afraid to grind, which is a word that came up over and over in talks about the season as a whole.
"We had more grit than we had the previous year," Jones said. "We swung a little bit better. We pitched a little bit better, but more than anything else, we got a lot more heart, a lot more grit when it came to clutch hits and just grinding things out."
"We came together as a team, especially towards the end," Boswell said. "We were just grinding and I love everyone next to me, on my left, on my right and I wouldn't want to be out there with anyone else."
The season came crashing down in the final two games with the offense struggling and the pitching excelling. The improvement of the pitching staff year-over-year was remarkable. Texas shaved nearly a run off its earned run average with only one significant contributor seeing his ERA decline this season.
On the offensive side, the Horns were more free-swinging as Boswell said, which led to improved power numbers (52 homers in 2017 to 34 last season), but a dip in team average from .268 to .252. Part of that probably stems from the decision to stick with plus defenders on the left side of the infield even if the bats were struggling, but another part was the nagging injuries that Gurwitz and Mathis dealt with during the season.
"It was a grind all weekend, all year, but it was a very good grind," Pierce said. "It was great to start, I don't want to say culture, but it was just a refreshing year to have guys that really responded to our coaching and a team that was very hungry to be successful. I think it was a good start for us."
Top Performances
Long Beach State:
Dave Smith: 4 IP, H, 0 R, 0 BB, 2 K
Zak Baayoun: IP, 0 H, 2 K
Jarren Duran: 2-for-5, R, SB
Lucas Tancas: 2-for-3, R, 2 2B, BB
Texas:
Chase Shugart: 3.2 IP, 3 H, 0 R, BB, 3 K
Beau Ridgeway: 1.2 IP, 2 H, 0 R, BB, K
Bret Boswell: 1-for-4, R, SB
Zane Gurwitz: 2-for-4
In Their Own Words
Texas Post-Game Presser:
Long Beach State Post-Game Presser:
Photos
A couple more shots from the end of the game from photographer Eric Sorensen:
Legendary coach Augie Garrido knows about tough games against the Dirtbags. (Eric Sorensen)
Long Beach State closer Chris Rivera threw the ninth. (Eric Sorensen)
The Longhorns take the field for the final time in 2017. (Eric Sorensen)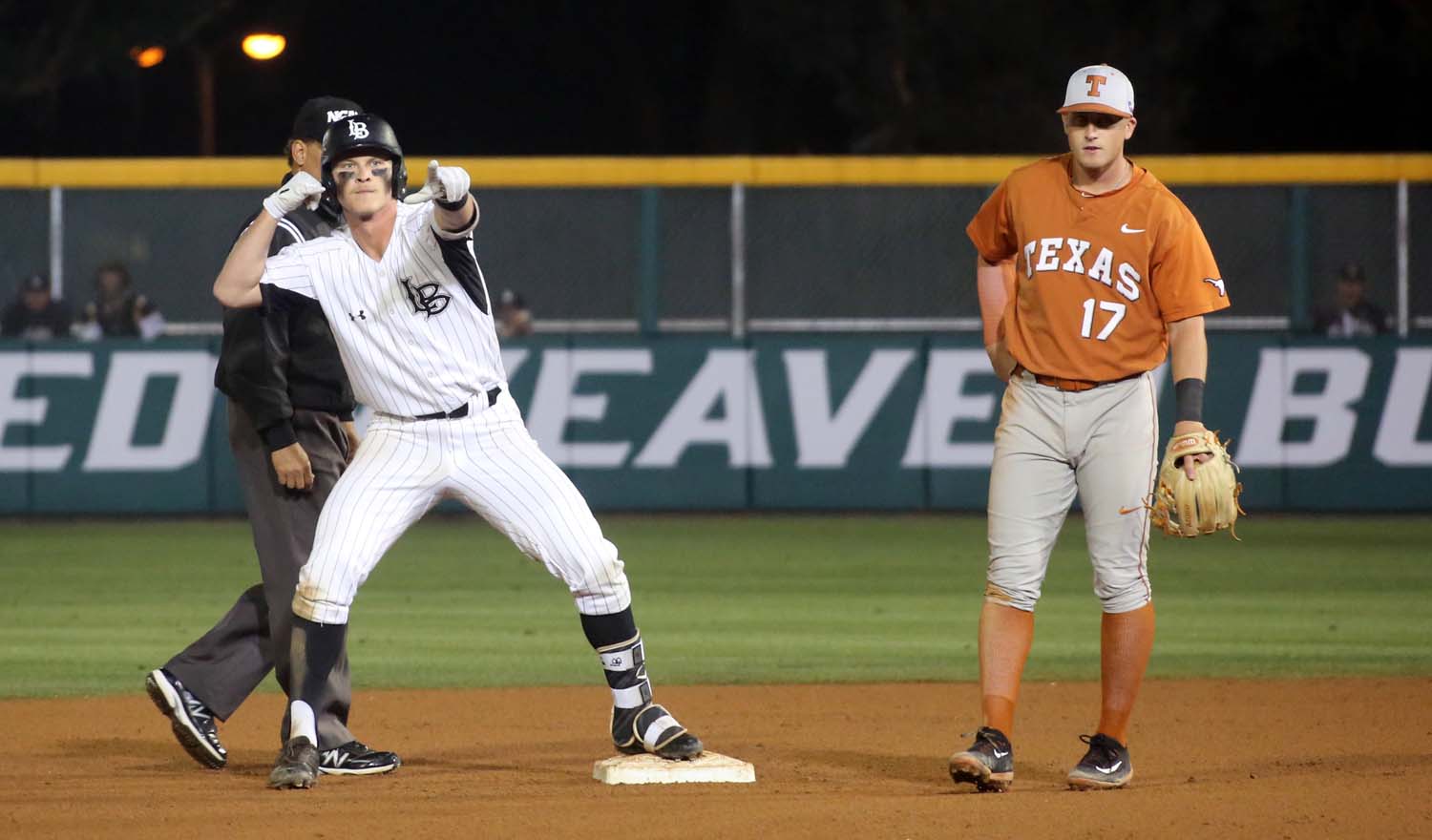 Daniel Jackson points to the dugout after a double. (Eric Sorensen)
Champs. (Eric Sorensen)
Long Beach State's non-dogpile. (Eric Sorensen)
Jubilation on one side always equals disappointment on the other side. (Eric Sorensen)
Former Dirtbag Mike Gallo celebrates with the regional champs. (Eric Sorensen)
Zane Gurwitz' lays out, but can't make the diving catch. (Eric Sorensen)
The water bucket is heading for Troy Buckley. (Eric Sorensen)
Join the Discussion