Cape Cod League Top Prospects: 1-25
Premium
Another Cape Cod League season has come and gone, leaving us with another intriguing crop of college talent to ponder for the 2018 and 2019 draft classes. Throughout this week and next, we will unveil our Cape Cod League Top 200 Prospects list with corresponding in-depth scouting reports on each player.
This crop of Cape talent was arguably the strongest since 2013, a crop that included Jeff Hoffman, Kyle Freeland, and James Kaprielian. A pair of arms, Ryan Rolison (Ole Miss) and Logan Gilbert (Stetson), seized the stage and jockeyed to become the league's No. 1 prospect. But they were far from alone, as arms like Austin Bergner (North Carolina), Kris Bubic (Stanford) and many others also stepped forward with tremendous summer performances on the mound.
We also saw some of the most well-rounded summer performances at the plate that we've seen in recent memory on the Cape. Power bats like Alec Bohm (Wichita State) showed that they didn't have to tally huge strikeout totals to be productive sluggers in a pitching dominated league. This was a polished, advanced group of hitters, led by bats like Bohm and Nico Hoerner (Stanford) in terms of consistently producing professional-quality at-bats on a nightly basis.
Populated by a number of first-round candidates, the top 25 on our Cape Cod League Top 200 Prospects list is an eclectic mix of different styles of pitchers and hitters, including a pair of Wichita State sluggers, a Baylor star, a parade of ACC and SEC standouts, and much more. Here's a look at the first of installment of our top 200: players 1-25.
To be eligible for our rankings, pitchers were required to have thrown at least six innings or made at least two appearances, and hitters were required to have a minimum of 15 at-bats on the Cape. Draft year is listed in parentheses. Our rankings are compiled through extensive first hand evaluation by National Prospect Writer, Frankie Piliere, combined with input from Cape Cod League coaches and MLB scouts.
1. Ryan Rolison, lhp, Ole Miss (2018)
More so than in any year in recent memory, there truly was a dead heat between two players for the title of top prospect in the Cape Cod League. Depending on the crosschecker or scout you talk to, you will get different answers to this question, but it's also likely that no one will answer with an extreme amount of conviction. Ryan Rolison and Logan Gilbert are just that close in the race for the top spot on most teams' lists. But ties need to be broken, right? For our list, that tie was broken by a handful of factors that eventually awarded Ryan Rolison the top spot on our annual list.
A draft-eligible sophomore in 2018, Ryan Rolison did everything a pitching prospect could possibly set out to do in his time on the Cape for the Orleans Firebirds. Let's just start with the performance itself. Including playoff action, the 6-foot-3 lefthander went 6-0 with a 1.54 ERA, racking up 43 strikeouts and allowing just 16 hits over 35 innings of work. He did not have anything resembling a poor outing all summer and despite having just a year of college baseball under his belt he performed like one of the league's most polished arms.
Rolison seemed to ramp up his stuff and get sharper with each additional inning under his belt. After beginning the summer working at 90-93 mph, he began sitting at 91-94 and then eventual at 92-95 mph in some of his late summer outings. On average, he 92-94 mph early in games settling in right around 92-93 after that. But, routinely he was able to reach for 94-95 again when he needed a big pitch. That's also the appeal of Rolison. He pitches under control, not at full-blast, and has the starter mentality that scouts are craving. He hit his spots with advanced precision consistently to his glove side, and was able to put hitters away with his true plus breaking ball at 80-84 mph. He calls this pitch a curveball, but only a couple at 80-81 mph showed the sort of shape of typical curveball shape we are use to. More frequently it shows nasty slider tilt and had very late action. Regardless of what you call it, there were scouts on the Cape that projected it as a potential 70 grade, elite strikeout pitch. And he already has outstanding command of it.
Rolison also did a nice job of working in some 82-84 mph changeups in his late summer outings. The feel is clearly still developing, but it was better than the last time around. He needs to be sure he's getting on top of it more consistently, but his arm speed was well-maintained.
Command to both sides of the plate with two elite offerings, and the advanced feel for how to put hitters away are the factors that put Rolison on top of this list. If you're lefthanded and can do things like lock up a righty hitter on the inside corner with a late-moving fastball at 94 mph, and you can do that after snapping off a nasty backdoor breaking ball to the other corner – you have the potential to pitch at the top of a professional rotation. Rolison is the perfect storm of stuff, command to both sides of the plate and a rapidly developing, high pitching IQ. Those types of pitchers typically go in the top ten picks in the draft. And that appears to be the path that Rolison is on.
2. Logan Gilbert, rhp, Stetson (2018)
Stetson righty Logan Gilbert (Aaron Fitt)
Equally deserving of being the top prospect in the league is 6-foot-6 righthander Logan Gilbert. And his defining trait may be that he has the look of a pitcher out there playing a light game of catch. It just so happens that game of catch is resulting in explosive fastballs being blown by some very good hitters. Gilbert ended the summer with a dazzling 31-4 strikeout to walk ratio in 31.1 innings of work, posting a 1.72 ERA along the way.
Gilbert carried an effortless high-octane fastball throughout his summer for Orleans, working at 93-97 mph early in games. He ultimately settled in at 92-95 mph on most nights, but could reach for 96 on some elevated put-away pitches late in outings. We also saw an uptick in Gilbert's ability to miss bats as the summer wore on as well, and there was a pretty simple reason for that. He seemed to get more and more comfortable throwing his curveball and snapping it off with conviction. Thrown at 76-79 mph, Gilbert's curveball was below average at times early in the summer but was around big-league average in terms of bite a lot more frequently in his late summer starts His ability to consistently throw it for quality strikes to both sides of the plate was also vastly improved, and proved to be more than enough to keep hitters from sitting on his power fastball.
It's also worthwhile to note that Gilbert's 94-95 mph is not your typical 94-95. Gilbert, according to TrackMan data, generated upwards of 7-foot-6 inches of extension this summer, consistently checking in the 7-foot-3 to 7-foot-5 range. That's significantly higher than elite pitchers with elite extension in the big leagues like Noah Syndergaard and Stephen Strasburg. Even allowing for the possibility that there's a margin of error in the data or a small calibration issue, Gilbert generates freakishly good extension, allowing his plus velocity to play up even further. And he knows how to pitch up in the zone with intent, when appropriate, and take advantage of this.
Gilbert also began to break out a changeup in the second half for Orleans, one of the last remaining items that scouts had been looking for out of him. Thrown at 82-85 mph, he worked under it at times, but showed some late tumble and maintained his arm speed fairly well. He will need to continue developing the pitch, but the fact that he was able to throw it increasingly for strikes was a great sign.
Logan Gilbert outings were low heartrate affairs all summer. He filled the zone, worked efficiently with his pitch count, generated elite velocity with minimal effort, repeated his delivery and never seemed to get out of sync for more than a pitch or two. Following up on what was a tremendous spring in 2017, it's this type of consistency and power stuff that look likely to send him potentially to a top of the first round selection in June. He still has plenty of room to add bulk to his lean frame, and he's the type of extra low effort prototype that could still just be scratching the surface of how electric he could one day be.
3. Griffin Conine, of, Duke (2018)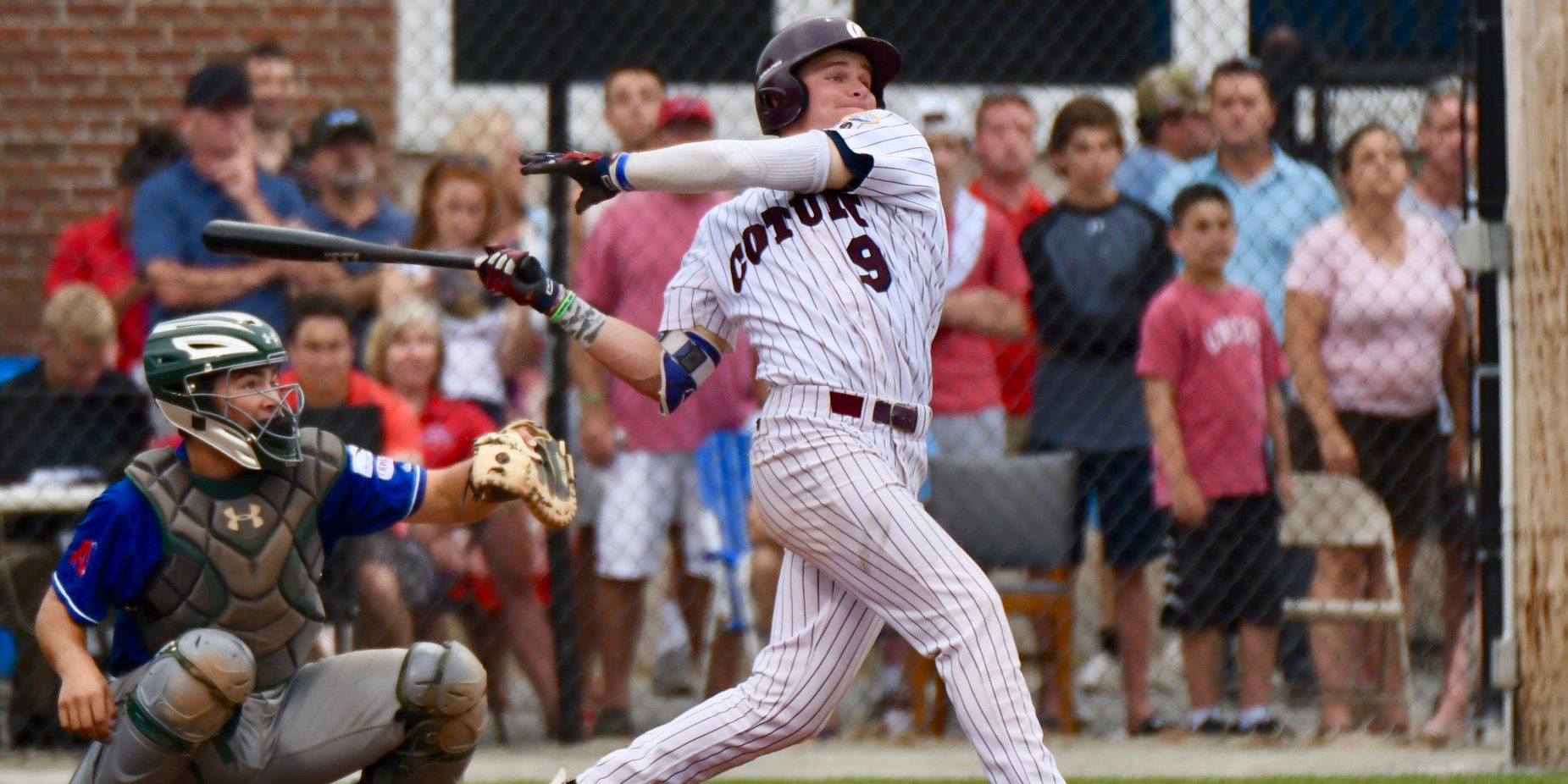 Duke's Griffin Conine (Aaron Fitt)
The Cape Cod League is known as a league typically dominated by pitching, but when you talk to a scouting director or crosschecker, they'll tell you that their most important task when scouting the Cape is to track down the top bats. They're often difficult to stack up and they can be very tricky to evaluate. Some of the best ones struggle to produce, which makes the task even more difficult. In other words, earning the title of the Cape's best hitting prospect is arguably the most difficult distinction one to earn in the eyes of scouts. Griffin Conine did just that, however, with an outstanding all-around summer for the Cotuit Kettleers.
Proving to be durable and consistent, there was rarely a time when Conine was not in the Cotuit lineup and occupying the leadoff spot in the lineup. One thing to clear up is that Conine is not your typical leadoff hitter, but his disciplined approach made him a reasonable choice for that spot in a summer ball environment. Playing in 42 games, Conine was among the league leaders with his nine home runs, and he also put up an extremely .329/.406/.537 slash line. His 43 strikeouts did result in a 23% strikeout rate, so that will be something to watch, but his willingness to work deep counts and power approach will likely always lend themselves to a high dose of swing and miss in his game. Particularly given the nature of baseball now, and that Conine looks like he could be a 30 home run bat at the next level, it's not a tremendous concern. He shows easy 60 to 65 raw power and it's power that already easily translates into game action. He drove balls out to the opposite field game, and overall showed that he was at his best when driving the ball to the middle of the field. He punished mistakes on off-speed pitches inside, but his ability to use the middle and opposite fields made him very difficult to beat with fastballs as well. Pitchers had some success against him with changeups away, so that will be something for him to work on. The 6-foot-1 lefty swinging outfielder generates tremendous lift and torque with his swing, but he's made some key mechanical adjustments and tweaks to his setup that have turned him into a much more controlled, balanced hitter that can get to more pitches in the zone. As a result, we're seeing a potential high average hitter at the next level now, and now just a power bat. The difference maker for him, though, will continue to be his elite, plus bat speed. His hands are as quick to the baseball as any hitter in the 2018 draft class.
Although he's not a burner, Conine is a step above-average runner and an above-average overall athlete. He gets out of the box well, and showed high level range in right field. He made some spectacular catches ranging into the gap and showed that his arm could be a weapon as well. An accurate, consistent arm that grades around a 55 or perhaps 60 depending on the scout you talk to. Conine comes with a profile that is fairly easy to project. If you draft him, you're getting a prototype power hitting, athletic right fielder.
4. Austin Bergner, rhp, North Carolina (2018)
During the early part of his junior year in high, Austin Bergner pitched a now legendary game in Jupiter that scouts still talk about as one of those dominant, electrifying outings they've ever seen from a high school pitcher. That was peak Austin Bergner until this summer. Bergner made some adjustments to his arm action, never quite reached scouts' expectations during his senior year, and spent his freshman spring at North Carolina continuing to fine tune his game. We saw flashes of brilliance, and he still had the explosive mid 90s fastball, but the dominance had not fully returned. But after a rusty, very rough first outing of the summer, Bergner became the league's most unhittable pitcher beyond that point. Over 31 innings, he posted a 1.16 ERA and a 30-11 strikeout to walk ratio. Peak Bergner had returned.
The key for Bergner? He was absolutely filling up the strike zone this summer. In fact, he did so at nearly a 69 percent rate over his last five starts. He'd sometimes have minor issues early in outings, but if teams allowed him to settle in and get into a rhythm, he was downright unhittable. The hard throwing 6-foot-4 righthander showed no issues carrying his premium velocity deep into outings, sitting comfortably at 94-96 mph throughout the game and touching as high as 97. Even in games where his command wasn't as precise he was wise enough to continue pitching aggressively and elevate his fastball to net swings and misses. Hitters were not getting good reads on his late-moving fastball, even when the location wasn't spot on.
The go-to weapon for Bergner much of the summer, other than his fastball, was an above-average changeup. Thrown between 84-88 mph, he was confident enough to go to it behind in counts and was able to locate it to both sides of the dish. It's an easy above-average offering with a chance to be plus. He flashes some outstanding arm side downward action right now and it has a shot to be a true swing and miss pitch. When he's executing at his best, it already is that type of pitch. He used his 11-5 curveball a little more sparingly, especially early in the game, but as the summer wore on we began to see more confidence in it. At its best, it showed good bite and depth at 77-79 mph, and showed big league average action. Bergner's delivery, although very repeatable, does not lend itself in terms of extension to snapping off the curveball as well as he could with his previously longer arm action, but he's shown outstanding improvement in getting back to being a high-quality offering. Bergner will be a draft eligible sophomore in 2018, but his advanced ability to pitch off his fastball and work so efficiently through a lineup should make him a coveted first round type arm, and one that teams could en vision advancing quickly through a farm system.
5. Jeremy Eierman, ss, Missouri State (2018)
It doesn't take long to see the tools that Jeremy Eierman brings with him to the field. That's why we have no problem including him on our annual list even though he was only with the Bourne Braves for 15 at-bats. The 6-foot-1 righty swinging shortstop intended to have a longer stint on the Cape, as he returned from a tour with Team USA on July 19th. A mild hamstring tweak sent Eierman home on July 24th, but even in a four-game cameo, he made a loud impression.
First and foremost, there's no need to worry about Eierman's Cape stats. You can point to seven strikeouts and a .133 batting average, but 15 at-bats is simply too small a sample too get caught up in. He homered in back-to-back games to begin his summer and completed some spectacular plays from shortstop in his four-game showcase, and that's the essence who Eierman is. He's an above-average runner and athlete with plus power and the tools to potentially play shortstop at the professional level. That's where his value is going to be for scouts.
Eierman has power that plays extremely well to the opposite field, and when he's at his best you'll see him driving balls out to the right-center field gap. He can turn on mistakes, but when he's locked in you will see that line to line power. Eierman's strong arm from deep in the hole at shortstop is also going to be a key differentiator for him with scouts. When you see him make a perfect jump throw to first base following a backhanded stab in hole and hit a towering home run in the same game, you see the allure of his tools. There are some scouts who see Eierman as a potential plus defender at third base, while others contend he can stick at shortstop long term. Either way, he'll be a valuable defensive asset. The strikeouts remain a significant issue to watch with Eierman, and he needs to keep his chases on breaking pitches under control, but the scouts who believe in him will continue pointing to that athletic, plus power hitting left side of the infield profile.
6. Alec Bohm, 3b/1b, Wichita State (2018)
It was the year of the Shocker in the Cape Cod League, as two of the league's most feared sluggers came from Wichita State. And while Greyson Jenista's game may offer up a little more variety in terms of physical tools, it was Bohm that took the league by storm with his lethal righthanded bat and extremely functional hit tool. The physically imposing 6-foot-5, 225 righty slugger hit .358/.399/.513 on the summer for Falmouth, mashing five home runs along the way. Perhaps his most impressive statistic, however, was his 12.7% strikeout rate. For a hitter of his size, length, and power that's an incredibly strong stat. And, given that it's consistent with what he's done at school, it's a stat that will allow him to play into early first round conversations.
With his extra-long frame, Bohm is bound to have some length to his swing. So how is he able to maintain such a contact heavy approach without sacrificing his plus power? Take his showdown with Logan Gilbert in mid-July as an example of how he does it. After losing his first battle with the Stetson righthander, going down on a good sequence of curveballs and a high fastball, Bohm fought off some tough pitches and got himself into a 3-2 count where he knew he'd see a fastball in his second at-bat. Gilbert left a fastball slightly elevated over the outside part of the plate and Bohm muscled one to the opposite field gap off the top of the right-center-field fence. Bohm was vulnerable to Gilbert's elite velocity on the inner third,but his approach is so sound that he was able to keep battling until he had a pitch he could extend on and drive. It's the approach, the calmness, and the ability to recognize pitches out of a pitcher's hand that separates Bohm as a hitter. No hitter looked more relaxed in the box on the Cape. He almost never chased a pitch out of the zone, and he knew just when to take a strike he couldn't handle and wait for a pitch to drive. There may not be a power hitter in the 2018 draft class with a more advanced approach.
While the length to Bohm's swing will always be there, he has above-average bat speed and high level barrel control we don't normally see from a hitter of his size and power. He can mishit a ball and drive it out to center and right-center, and he looks in that direction unless a pitcher makes a mistake inside. When that happens, he's capable of hitting monster home runs to left field. This is a hitter who doesn't need to over-swing to generate plus power. He's a below average runner, and while he's shown improvement at third base, looks more likely to be destined to end up at first. But, even so his potent bat and advanced approach could carry him to a first round draft choice.
7. Greyson Jenista, of, Wichita State (2018)
Profiles like Greyson Jenista's are rare. It's as simple as that. An extra large athlete with speed, monstrous raw power and positional flexibility, Jenista is the type of prospect scouts are willing to go out on a limb for. Another contributing factor is Jenista's dedication to his craft and ability to adapt. Known as a player who arguably took as many extra batting practice swings as any player on the Cape, Jenista is always look to make an adjustment. He was a Cotuit Kettleer in 2016 as well, and in terms of production it was a relatively disappointing summer. But anyone who watched the 6-foot-4 lefty swinging slugger would be able to tell you how much potential there was in his game. A year after hitting just .229 on the Cape coming off his freshman season, Jenista hit .310 with three home runs and nine stolen bases.
One of the most notable aspect of Jenista's game is how athletic and nimble he is for a man of his size. While he's not going to profile in center field as a professional, he capably manned the position for Cotuit this summer, and has played third and first base as well. He's an above-average runner and has much quicker actions than you'd suspect given his large frame. We clocked him several times in the 4.15-4.18 range from the left side. He could play a corner outfield spot capably at the next level, and his big league average arm strength should allow him to profile handily.
The selling point with Jenista, however, is always going to be his lefthanded bat. He hit three home runs this summer, but the 65 grade raw power he displays suggests that over time he's going to be a true plus power threat at the next level. His batting practice shows were arguably more impressive than anyone else's in the league, as he hit booming shots to center and right-center field. Thanks to a powerful lower half that he does an excellent job of getting involved, Jenista produces low effort plus raw power to the middle of the field and to his pull side. He also put together an abundance of disciplined at-bats and has kept his strikeouts in check, striking out at a 19% rate. He gets on his front side a little heavy at times, and if he can correct that he'll be able to get to his raw power in game action more consistently. Jenista also has issues against lefty pitching, so that will be something to monitor as well. But his combination of physicality, athleticism, speed and immense raw power make him one of the most fascinating college position players in the 2018 draft.
8. Shea Langeliers, c, Baylor (2019)
The 2019 college catching crop is already looking like a very strong one, and leading the way in that group is Shea Langeliers. Coming off a monster freshman spring at Baylor, Langeliers was presented with an ultra-challenging task for his first summer as a college athlete. Freshman hitters tend to struggle on the Cape, and catchers tend to struggle offensively as they learn to contend with the daily grind behind the plate. Langeliers fell into both those categories and yet found a way to thrive for the Chatham Anglers in 2017. Langeliers final stats were somewhat skewed, as he did seem to wear down a bit, finishing the season in a 1-for-29 slide. But, look beyond his final .234 batting average, and note his six home runs and .469 slugging percentage. For a good chunk of the slummer, prior to the late-summer swoon, he carried an OPS consistently north of .900.
Langeliers has two major check marks in his favor. For one, he shows all the catch and throws skills needed to stick behind the plate. He routinely posted pop times in the 1.83-1.92 range and he showed rapidly improved receiving and blocking actions. And, at the plate, Langeliers has the tools to be an all fields, power hitting force from the right side. The six foot backstop punished mistakes and proved to be more than capable of handling premium velocity with the wood bat in his hands. He's compact to the baseball and showed himself to be among the most adept hitters in the league at driving the ball to the opposite field with power.
This may be the most exciting catching prospect we've seen on the Cape since eventual first rounder Max Pentecost took the league by storm a few years back. His feel for hitting is advanced beyond the vast majority of young hitters we see on the Cape. Langeliers does not turn 20-years-old until late November, and to handle catching duties and hit with as much power as he did at age 19 more than endeared him with scouts, who have him high on their radar screens for 2019.
9. Hogan Harris, lhp, Louisiana-Lafayette (2018)
Hogan Harris' left arm has been on the radar for a few years now. He was highly touted out of high school and scouts were well aware of the type of upside he had. What we might have seen this summer is him fully bringing that potential to fruition. Coming off a strong spring at Louisiana-Lafayette, Harris looked like an improved pitcher in just about every way on the Cape last summer, posting a 1.50 ERA, striking out 24 batters and allowing just 10 hits in 18 innings of work for Yarmouth-Dennis.
Let's start with the delivery. Harris' arm action looks cleaner and more repeatable than we've seen in the past and he's doing a much better job of stay on-line with his stride. The result has been more strikes – more specifically a lot more quality strikes – and a lot more crispness to his fastball and breaking pitches. Harris is a quality 6-foot-3 athlete, and when he's in a groove like the one he found against Orleans in his most recent outing, there is a very nice rhythm and feel to his outings. Working out of a high three-quarter slot, Harris attacked hitters with a 90-94 mph fastball with some good late life to it. He touched 95 mph in one of his later starts as well. He'd occasionally lay in a fastball at 88, which he'll need to be careful of, but overall he sat right around 92 mph and threw the pitch with conviction to both sides of the plate. He got into a couple ruts in some of his starts in which he began to rush just a little bit and lost his command. Those were short-lived, however, and quickly was able to get his mechanics back on track.
Where Harris might be able to separate himself from other lefties in the league is with his ability to spin the breaking ball. Harris has multiple variations of his slider and curveball and can manipulate them as needed as his outings move along. He threw his curveball anywhere between 69-76 mph and threw his slider between 78-81 mph. He can vary the shape and showed he could put both these pitches on either side of the plate. Some of his harder curveballs were his best offerings of the summer, showing above-average bite and depth. Scouts will want to see him pitch more aggressively off his fastball moving forward, but his feel for spinning the baseball will be a huge check mark in his favor. Harris loves to mix speeds, trick hitters and move the ball around. Some of that approach leads to an elevated walk total. If he can temper that just a little, his mix of pitchability and improving raw stuff will make him a fascinating top two round commodity in June.
10. Kris Bubic, lhp, Stanford (2018)
There are two different versions of Kris Bubic and both are highly intriguing prospects. One version is a top two round draft prospect, but the other version has the potential to go in the top half of the first round. The version of Bubic that we saw for the clear majority of the summer was not overpowering in terms of pure velocity, but was utterly dominant on the strength of his advanced command and plus changeup. The 6-foot-3, 220 pound Stanford southpaw posted a 4-1 record with a 1.65 ERA for Y-D, racking up a stellar 41-7 strikeout to walk ratio in 32.2 innings of work. In terms of command an ability to miss bats, no one was more consistently dominant than Bubic on the Cape in 2017.
Bubic earned the All-Star start for the East squad and put a major charge into the crowd of scouts behind home plate, as he pitched a blistering, lights out bottom of the first. While he of course enjoyed an outstanding summer, the stuff he showed on in a short stint on the big stage was the best we saw out of him in the Cape League season. Bubic pitched primarily at 88-90 mph this summer, but in his All-Star start he was pumping in fastballs at 90-93 mph. He topped at 94 mph once and was showing outstanding life through the zone. Most importantly, he was still pitching with the precise command we had seen from him all summer. He dotted his fastball on both sides of the plate, flashed much-improved curveball bite and depth and showed his signature plus changeup. Yes, the shorter stint may have helped Bubic, but we know he's shown this type of velocity at times in the spring as well.
The changeup will continue to be the key pitch for Bubic. Some scouts grade it as a 65 offering on the 20-80 scale, and it shows outstanding late-diving action at 77-80 mph. Bubic's main goal this summer was to improve his curveball, and as we mentioned, he showed that as well. Thrown between 75-78 mph, his curveball became a pitch he was much more confident in spotting as the summer moved along and began to resemble a big league average offering. Bubic has the feel and pitchability to get outs in the upper levels of the minor leagues right now. His ability to put three pitches on both corners with precise command sets him apart. But if he can show the additional velocity in the spring, he could vault himself into the elite, upper-crust of 2018 pitching prospects.
---
Click Below To Subscribe And Read More!

Already a subscriber? Log In to access this article.
Join the Discussion