D1 Digest: Friday, Feb. 21
Roundup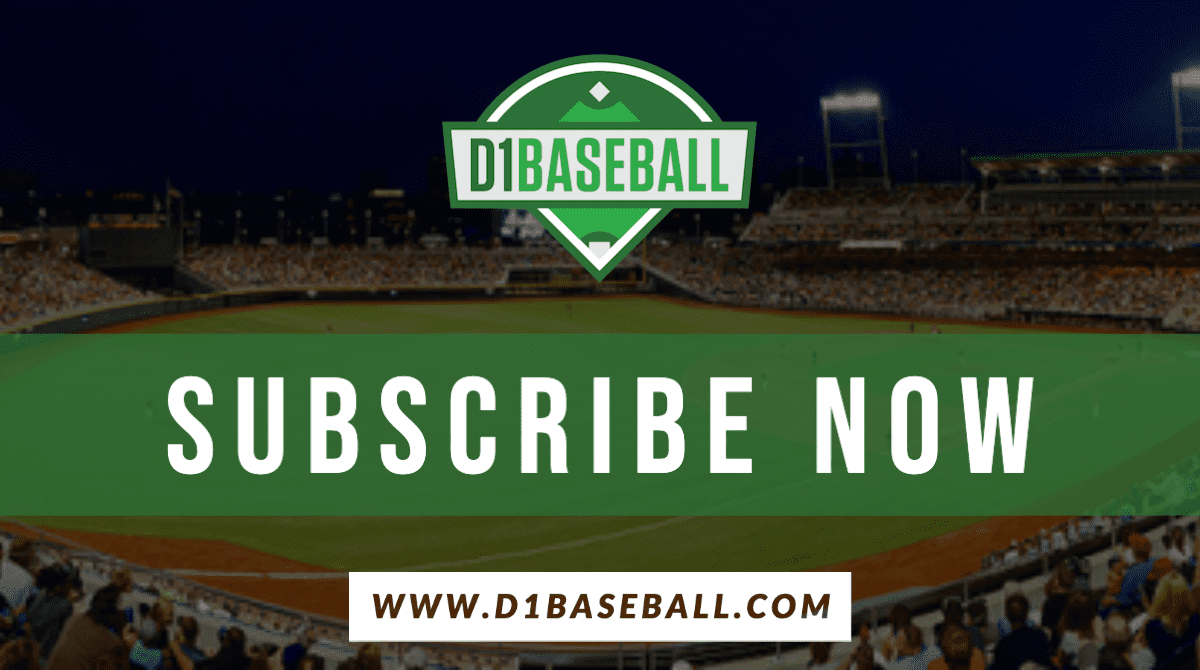 Friday's Coverage
• Walter Villa on Florida's extra-inning win over Miami
• Round Rock Classic: Rogers on Tennessee shining agains Tech, Houston bouncing back
• Aaron Fitt on Mississippi State's comeback win over Oregon State, despite a Christian Chamberlain gem
• Eric Sorenson on UCLA's Zach Pettway and more
---
Mr. Perfect: Duke's Bryce Jarvis Makes History
Bryce Jarvis' final start of 2019, in super regionals against Vanderbilt, was something of a coming-out party for the Duke righthander on a national stage. Jarvis was outstanding for seven innings in that game, holding Vandy's mighty offense to just one run while striking out nine — but he was overshadowed by Commodores starter Kumar Rocker, who struck out 19 in a no-hitter. Still, it was a sign of good things to come for Jarvis, who spent the summer building strength, boosting his velocity, and developing his breaking stuff to complement his signature changeup, which is perhaps college baseball's best.
Jarvis garnered second-team preseason All-America honors heading into 2020, and he sure pitched like an All-American in Friday's 8-0 win against Cornell. Jarvis recorded 15 strikeouts and needed just 94 pitches to throw the first perfect game in Duke history, and just the 31st in the history of Division I baseball.
"It was a special outing for Bryce," Duke coach Chris Pollard said afterward. "There's a bit of irony in all of this because he was on the wrong side of the Kumar Rocker no-hitter last year. For Bryce to have that ballgame tonight, I'm so proud of him. We said starting in the seventh that if a baserunner got on, he was going to be out of the game because we wanted to keep his pitch count low. He was super efficient, throwing only 94 pitches over nine innings. It's hard to strike out 15 guys in only 94 pitches, so it was a special performance."
PERFECTION ACHIEVED! @BryceJarvis28 made Duke history by tossing the program's first-ever perfect game! #NCAABaseball | @DukeBASEpic.twitter.com/ygeerfP41R

— NCAA Baseball (@NCAACWS) February 22, 2020
Ole Miss No-Hits Xavier
Jarvis' masterpiece wasn't the only no-hitter in college baseball Friday. Ole Miss ace Doug Nikhazy and relievers Drew McDaniel and Jackson Kimbrell combined on a no-hitter in a 13-0 rout of Xavier. Nikhazy struck out nine and walked two over six brilliant innings before handing off to McDaniel, who worked two hitless frame. Kimbrell finished it off with a scoreless ninth. Freshman catcher Hayden Dunhurst paced the Ole Miss offense with a homer and five RBIs.
Doug did Doug things. Drew McDaniel and Jackson Kimbrell shut it down and combined on a no-hitter in their collegiate debuts. Not a bad day for the pitching staff!@Dougnikhazy | @drew_mcdaniel | @jacksonkimbrell pic.twitter.com/GxKSULoIGe

— Ole Miss Baseball (@OleMissBSB) February 22, 2020
Gators Win Extra-Innings Gem
The marquee showdown series between top-ranked Miami and No. 2 Florida sure lived up to its billing on Friday night. In front of an electric sold-out crowd, the two rivals battled to a 1-1 tie for 10 innings, until Jacob Young's RBI double in the 11th lifted the Gators to a 2-1 victory. Florida starter Tommy Mace (7 IP, 2 H, 1 ER, 2 BB, 8 K) and relievers Christian Scott, Ben Specht and Nick Pogue combined to three-hit the potent Miami offense over 12 innings. Miami got seven strong innings from Brian Van Belle and strong bullpen work from Tyler Keysor and JP Gates in a losing cause. Our Walter Villa was on hand in Coral Gables and will have a full report.
Tulane's Olthoff Shuts Out Fullerton
In a matchup between two teams off to strong starts, Tulane won a classic 1-0 pitcher's duel at Cal State Fullerton. Braden Olthoff threw a three-hit shutout for the Green Wave, allowing just one walk while racking up 16 strikeouts. He out-dueled Fullerton ace Tanner Bibee (8.1 IP, 6 H, 1 ER, 2 BB, 9 K), who was excellent in defeat. Olthoff's 16 strikeouts are the third-highest single-game total in Tulane history.
16 Ks and the win for @BradenOlthoff! #RollWave pic.twitter.com/eYiAdPl9ga

— Tulane Baseball (@GreenWaveBSB) February 22, 2020
UConn Turns Mets Complex Into Fedko Park
After wrapping up opening weekend with a 7-1 win over Michigan in Arizona, Connecticut took down the ninth-ranked Wolverines again on the side of the country Friday, winning 8-7 in Port St. Lucie, Fla. Michigan actually led 5-0 after one inning and 6-2 after two innings, but the Huskies tied it up with four runs in the sixth, keyed by Christian Fedko's two-run double. After Michigan regained the lead in the bottom of the frame, UConn battled back again, tying it in the eighth on Kyler Fedko's RBI double, then winning in the ninth on Christian Fedko's RBI single. All told, the Fedko brothers combined for six hits and five RBIs, while six UConn pitchers combined to limit Michigan to four hits.
Eastern Kentucky Stuns LSU
Not only did Eastern Kentucky go into Alex Box Stadium and beat No. 11 LSU on a Friday night, but the Colonels did it with style. Five EKU pitchers, led by lefthander Brennan Kelly (4.1 IP, 1 H, 0 R), combined to three-hit the Tigers en route to a 2-0 upset. The Colonels pushed across an unearned run in the third and got some insurance on Nick Howie's RBI single in the fifth to beat preseason All-American Cole Henry (5 IP, 3 H, 2 R, 1 ER). This mark's the third win for an Ohio Valley Conference team over an SEC opponent in the last two years. EKU improved to 4-0 on the season, having swept Presbyterian in the first weekend.
UCF Topples Auburn
Nobody paid much attention when UCF opened its season with a four-game sweep of Siena. The Knights took a quantum leap in quality of competition with a Week Two road trip to No. 8 Auburn, and they started off that trip with a bang, taking down the Tiger 3-1 on Friday night. Juco transfer lefty Colton Gordon (6 IP, 4 H, 1 ER, 1 BB, 7 K) threw a gem to beat preseason All-American Tanner Burns (5.1 IP, 3 R, 2 ER), with help from Jordan Rathbone and Nick Romero. Rathbone's RBI single in the fourth tied the game at 1-1, and Romero followed with a go-ahead RBI single two batters later. Then Rathbone added an insurance run with a solo homer in the sixth, and relievers Jack Sinclair, David Litchfield and Jeff Hakanson slammed the door. UCF improved to 5-1 on the young season.
Another 💎 from Colton Gordon 💪 pic.twitter.com/2hZhEDiRgP

— UCF Baseball (@UCF_Baseball) February 22, 2020
Long Beach State's Ruiz Silences Deacs
In Week One, lefthanders Adam Seminaris and Alfredo Ruiz turned in back-to-back strong starts to lead Long Beach State to a series win over dangerous California. This week, Seminaris is out for violating team rules, so Ruiz moved up into the Friday spot and turned in another gem, holding No. 18 Wake Forest's powerful offense scoreless on two hits over seven innings to lead the Beach to a 6-2 win. Ruiz has now allowed just four hits in 14 shutout innings on the season, against two teams that have legitimate offensive firepower — especially Wake. Leonard Jones put Long Beach ahead to stay with a two-run triple in the first, and the Dirtbags broke it open with four runs in the fourth, capped by Jacob Hughey's two-run single.
FGCU's Tollett Earns Win No. 600
One of the more intriguing mid-major matchups of the weekend is the clash between preseason MAC favorite Kent State and preseason A-Sun favorite Florida Gulf Coast. The Eagles took the opener of the series 2-0, earning coach Dave Tollett his 600th career victory, and a water-cooler bath from players. Ace Mason Studstill (6.2 IP, 3 H, 0 R, 1 BB, 6 K) stymied Kent State's talented offense into the seventh, and Hunter McGarry worked the final 2.1 innings to notch the save.
Here's the tale of the tape on Tollett: In his 18 seasons with FGCU baseball, Tollett has been named A-Sun Coach of the Year five times, earned six A-Sun titles, sent more than 40 players to pro ball and earned 18 wins over nationally ranked teams.
Temperature: 50 degrees

Skip: "NO Gatorade dump."

Guys: …..

Guys: …

Guys: 💦💦💦💦💦💦 pic.twitter.com/DgaYYrEvzB

— FGCU Baseball ⚾️ (@FGCU_Baseball) February 22, 2020
Detmers & Friends Rack Up 22 Strikeouts
Louisville pitchers set a Jim Patterson Stadium record with 22 strikeouts in a 3-0 win against Valparaiso. That's also tied for the ninth-highest strikeout total for a nine-inning game in Division I history. First-team preseason All-American Reid Detmers did most of the heavy lifting, fanning 14 batters over his six scoreless innings, allowing just three hits and no walks. Glenn Albanese followed with five strikeouts over two innings, and Michael Kirian struck out the side in the ninth. Ben Bianco's two-run homer accounted for most of Louisville's scoring.
Lacy & Friends Also Rack Up 22 Strikeouts
Not to be outdone, first-team preseason All-American Asa Lacy fanned 14 over five innings of four-hit, one-run ball, and relievers Chris Weber and Mason Ornelas struck out four apiece to give Texas A&M pitchers 22 Ks in a 12-3 win against Army. Zach DeLoach stayed red-hot for the Aggies, homering twice and driving in five to improve his season line to a ridiculous .706/.739/1.526 with four homers and 11 RBIs in six games. In a related story, Texas A&M is 6-0.
Quick-Hitters
• Preseason All-American Trenton Denholm threw seven innings of no-hit ball to lead UC Irvine to a 10-1 win against Rice. Denholm allowed just one walk and struck out six, exiting with the no-hitter intact. The 0-4 Owls finally got into the hit column into the eighth but finished with just two hits in the game.
• Zach Pettway struck out 13 over 6.2 innings of three-hit, shutout ball to lead UCLA to a 5-0 win over Saint Mary's. Pettway and three relievers combined to fan 17.
• In a matchup between projected regional teams, Georgia Tech pounded Ohio State 12-4. Freshman Drew Compton had four hits including a homer to spearhead Tech's 18-hit barrage, and Baron Radcliff added a homer and three RBIs in support of Jonathan Hughes (5.2 IP, 4 H, 4 R, 3 ER), who improved to 2-0.
• In another matchup between projected regional teams, Arkansas beat WCC favorite Gonzaga 9-3. Casey Opitz (3-for-4, 3B, HR, 3 R, 2 RBI) had a big day at the plate in support of Connor Noland (6 IP, 5 H, 3 R, 2 ER).
• Cade Cavalli struck out nine over seven innings of one-run ball to lead No. 23 Oklahoma to a 2-1 win over Illinois State. The Sooners clinched the series with a 4-1 win in the second game of the doubleheader behind a strong outing from Wyatt Olds (6 IP, 1 H, 1 ER, 2 BB, 9 K).
• No. 13 Arizona State bounced back from a 2-3 start to the season with a 10-4 win over a quality Boston College club. Boyd Vander Kooi (7 IP, 5 H, 1 ER, 0 BB, 6 K) came out of the bullpen and shined in relief of Cooper Benson, and Alika Williams broke a 3-3 tie with a two-run homer in the fourth before the Sun Devils pulled away.
• BYU won the first game of an intriguing four-game series at Cal Poly, 4-3. The Cougars came from behind to tie it on Mitch McIntyre's RBI double in the seventh, then went ahead for good on Danny Gelalich's sacrifice fly in the eighth.
• San Diego trailed Nebraska 9-4 at the seventh-inning stretch but stormed back for a wild 12-11 win at the Tony Gwynn Legacy tournament. Shane McGuire had three hits, and Adam Kerner homered and drove in three for the Toreros, who improved to 4-1.
Join the Discussion