D1 Digest: Friday, Feb. 22
Roundup
Want to get in-depth coverage? Subscribe to D1Baseball
---
Friday's Coverage:
• Kendall Rogers on Miami's Statement-making Win
• Aaron Fitt on Southern Miss-Mississippi State pitcher's duel
• Gwynn Legacy Notebook: Shotgun Spratling on OU/Fullerton
---
Aaron Fitt's Five
1. Pitching Gems Abound
Good luck picking a Pitcher of the Day from Friday's action. Friday is usually the day we see the best individual pitching performances of the weekend — it's when the aces toe the rubber, after all — and this week was a strong example. I watched a great duel between Southern Miss righty Walker Powell and Mississippi State lefty Ethan Small (who struck out 13 over seven innings of one-hit ball) in Starkville — but there were plenty of other gems to go around. Here are a handful that stood out most to me:
• Navy dynamo Noah Song racked up 14 strikeouts over six innings of three-hit, shutout ball in a 2-1 win against Air Force in Kinston, N.C. He was particularly overpowering early: his first 10 outs of the game came via strikeout. Of course, Song is such a stud that this wasn't even his career high for punchouts in a  game (that was 16, set in 2018 against Air Force).
• Louisville lefthander Reid Detmers retired the first 16 batters of the game before issuing a one-out walk in the sixth against Brown. That proved to be the only baserunner he allowed; he finished the day with seven innings of hitless ball, striking out 11. Freshman Jack Perkins took it the rest of the way — but lost the combined no-hit bid with two outs in the ninth, when a looping fly ball deflected off the glove of a sliding Zach Britton in right.
• Dustin Lacaze of Texas A&M-Corpus Christi nearly matched Detmers' effort, turning in seven innings of no-hit ball while striking out 11 (but walking four) in the Islanders' 5-1 win against Oral Roberts. ORU logged its only hit of the game to lead off the ninth against A.G. Ayala. The two Islander hurlers combined to record 15 strikeouts in the game.
• Nevada's Ryan Anderson posted an identical line to Lacaze in a 1-0 win at Long Beach State: 7 IP, 0 H, 0 R, 4 BB, 11 K. The Dirtbags finally got into the hit column in the ninth, but Shane Gustafson was able to strand the bases loaded to preserve the 1-0 victory for the Wolf Pack.
• Finally, Michigan ace lefty Tommy Henry might have upstaged them all, turning in a brilliant one-hit shutout against The Citadel. Henry racked up 13 strikeouts and did not issue a walk — but despite that lofty strikeout total, he needed just 88 pitches to finish off his shutout. The Citadel recorded its first and only hit of the game in the seventh, but catcher Joe Donovan threw out the baserunner attempting to steal second, allowing Henry to get through the game facing the minimum 27 batters.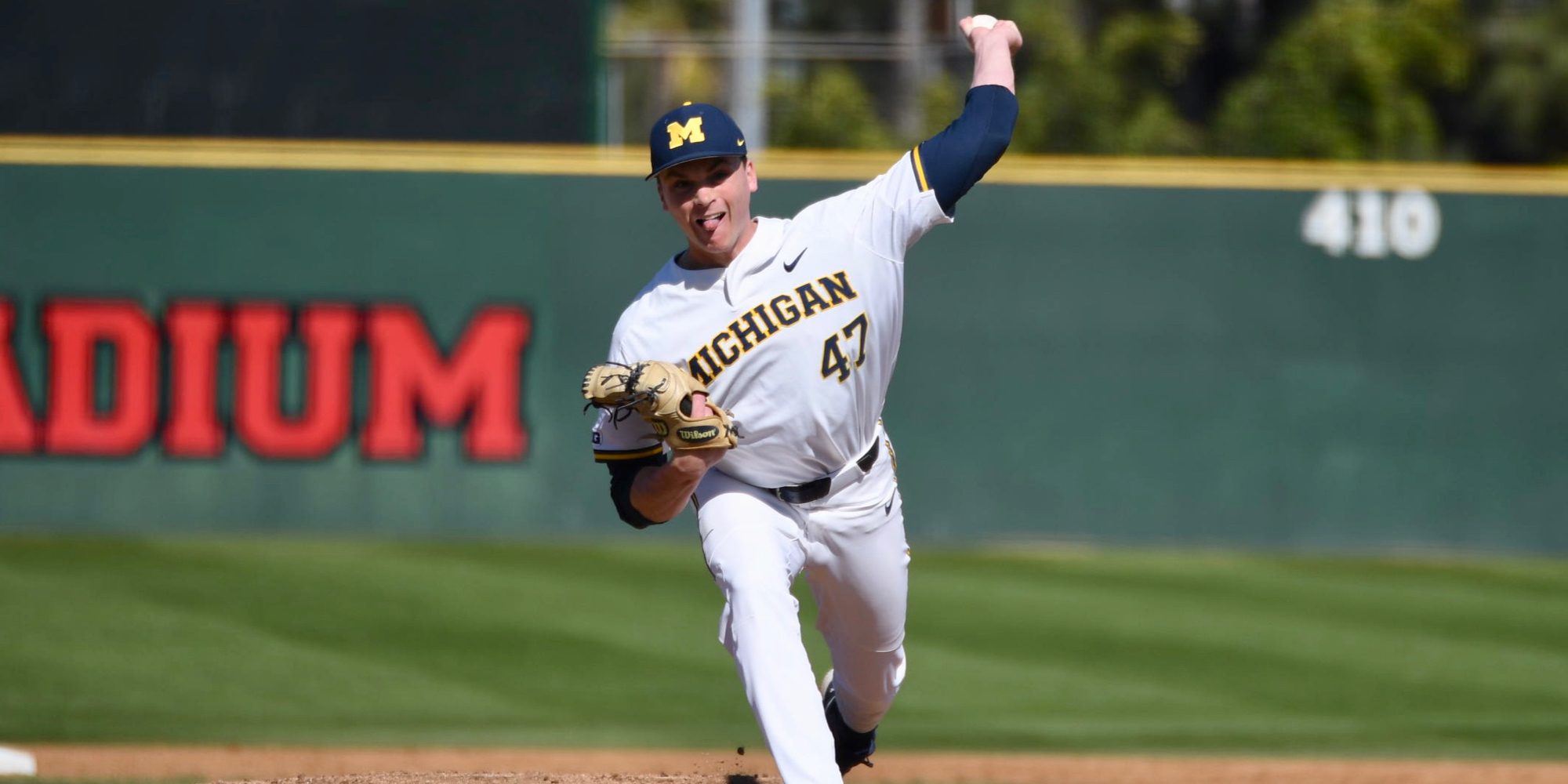 Michigan ace lefty Tommy Henry (Aaron Fitt)
2. Georgia Tech's McCann Walks Off UCLA
Heading into a big series against No. 4 UCLA this weekend, Georgia Tech coach Danny Hall said his team was looking forward to the chance to prove itself against a high-profile opponent. In particular, Hall suggested this group of Yellow Jackets has shown him more toughness than some recent Tech squads.
"I think it's a little more chip on the shoulder," Hall told D1Baseball last week. "I've seen a lot of grit out of them. The way we kind of put West Virginia back in the game (last week), I think, if it's right or wrong, in years past maybe we don't hang in there and win that game, when something bad happens, the old 'woe is me.' But I thought we showed a lot of resolve, hanging in there and battling, putting pressure on them, their closer is very good. So that was a good sign for me, that we are more gritty, more tough, and can handle adversity."
The Jackets showed that grit again Friday night against the Bruins, hanging tough in the late innings to earn a walk-off 4-3 win on Kyle McCann's solo homer in the 11th. Both teams got good starts from Zach Pettway (7 IP, 3 ER) and Xzavion Curry (5 IP, 2 R, 1 ER), and both teams got strong work out of their bullpens. Kyle Mora dealt for three innings until allowing the walk-off homer, and Tristin English countered with three innings of scoreless relief to earn the victory for Tech.
3. Houston Shuts Down Arizona
Arizona entered this weekend averaging 17 runs per game over its first five. The Wildcats scored 12 or more runs in each of those five contests — a four-game sweep of overmatched UMass Lowell plus a 16-5 midweek blowout at Rice. So it was striking that Houston held the Wildcats to just two hits in a 2-1 win Friday night. Tyler Bielamowicz (6 IP, 2 H, 1 ER, 0 BB, 5 K) turned in an outstanding start for the Cougars, and Fred Villarreal followed with three innings of no-hit relief to earn the victory. Joe Davis hit a solo homer in the eighth to break a 1-1 tie and hand Arizona's Randy Labaut (7.1 IP, 2 ER) a tough-luck loss.
4. Vols Stay Unbeaten With Big Win Over Indiana
Well, Tennessee finally allowed its first run of 2018, in its fifth game of the season. After shutting out Appalachian State three times last weekend and blanking Northern Kentucky on Tuesday, the Volunteers welcomed a much more dangerous Indiana offense to Knoxville this weekend, but the result was similar.
Tennessee righty Garrett Stallings (Aaron Fitt)
The Hoosiers finally snapped UT's scoreless streak with a run in the sixth, but that's all the offense they could muster, as Tennessee improved to 5-0 with a 5-1 victory. Back-to-back RBI doubles by Evan Russell and Landon Gray highlighted a three-run first inning for Tennessee, and that proved more than enough run support for Garrett Stallings, who limited the Hoosiers to just a run on five hits and no walks while striking out nine over seven strong innings of work. Redmond Walsh followed with two innings of hitless relief. Tennessee is off to its first 5-0 start since 2014, when it raced out to a 12-0 start. Another win this weekend against the Big Ten power Hoosiers would be a major feather in Tennessee's cap.
5. Sycamores Keep Rolling
After opening eyes with a season-opening three-game sweep of Atlantic Sun contender Jacksonville, Indiana State made another statement Friday night with a big 1-0 win at CAA favorite UNC Wilmington. Ace lefthander Triston Polley — our preseason pick for Missouri Valley Conference pitcher of the year — struck out a career-high eight batters over six innings of three-hit, shutout ball, and Indiana State relievers Jake Ridgway and Tyler Grauer combined for three shutout frames to finish it. The Sycamores scratched across their only run on a Joe Boyle sacrifice fly in the fourth, but that's the only run they would need.
We've heard good reports on Indiana State so far; if you're looking for a mid-major sleeper, the Sycamores look like a very strong candidate.
Kendall Rogers' Five
1. Auburn passes first test against UCF
Tanner Burns had a strong start against UCF .(Kendall Rogers)
The Tigers are on the road this weekend for a huge series against a solid UCF club, and they passed the first test Friday night in impressive fashion. Auburn sophomore righthander Tanner Burns, our projected SEC Pitcher of the Year, put together an absolute gem in a 4-1 victory. Burns struck out seven, walked two and allowed a run on two hits in 5.2 innings.
He needed to be good because UCF's Grant Schuermann also had a strong performance. He struck out two and allowed two earned runs on three hits in six innings. Meanwhile, it was the battle of the bullpens in the later innings with Auburn youngster Elliott Anderson tossing two shutout innings and righthander Cody Greenhill closing it out with 1.1 shutout innings.
From an offensive standpoint, hard-hitting Edouard Julien had a home run and finished the night with two hits, while the Tigers as a whole mustered just five hits on the night.
"Our guys did a great job," head coach Butch Thompson said. "I thought the difference was the guys on the mound. Tanner Burns threw 30-plus pitches in the first inning, but just settled down."
Tonight's game was all about the pitching and Auburn prevailed. 

2. Coastal Carolina scores 25 runs in doubleheader sweep
Coastal Carolina's Parker Chavers had a strong day. (Aaron Fitt)
To no surprise, the Chanticleers are off to a hot start this season. And that trend continued Friday afternoon in a dominant doubleheader sweep over Michigan State.
In the first game, Coastal starting pitcher Zach McCambley was terrific in a 13-0 victory. He struck out six, walked one and allowed just two hits in six shutout innings. Meanwhile, three Chants hitters had home runs — Jared Johnson, Parker Chavers and Kieton Rivers. Johnson finished the game 2-for-2, Chavers' home run was his only hit of the game Rivers finished the night with a pair of hits.
In the nightcap, the Chants once again put together a dominant performance in a 12-5 win with Chavers having yet another strong showing. Chavers hit a home run, tallied three hits and knocked in five runs, while Kyle Skeels had a pair of doubles, finished with three hits and knocked in two runs. Cameron Pearcey also had a solid night at the plate with four hits and two RBIs.
For the season, the Chants have now scored 53 runs. They're rolling.

3. Arkansas passes road test, clinches USC series
Arkansas' Casey Martin hit his first home run on Friday. (Mandy Sorenson)
The last time the Razorbacks and Trojans played a weekend series, the Hogs, at home, needed some serious luck to take the series from Dan Hubbs' team. Well, the Hogs won't need some magic this go-round as they clinched a series win over USC with an 8-6 victory on Friday
If you're looking for the lone negative, Arkansas righthander Isaiah Campbell didn't have an overwhelming start against the Trojans, allowing six runs (three earned) on six hits in 5.1 innings. However, righty Kevin Kopps, who's back from an injury this season, was terrific, allowing three hits in 2.2. shutout innings, while Matt Cronin earned his second save of the season with an inning of shutout work.
Offensively, All-American Casey Martin hit his first home run of the season, while Jack Kenley put together a solid performance at the plate with two hits and three RBIs
For the Trojans, talented righthander Kyle Hurt showed some serious promise at times. He struck out five, walked three and allowed five runs on three hits in five innings.
Arkansas had some holes to fill this season, but Dave Van Horn's club goes for the sweep on Saturday and is now 5-0 on the season.
The Jackrabbit, @cmartin15_ showing us how its done. ? pic.twitter.com/4yeWHx2YcC

— Razorback Baseball (@RazorbackBSB) February 23, 2019

4. Upset of the day: Grand Canyon over No. 18 TCU
Just a weekend ago, the Horned Frogs were on top of the world following a strong 2-1 showing at the MLB4 Collegiate Tournament in Arizona. But the Frogs were knocked down a bit on Friday in a 4-1 loss to Grand Canyon.
GCU starting pitcher Kade Mechals put together a strong start, striking out six, walking two and allowing a run on three hits in 61 innings, while reliever Nick Ohanian put together a solid outing as well, tossing 1.1 shutout innings to end the game. 
Athletic Quin Cotton had a strong performance at the plate, going 2-for-4 with a home run and two RBIs, while the Frogs, after shining offensively the final two games last weekend, only mustered four hits. By the way, TCU lefthander Nick Lodolo had a solid start, striking out 10, not allowing a walk and allowing just two runs on four hits in seven innings.
Timely hits. Timely defense. Timely pitching. Highlights from the Lopes' win. #LopesUp pic.twitter.com/AqF0dTJvTN

— GCU Baseball (@GCU_Baseball) February 23, 2019

5. Oregon State's Abel shines as Beavs win yet again
Oregon State's Kevin Abel put together a strong start. (Eric Sorenson)
The Beavers took care of business last weekend and went 3-0 against New Mexico, Gonzaga and Minnesota. However, righthander Kevin Abel struggled in his Opening Day start.
He didn't emulate that performance Friday afternoon in an 8-2 win over Nebraska. Abel was electric against the Huskers, striking out 10, walking three and allowing just two runs on two hits in 5.1 innings. He sat 88-92 and up to 93 mph with this fastball, while the curveball and changeup were above average to plus. Christian Chamberlain closed out the game with four strikeouts in two shutout innings and the OSU pitching staff finished the game with 17 strikeouts. Offensively, catcher Adley Rutschman hit his third home run of the season.
In the nightcap, OSU righthander Bryce Fehmel had yet another terrific start, striking out 10, not allowing a walk and allowing just three runs on seven hits in six innings. Meanwhile, Alex McGarry had two hits and Rutschman hit yet another home run to bring his season total to four.
Despite all the departures from last season, the Beaves are now 6-0.
Join the Discussion