D1 Digest: Friday, Feb. 28
Roundup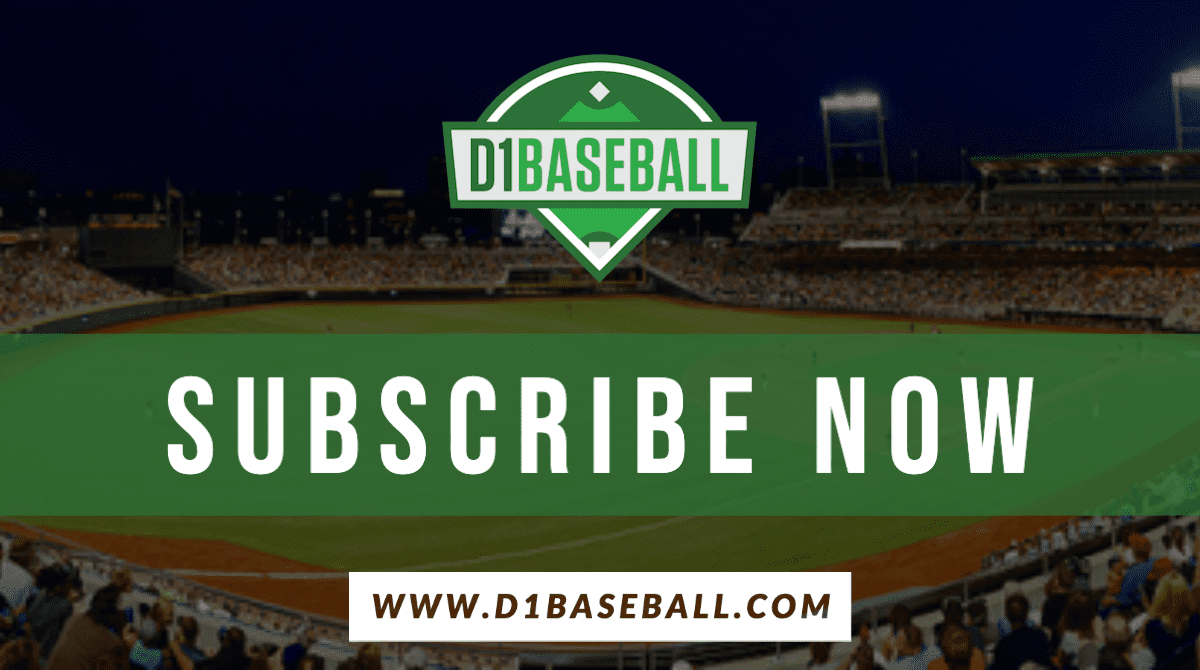 Friday's Coverage
---
This Again?
Another week, another set of no-no's.
Jake Miller wasn't expected to get the ball to start San Diego's home contest with Monmouth Friday. He had pitched well in three relief outings, even going four innings last Saturday against Seattle to earn a save. But when projected starter Kohl Simas was scratched due to illness, Miller got the ball and the opportunity. All the sophomore righthander did was get 27 outs without allowing a hit. Miller only walked two and struck out ten in the 7-0 USD victory. Making his first start of the season, Miller accomplished his no-hitter in only 102 pitches.
T8 | CAMDEN VASQUEZ 😳#GoToreros pic.twitter.com/k5x7zul5En

— San Diego Baseball (@USDbaseball) February 29, 2020
The first no-no since 2008! ✅#GoToreros pic.twitter.com/xoIQS1pHHR

— San Diego Baseball (@USDbaseball) February 29, 2020
The early run of epic pitching performances continued as three Tulane pitchers combined to no-hit Middle Tennessee in a 2-0 victory. Braden Olthoff moved to 3-0 as he worked six innings and fanned eight without walking a batter. Clifton Slagel got the next seven outs before Keagan Gillies collected his third save with the final two outs. The perfect game was spoiled as Blue Raider Mason Speirs reached to leadoff the sixth inning on a throwing error by shortstop Collin Burns. This is the first Tulane no-hitter since April 26, 2005, vs. Nicholls State.
THE MOMENT! Senior Keagan Gillies closes out Tulane's first no-hitter since 2005! #RollWave pic.twitter.com/beP6XYupUt

— Tulane Baseball (@GreenWaveBSB) February 29, 2020
In-State Showdowns
• Clemson almost joined the no-hitter brigade in its 7-1 victory at South Carolina. Sam Weatherly dominated the Gamecock batters in his seven innings. Not only did he not allow a hit, he struck out eleven. Kier Meredith went 4-5 for the Tigers and had one of Clemson's three home runs. South Carolina's Brady Allen broke up the no-hitter in the ninth inning with a home run, the Gamecocks' only hit of the day.
• Kudos to the Palmetto State rivals for the annual three-game set between rivals to help kick-start early season interest in college baseball. Following suit this year are two Peach State rivals with a weekend home and home followed by a neutral site game. Georgia drew first blood with a 6-5 victory in Athens. Bulldog ace Emerson Hancock picked up the victory with 10 strikeouts in 5.2 innings. The game's top pitching prospect did allow eight hits and four runs. Reliever Ryan Webb grabbed the save with 3.1 innings to close it out. Tucker Bradley had a home run and three RBI's to lead the Georgia attack. The Yellow Jackets lost despite outhitting the Bulldogs 13-7.
Tucker Bradley is legit 💪

Watch now: 📺 https://t.co/LeXFGqEm2n pic.twitter.com/ZulvEc7egD

— Georgia Baseball (@BaseballUGA) February 28, 2020
Tournament Rundown
Houston
At the Shriners Hospitals for Children College Classic, Baylor got a pair of home runs from Mack Mueller to defeat Missouri 4-2. Four Bear arms combined to hold the Tigers to four hits which included four shutout innings from the bullpen.
In the second game in Houston, Oklahoma handed Arkansas its first loss, 6-3 behind Sooner RHP Cade Cavalli's 11 strikeouts, no walk effort. Cavalli and relievers Wyatt Olds and Jason Ruffcorn combined to strikeout 18 Razorback batters. The Hogs did get a pair of homers, one each from Robert Moore and Jacob Nesbitt while Brady Lindsly added one for OU.
Cole Henry and Jaden Hill combined for 16 strikeouts to lead LSU over Texas 4-3 handing the Longhorns their first loss of the season.
For more from the Shriners Hospitals for Children College Classic, check out Kendall's coverage.
SHRINERS COLLEGE CLASSIC COVERAGE

My in-depth look back at Friday's action:

• @LSUbaseball's Jaden Hill amazing in relief in a win over #Texas. His story.

• @OU_Baseball's Cade Cavalli and Wyatt Olds show big-time stuff in win over #Arkansas.https://t.co/jaB4I6oVXO pic.twitter.com/Y47xAf22AW

— Kendall Rogers (@KendallRogers) February 29, 2020
Frisco
UCLA jumped on Oklahoma State for five early runs and coasted to an 8-1 victory in the Frisco College Baseball Classic. The unbeaten Bruins received seven shutout innings from starter Zach Pettway and outhit the Cowboys 12-3.
In the Frisco nightcap, Illinois stunned previously unbeaten Texas A&M 1-0. Illini starter Ty Weber threw 6.2 innings as he dueled Aggie ace Asa Lacy. A&M entered the game averaging 13 runs per game but was held to three hits by Weber, Ryan Kutt and Garret Acton.
For more from the Frisco College Baseball Classic, check out Aaron's coverage.
FINAL: @IlliniBaseball wins a thriller over Texas A&M 1-0 to close Day One of the @FriscoClassic. Ty Weber and Asa Lacy dueled to a stalemate, and Illinois broke a scoreless tie on Comia's RBI single in the 8th. Garrett Acton closed it out, firing 91-93 heat in a 1-2-3 ninth. pic.twitter.com/3osTI2NBnz

— Aaron Fitt (@aaronfitt) February 29, 2020
Minneapolis
In the Cambria College Classic, three ACC foes took on three Big 10 programs in U.S. Bank Stadium, home of the Minnesota Vikings. Patrick Bailey led NC State with a pair of late-game home runs to lead the Pack over Iowa 10-6.
Also, in Minnesota, Duke rode ace Bryce Jarvis to a 5-1 victory over Purdue. Jarvis went seven innings and allowed six hits and a run. He struck out 11 and did not issue a walk.
Minnesota rode ace Max Meyer to a 4-1 victory over North Carolina. Meyer struck out a career-high 14 and walked only one in a complete game (112 pitches), five-hitter. Zack Raabe led the Gophers with three hits.
For more from the Cambria College Classic, check out Eric's coverage.
Max Meyer?… More like, MAX. POWER!
The lively righty K'd 14 Tar Heel batters as @GopherBaseball downs North Carolina 4-1. Meyer threw a complete game (112 pitches) and gave up just five hits and one walk. Pure sublimity. pic.twitter.com/L8QAJn7isK

— Eric Sorenson (@Stitch_Head) February 29, 2020
Greenville
Indiana pounded 15 hits in an 11-5 win at East Carolina in the Keith LeClair Classic. The top six IU batters combined for 14 hits, five doubles and a pair of home runs.
In the other game of the LeClair Classic, Ole Miss beat High Point 6-2 behind another strong pitching effort by Doug Nikhazy. The Rebel ace allowed four hits and two runs in a 5.2 inning start. Austin Miller and Taylor Broadway each worked a scoreless 1.2 innings in relief to close out the victory. Tyler Kennan homered for the Rebels to scratched out those six runs on six hits.
Tallahassee
Clayton Beeter carried a perfect game into the fifth and Texas Tech pulled away with a three-run eighth to open its stay in the Sunshine State with a 7-1 victory over Florida Atlantic. Beeter put up seven strikeouts and retired the first 13 batters he faced.
In the nightcap, three Florida State pitchers, led by starter CJ Van Eyk combined to allow just one hit against FAU, whose batters drew a brutal pair of aces Friday. FSU catcher Matheu Nelson was 2-for-3 with a single, double, walk, hit by pitch and two RBI's.
Dirtbags are for real
Long Beach State moved to 8-2 on the season with an impressive 4-0 victory over Mississippi State. Adam Seminaris, who returned to the rotation after sitting out last weekend, was the story as the starting pitcher allowed just one run in eight innings while striking out 10 Bulldogs. The Dirtbags, who already have a series win over Cal and a three-game sweep over Wake Forest, are a game away from a series victory over a Mississippi State team that made the CWS a season ago.
Had to talk to @ASeminaris after his performance tonight against No. 6 Mississippi State!

W, 8 IP, 1 H, 0 R, 2 BB, 10 K

Dirtbags win 4-0. #GoBeach pic.twitter.com/J6BTae1y3D

— LBSU Dirtbags (@LBDirtbags) February 29, 2020
Quick Hits
• Alabama continued its impressive start with a 15-3 victory over 2019 Ivy League champion Harvard. Brad Bohannon's club moved to 10-0 as freshman lefthanded ace Connor Prielipp moved to 3-0 with a nine strikeout, one walk performance with two hits allowed in six innings. For the year, Prielipp has now fanned 24 hitters in 15 scoreless innings over three starts.
• Zarion Sharpe and Blake Deatherage combined to baffle Kentucky as UNCW shutout the Wildcats 8-0. Sharpe got the win with seven shutout innings while Deatherage worked the final two frames. The win for UNCW was the first against a SEC member since 2004 when it knocked off Tennessee at the Kinston Regional. The shutout win halted Kentucky's scoring streak at 127 games, the third longest active streak in the nation. Cole Weiss had three hits including a home run to lead the Seahawk attack while Jac Croom added three hits with a double.
• Mason Hickman dominated in his 6.2 inning start with only two hits and one run allowed. He struck out 11 and did not walk a batter in Vanderbilt's 5-1 victory over Hawaii. Vandy had eight hits offensively with Harrison Ray leading the way with a single and a double. Ty Duval and Dominic Keegan also added a pair of hits apiece as Vandy improves to 10-2.
• Florida fell behind to Troy but rallied for a 3-2 victory to remain undefeated. Tommy Mace got the victory for the Gators with seven strong innings. He scattered nine hits and allowed a pair of runs. Ben Specht struck out the side in the ninth to collect the save. Troy ace Levi Thomas gave the UF lineup all kinds of trouble in his six innings. He allowed only five hits and no runs with six strikeouts and a walk. Austin Langworthy led Florida with three hits while Drew Frederic matched him for the Trojans.
• Coastal Carolina held Maryland to four hits and pounded 18 hits of its own in a 16-0 domination. Zach McCambley allowed two hits over five innings to pick up the Coastal win on the mound.
• In a nice mid-major series, South Alabama defeated Gonzaga 2-0. USA ace Drake Nightengale fanned 10 in 6.1 innings. He allowed only three hits but got a no decision as the game was scoreless until the Jags scored a pair in the bottom of the eighth. Zags starter Mac Lardner also struck out ten in his 7.2 inning start but got the tough-luck loss with two runs allowed – one earned.
• Boise State won its first home game in 40 years with a 4-0 victory over Northern Colorado. The Broncos resurrected their program and opened last weekend losing three games at Texas. Friday in Boise before 3,279 fans, Travis Weston struck out 10 in seven shutout innings to send the home fans away happy.
• And lastly, check out this play in the Louisville-Western Michigan game, where it appears the UL right fielder has access to a second baseball. Obviously, a ball was accidentally left out. But still … what are the odds?
Was uh

Was there a second ball on the field here? (🎥 @WMUBaseball) pic.twitter.com/i8eEwlneKz

— NBC Sports (@NBCSports) February 28, 2020
Join the Discussion