D1 Digest: Navy's Song Shines, Martin Gets 2000
Roundup
Want to get in-depth coverage? Subscribe to D1Baseball
---
Saturday's Staff Coverage
• Aaron Fitt on Oregon State's Malone, CCU's Kitchen and more
• Kendall Rogers on Rice-Oklahoma and Brylie Ware
• NC State stays undefeated in impressive fashion
• Saturday Scoreboard
• Get a subscription!
---
Team of the day
Clemson
The Tigers took a step back last weekend by losing two of three to rival South Carolina, but boy, what a way to respond this weekend at home against North Carolina. Clemson opened ACC play with a bang by sweeping both ends of a doubleheader from the Tar Heels, 3-2 and 17-3 to clinch a series victory.
CU got it done in different ways in the two games. In the first, freshman two-way talent David Sharpe struck out seven, walked three and allowed a run and three hits in six innings, while UNC's Gianluca Dalatri was a tough-luck loser, allowing just one run in 6.2 innings.
In the finale, it was all Tigers. The Clemson offense jumped all over UNC's Tyler Baum, knocking him out of the game after allowing six runs on eight hits in 1.2 innings. Meanwhile, Mat Clark put together a solid start for the Tigers, allowing two runs on four hits in six innings. Offensively, Bryar Hawkins had a massive day at the plate, hitting a home run, tallying four total hits and knocking in three runs, while Grayson Byrd had four hits, one a double and five RBIs and Sam Hall had two doubles, four total hits and four RBIs in the winning cause.
Clemson entered the weekend with something to prove and did just that in emphatic fashion.
If four hits in this game for @samlhall5 weren't enough, how about this #SCTop10 catch in the seventh inning by Mr. Hall!

Watch the game now live via ACC Network Extra (https://t.co/480gi2BjaM) pic.twitter.com/NO6N6vjIW6

— Clemson Baseball (@ClemsonBaseball) March 10, 2019
Speaking of the ACC, here's a quick rundown of what happened in the league on Saturday:
• Florida State head coach Mike Martin earned win No. 2000 in the second game of a doubleheader, as the Seminoles beat Virginia Tech 5-2 to take the series in Tallahassee. The Hokies stymied the 'Noles, 6-0, earlier in the day with Chris Gerard striking out 10, walking three and allowing one hit in seven shutout innings, while in the nightcap, J.C. Flowers capped off his important weekend with a home run, while the FSU bullpen rose to the occasion with Jonah Scolaro tossing 3.2 shutout innings, Chase Haney tossing a shutout frame and Flowers capping it all off with three strikeouts in two shutout frames. It was a memorable night for all, including '11' at Dick Howser Stadium.
It's no coincidence that MM are the roman numerals for 2,000.

For the first time in the history of NCAA athletics, a head coach has reached 2,000 career wins.

Congratulations to our beloved head coach, Mike Martin. pic.twitter.com/c4BYcdUOaA

— FSU Baseball (@FSUBaseball) March 9, 2019
• Miami got a walk-off two-run home run from shortstop Freddy Zamora to beat Georgia Tech 6-5 Saturday evening. Zamora finished the night with three hits, while three Georgia Tech sluggers had two hits and five hit doubles in the losing cause. This has been a terrific series throughout the weekend thus far.
@MiamiHurricanes @CanesBaseball Freddy walking it off on a 3-2 with 2 down. 6-5 Canes pic.twitter.com/ZVjObkt93L

— JaySinatra (@Sinatra_Jay) March 10, 2019
• Virginia might be having a coming out party this weekend against Duke. The Cavaliers took the series opener, 11-3, with a balanced attack. Noah Murdock struck out six in 4.1 innings while the bullpen did the job. But this game was won with the Virginia offense, as Cam Simmons had a pair of doubles and knocked in two runs to lead the way.
• Notre Dame has struggled mightily so far this season but showed well Saturday in a 7-4 win over Wake Forest. Though Irish starting pitcher Tommy Sheehan was lifted after allowing four runs and eight hits in 5.2 innings, the bullpen did a swell job with Cole Kmet tossing two shutout frames to end it. Daniel Jung and Niko Kavadas each hit home runs for the Fighting Irish.
---
Upset of the day
Louisiana Tech over No. 15 Arkansas
It's never a good sign when you're forced to use eight pitchers in one game, and that's precisely what Arkansas did Saturday in a 12-7 loss to the Bulldogs. Arkansas freshman righthander Connor Noland allowed four runs in five innings while the bullpen struggled against the Bulldogs on a windy day in Fayetteville.
Four Louisiana Tech sluggers had two hits in the victory, with Mason Mallard, Manny Garcia and Mason Robinson each smacking home runs, while Parker Bates and Shelton Wallace each hit doubles in the win. Robinson was the high-RPI guy with four, while Mallard knocked in three runs to lead the way.
Tech also got a huge performance reliever Braxton Smith who finished out the game striking out six in 2.2 shutout innings.
BIG FLY Mason Robinson!!!

The senior crushes a no-doubter to left and the lead balloons out to 5!!

? | 12
? | 7 pic.twitter.com/aCtFeOqJpl

— Diamond Dogs (@LATechBSB) March 9, 2019
More upsets:
• Nebraska shut down suddenly scuffling Baylor, 2-0, to take that series in Waco. The Huskers, who now have had back-to-back strong weekends, got a strong performance from Nate Fisher, who carried a no-hitter into the ninth inning, struck out six and walked one in eight shutout innings. Meanwhile, Spencer Schwellenbach and Colby Gomes had two hits apiece and Gunner Hellstrom had three hits.
• USC got a pair of solid pitching performances in a 4-1 win over red-hot Michigan. Isaac Esqueda was terrific for the Trojans, striking out six, walking three and allowing a run on three hits in five innings, while Connor Lunn closed out the game in impressive fashion, striking out three in four hitless innings. Though the Wolverines had a setback, Karl Kauffmann was a bright spot, allowing two runs on five hits in seven innings.
• Long Beach State touched up TCU righthander Jake Eissler for nine runs on seven hits in 2.1 innings in a 14-3 win over the No. 23 Horned Frogs. Adam Seminaris put together a strong start for the Dirtbags, striking out six and allowing four hits in seven shutout innings, while offensively, Chase Luttrell had a three-hit performance and Jacob Hughey tallied two hits and two RBIs.
---
Player of the day
Noah Song, RHP, Navy
Goodness gracious, what a performance by Song in a 2-1 win over Cornell. Song struck out 16, walked two and allowed just one run and three hits in seven innings against the Big Red. For the season, Song now has a 0.35 ERA in 25.2 innings, along with 52 strikeouts and 10 walks. Yeah, I think that's pretty good.
Check out our recent spotlight on Song, here.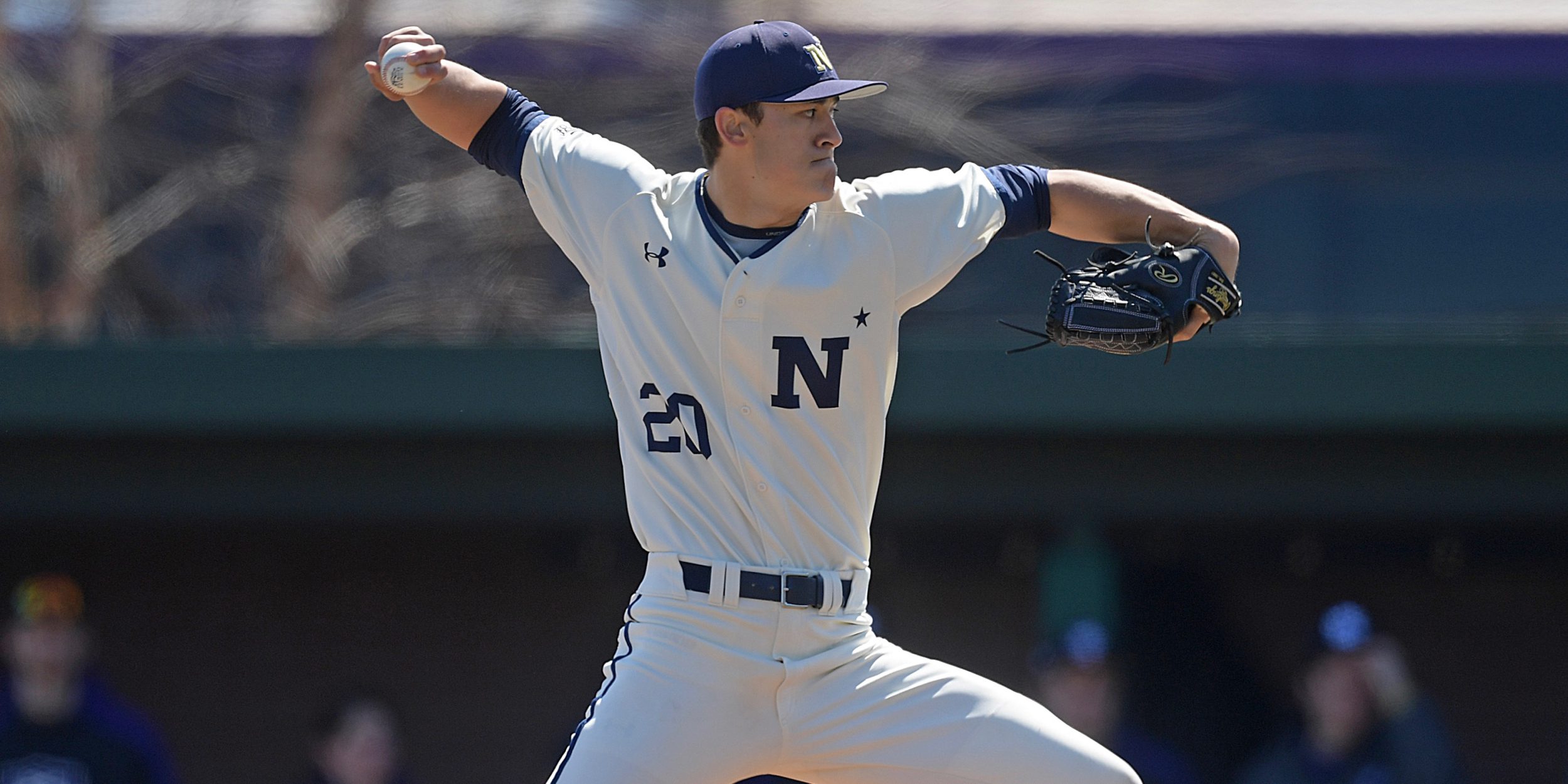 Navy righthander Noah Song was outstanding yet again. (Navy Athletics)
More top performers:
• Omaha's Payton Kinney struck out six, walked three and allowed seven hits in eight shutout innings in a win over Santa Clara.
• Southern's Tyler LaPorte had an afternoon to remember in a wild 16-13 win over UA-Pine Bluff. LaPorte went 3-for-6 with two home runs and eight RBIs in the victory.
• Auburn's Jack Owen is pitching like a guy on a mission these days. The talented lefthander struck out seven, didn't walk anyone and allowed just four hits in a complete game shutout, 5-0 win over UTSA.
• Toledo's Brad Boss went 3-for-3 with a home run, double, six RBIs and two walks in a wild 15-6 win over Bucknell.
• The Braves dropped the series opener to UNLV on Friday but bounced back in impressive fashion on Saturday with an 8-5 triumph. While the win was nice, it was especially a memorable day for Luke Shadid, who hit for the cycle in the victory and finished the night with five hits and two RBIs.
• Iowa's Izaya Fullard had a huge night as the Hawkeyes blasted Evansville on the road. Fullard went 2-for-4 with a double, home run, a walk and five RBIs. 
• Oklahoma's Brylie Ware had a terrific afternoon in a blowout win over Rice. Ware was outstanding defensively at third, while also hitting a home run and knocking in five runs. 
• USC Upstate picked up a narrow 1-0 victory over Rutgers and Jordan Marks had a big day on the mound, striking out six, walking one and allowing just four hits in six shutout innings.
• Missouri's Tony Ortiz hit two home runs and knocked in four runs as the Tigers used big bats to down Northwestern, 16-11.
• Longwood's Tyler Morgan put together a strong start in a 9-0 win over Albany. Morgan struck out nine, walked one and allowed four hits in seven shutout innings against the Great Danes.
• James Madison's Kevin Kelly struck out 11, didn't walk anyone and allowed two hits in eight shutout innings in a 2-0 win over High Point.
• UNC Asheville's Brandon Lankford had a huge afternoon at the plate in a 14-9 win over Georgia Southern. Lankford hit two home runs, totaled three hits and ended the contest with seven RBIs.
• Texas Tech's Cody Masters hit two homers and tallied four RBIs in an offensive barrage and 15-10 win over Wichita State.
• Cal Baptist's Ryan Mota had an afternoon to remember in a win over Pacific. He smacked three home runs, a double and knocked in a whopping seven runs. He finished the day 4-for-4 at the plate.
---
National Notables
• Arizona State improved to 14-0 on the season with an 8-3 win over Xavier. ASU starting pitcher Alec Marsh allowed three runs on six hits (one earned) in five innings, but the bullpen was terrific with Erik Tolman tossing three shutout frames and Sam Romero closing it out with a shutout frame. Trevor Hauver and Hunter Bishop each hit home runs, while Lyle Lin chipped in a two-hit performance.
• It wasn't the prettiest doubleheader in the world, but LSU picked up a home series win over California with a doubleheader split today — losing 5-2 and winning 5-4. In the first game, electric shortstop Josh Smith hit his first home run of the season and freshman Cole Henry tossed four shutout innings. In the nightcap, LSU freshman slugger Cade Beloso smacked two home runs, while reliever Devin Fontenot was outstanding, tossing four shutout innings in the win.
This man is on FIRE ? ??@cade_beloso with his second blast of the day to put the Tigers up, 5-4! #GeauxTigers?

?https://t.co/5RGW3xW0x9 pic.twitter.com/bqKIWLnQxv

— LSU Baseball (@LSUbaseball) March 10, 2019
• Nelson Maldonado and Jud Fabian each hit home runs for Florida, as it captured a series win over Yale with a dominant 15-1 victory. Maldonado finished the night with three hits and two RBIs, while Austin Langworthy and Jacob Young each had three hits as well. Jack Leftwich put together a solid start for Kevin O'Sullivan's club, striking out five and allowing a run in five innings.
• UCLA bounced back from a tough Friday night loss to Michigan with a 6-3 triumph over Oklahoma State. Ryan Kreidler hit a home run and Michael Toglia had a strong day as well, tallying two hits and knocking in two runs.
• Stanford assured itself at least a split this weekend against Texas, as it captured a 4-2 victory over the Longhorns on Saturday. Alex Williams was lifted after 2.1 innings, while Cody Jensen tossed 3.1 shutout innings and Jack Little finished off the game with 2.2 shutout frames. UT righthander Blair Henley put together a gutsy performance, but the defense was spotty, finishing the night with four errors.
• Oregon State's Joe Casey hit his first home run of the season, as the Beavers picked up an 8-3 win over Indiana at the Seattle Baseball Showcase. Tyler Malone also had a huge day at the plate, going 2-for-4 with a double and three RBIs, while Ryan Ober, Alex McGarry and Adley Rutschman each had two hits.
• Connecticut and Texas State entered the 12th inning tied at 1-1 on Saturday, but the Huskies blew things wide open in the top half of the inning. Paul Gozzo and Michael Chiovitti each hit home runs in the frame, while John Toppa capped it off with an RBI single in a 4-1 victory. The win clinched a series win for the Huskies, who also got a decent performance from Mason Feole, who struggled with command at times, but also tossed 4.1 no-hit innings.
• New Mexico almost made a big statement opening weekend with a win over Oregon State, but didn't finish the job in the latter innings. Well, the Lobos improved to 10-4 on Saturday with a doubleheader sweep of powerhouse Cal State Fullerton, 6-4 and 18-11. In the first game, Jeff Deimling hit a home run for the Lobos and finished the night 2-for-3 with four RBIs, while in the second game, Deimling hit yet another home run and finished the game with four RBIs, while Connor Mang hit a home run, tallied two hits and knocked in three runs. What. A. Day. 
B3 | Deimling just destroyed a baseball #GoLobos pic.twitter.com/0mjHqfu3Zt

— UNM Baseball (@UNMLoboBaseball) March 9, 2019
• UC Santa Barbara captured a huge road series win over Tulane with an 8-7 victory on Saturday. Michael McGreevy was outstanding out of the bullpen in the winning cause, striking out two in three shutout innings, while Jason Willow hit a triple and Tommy Jew had three hits and three RBIs. Christian Kirtley (three hits) also had a huge day at the plate.
Join the Discussion