D1 Digest: Saturday, Feb. 22
Roundup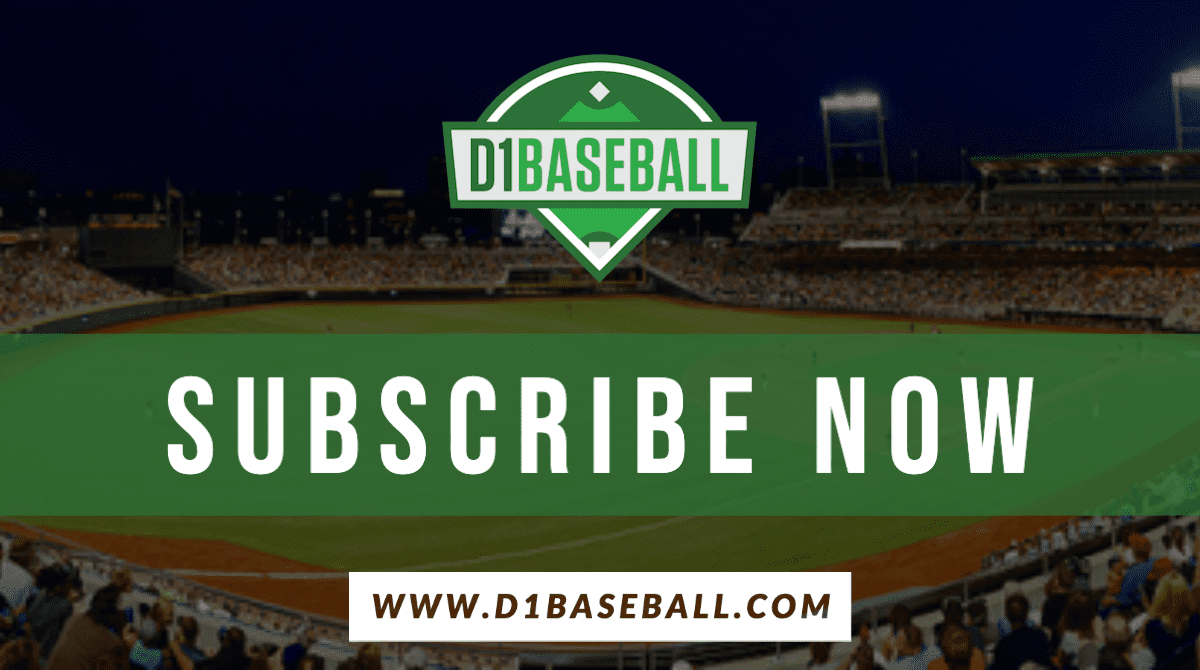 Saturday's Coverage
• Kendall Rogers on Texas Tech's Bonnin/Dallas and Tennessee's heroic finish
• Walter Villa on Florida's late and dramatic win over Miami
• Aaron Fitt on Mississippi State's young arms shining and hitter showing patience vs. Oregon State
• SoCal Dispatches: Shotgun Spratling on Iowa bounces back, Fullerton evens things, Aztecs rolling
• Saturday's Top Performers
• Eric Sorenson on Pepperdine staying unbeaten
---
Aaron Fitt's Five
A Magical Return For UNCG's Billy Godwin
During last weekend's season-opening trip to Coastal Carolina's Baseball at the Beach tournament, UNC Greensboro head coach Billy Godwin was hospitalized after suffering a mild stroke. On Saturday, Godwin returned to the UNCG dugout, and his Spartans welcomed him back in grand style. Jake Lewis and Austin Parsley combined to throw the first no-hitter in UNCG history in Godwin's first game back, a 1-0 win against Fairfield in Game One of a doubleheader. The Spartans completed a sweep of the twin bill with a 6-2 win in the nightcap. Lewis, who has made a strong return from Tommy John surgery, threw seven strong innings, issuing one walk while striking out five, and Parsley worked the final two frames to finish the no-no. Pres Cavanaugh broke a scoreless tie in the bottom of the ninth with a walk-off single.
Late inning dramatics in our home opener as we deliver the no-no and a walk-off W to begin this doubleheader #letsgoG pic.twitter.com/5AnRfZAhWE

— UNCG Baseball (@UNCGBaseball) February 22, 2020
On a personal note, it's just great to see Godwin back in the dugout after his health scare. I first got to know Godwin when he was the head coach at East Carolina from 2006-14, and I got to know him even better in the years since, sitting next to him in the stands at plenty of games while he was scouting for the Yankees. He's a wonderful, warm-hearted man, and a great baseball man. The Spartans are in great hands under his leadership.
Long Beach State Clinches Series Vs. Wake Forest
Expectations were modest — at best — for Long Beach State in Eric Valenzuela's first season as head coach, coming off a dismal 14-41 campaign in 2019. So it's safe to say the Dirtbags are the early surprise of college baseball so far in 2020. After taking a series from California in Week One, the Beach made an even bigger splash in Week Two, clinching a series from No. 18 Wake Forest with a 7-3 win Saturday. A day after Alfredo Ruiz held the Demon Deacons to two hits over seven innings, Luis Ramirez racked up 12 strikeouts over seven innings of three-hit ball Saturday, allowing three runs (one earned). Long Beach broke a 3-3 tie with four runs in the seventh, with help from an error and a wild pitch. Leadoff man Calvin Estrada led the Dirtbag offense with two hits and two RBIs.
So Long Beach State is officially on the radar. The road ahead won't get any easier — the Dirtbags will host Mississippi State next weekend, offering them a chance to make their biggest splash yet.
Gators Continue Mastery Of Hurricanes
For the second straight day, No. 2 Florida and No. 1 Miami needed extra innings to decide a winner. And for the second straight day, the visiting Gators came out on top. Miami was one strike away from leveling the series in the ninth, leading 2-1 with a man on second, when Florida's Jud Fabian delivered a game-tying RBI double. Then the Gators erupted for five runs in the 10th, highlighted by Kirby McMullen's go-ahead solo homer leading off the frame and RBI singles by Kris Armstrong, Josh Rivera and Ben Specht. Miami fought back in the bottom of the 10th but ultimately fell short, as Florida won 7-4. Our Walter Villa was on hand and will have a full report once again.
The Gators have now won six straight series and 14 of their last 17 games against Miami. And Florida head coach Kevin O'Sullivan is now a staggering 33-13 in his career against the rival Hurricanes.
Heels, Patriots Split Twin Bill
In one of Week Two's most intriguing series, No. 22 North Carolina and MVC favorite Dallas Baptist opened their series with a doubleheader split Saturday. The Tar Heels dominated the opener 9-0 behind another strong start from two-way wonder Joey Lancellotti (7 IP, 4 H, 0 R, 2 BB, 7 K), who helped his own cause with an RBI double. UNC pitchers stretched their scoreless streak to 25 consecutive innings before DBU finally got on the board in the third inning of Game Two. The Patriots took control in that one with four runs in the fourth inning, highlighted by Ryan Wrobleski's go-ahead two-run homer. Chad Arnold allowed two runs over five innings to earn the win.
TCU Clobbers Minnesota
In a matchup between two teams that landed in our "next 10" list of teams just outside the preseason Top 25, TCU opened its series at Minnesota with a 12-0 thrashing of the Gophers. Johnny Ray threw a two-hit shutout for the Frogs, striking out seven and walking just two. And the TCU offense beat first-team preseason All-American Max Meyer (5.2 IP, 4 H, 4 ER, 2 BB, 10 K), then piled on against the Minnesota bullpen. Porter Brown and Connor Shepherd had three hits apiece to pace TCU's 12-hit attack, and the Frogs got homers from Shepherd, Austin Henry and Tommy Sacco.
Pretty decent night for Johnny 🙃#FrogballUSA | #GoFrogs pic.twitter.com/oUdJIXjfK9

— TCU Baseball (@TCU_Baseball) February 23, 2020
The Frogs are now 5-0, with a sweep of Kentucky and a great start to a big weekend at Minnesota.
Kendall Rogers' Five
UCF gets huge road series win over No. 8 Auburn
The Knights began the 2020 campaign with a four-game sweep of Siena, but their true test was this weekend, on the road, against No. 8 Auburn. UCF, of course, dropped a tough early-season series to the Tigers at home last year. UCF got some revenge Saturday afternoon with a series-clinching and impressive 7-3 win over Butch Thompson's club.
UCF hard-throwing righthander Trevor Holloway put together a quality start against Auburn, striking out nine, walking two and allowing a run in five innings, while Jordan Rathbone led the offense with a home run and three RBIs. Dalton Wingo also chipped in a multi-hit performance. For the Tigers, starting pitcher Jack Owen struck out five, walked one and allowed three runs in five innings, while Richard Fitts struggled out of the bullpen, allowing three runs in an inning of work.
True toughness from a great team 💪 pic.twitter.com/hu02Elds2x

— UCF Baseball (@UCF_Baseball) February 22, 2020
The American was very much wide open coming into the spring, with East Carolina leading the charge and teams like Houston, Connecticut and Tulane following the Pirates. UCF was picked to finish fifth in the league, but clearly is surpassing early expectations.
We'll see if the Knights can keep the streak going. The series win over Auburn is UCF's first over a ranked SEC club since 2001.
No. 19 Georgia Tech secures series win over Ohio State
Handicapping the Big Ten entering the spring was difficult. Michigan was the clear-cut favorite, but after that? You could go in a few directions with Minnesota or Ohio State next in line.
The Buckeyes hit the road this weekend with a chance to nab a marquee non-conference series win over the No. 19 Yellow Jackets. However, Danny Hall's club had something else in mind after beating the Bucks 5-2 Saturday afternoon to capture an impressive series win.
Some 📸 from today's game 😍 pic.twitter.com/EU2gy9Rt7F

— Georgia Tech Baseball (@GTBaseball) February 22, 2020
Georgia Tech starting pitcher Cort Roedig put together a quality start, striking out six and walking three, while also allowing just one hit in six innings of work. Meanwhile, veteran reliever Andy Archer was terrific, striking out three in three no-hit innings. As for OSU, premier lefthander Seth Lonsway struck out a whopping 12 batters, walking two and allowing four runs and three hits in five innings.
Outside of one loss to St. John's last weekend, it's been so far, so good for Hall and the Jackets.
Now, Ohio State looks to finish off the series with a win on Sunday.
Arkansas makes easy work of WCC favorite Gonzaga
If you watched the series opener between the two clubs on Thursday, you'd never think the Hogs would totally control the next two games of the series. The Hogs won the series opener against the Zags, but it was in nail biting territory.
The past two games have not been of the same variety.
Arkansas rolled in the second game on Friday, 9-3, while they silenced Gonzaga, 5-0, Saturday afternoon to take a 3-0 series lead with a game remaining.
Speechless. @__robertmoore_ will probably end up on #SCTop10 for this one. pic.twitter.com/0HtzriFZVr

— Razorback Baseball (@RazorbackBSB) February 22, 2020
Razorbacks sophomore lefthander Patrick Wicklander put together a strong start, striking out seven, walking one and allowing just one hit in six innings, while the bullpen performed well, too, with Caden Monke, Kevin Kopps and Elijah Trest leading the way. Meanwhile, GU talented starting pitcher Alek Jacob struck out six, walked two and allowed five runs (three earned) on six hits in 5.2 innings.
Heralded Arkansas freshman second baseman Robert Moore had quite a game, hitting a home run and finishing the afternoon with three hits and three RBIs, while leadoff hitter Zack Gregory chipped in a two-hit performance.
Though there's another game to go, the Hogs will soon look forward to next week's Shriners College Classic, which includes a showdown with rival Texas.
Michigan responds in big way against Connecticut
Apparently, the Wolverines were tired of losing to Connecticut.
Michigan lost the final game of the MLB4 tournament to the Huskies before losing the series opener on Friday night. However, the Wolverines scored a whopping 13 runs the first four innings Saturday afternoon in a 14-2 triumph over Jim Penders' club.
Teddy Burton hit a home run for Michigan, while Dom Clementi had a huge afternoon at the plate, going 3-for-4 with a pair of doubles, a stolen base and three RBIs. Riley Bertram, Jordan Nwogu and Danny Zimmerman each had two hits in the winning cause.
B4: Freshman Ted Burton @tedburton20 makes it 13-2 as he launches a 3-run homer to left for his first collegiate long ball #GoBlue 〽️ pic.twitter.com/0fYk7q5JBK

— Michigan Baseball (@umichbaseball) February 22, 2020
From a pitching standpoint, Michigan lefthander Steve Hajjar put together a strong start for the second-straight week, striking out three and walking two, while also allowing two runs and six hits in five innings, while Jacob Denner was outstanding out of the bullpen, striking out two and allowing four hits in four shutout innings. Meanwhile, it was an afternoon to forget for UConn starter Colby Dunlop, who allowed six runs in three innings.
The Michigan win sets the stage for an intriguing finale on Sunday.
Tennessee looks the part for second-straight day
Much of the talk entering the Round Rock Classic was about hard-hitting Texas Tech. But perhaps everyone should've been talking about Tennessee.
The Volunteers were mighty impressive Friday night in a win over the Red Raiders, and followed up that triumph with a late-inning surge and 8-4 win over Houston. The Vols beat the Cougars by four runs despite leaving 14 runners on base.
Jake Rucker put together yet another solid showing at the plate with a three-hit performance, while Max Ferguson, Jordan Beck and Liam Spence each chipped in two-hit performances. Beck, in particular, has looked terrific so far this weekend.
The big blast in this one came from Tennessee's Connor Pavolony, who entered the game in the seventh inning as a pinch hitter. Pavolony proceeded to smash a Tristen Bayless pitch into the left-center gap with bases loaded, scoring all three runners to reclaim the lead. UT added a pair of insurance runs in the ninth inning to make it 8-4.
PAV COMING UP CLUTCH!!!

3-run double to put us back in front!

WATCH: https://t.co/H2p1zvJo1J#GBO #OTH #BeatUH pic.twitter.com/DUSlROTy5K

— Tennessee Baseball (@Vol_Baseball) February 22, 2020
While those guys led the charge at the plate, how about hard-throwing Tennessee righthanded reliever Jackson Leath. Leath got bette and better as the game progressed and finished the afternoon striking out eight, walking one and allowing a run and two hits in 4.2 innings.
One weekend certainly doesn't tell the tale of a season, but what a first impression by the Vols so far this weekend. They look the part. That's for sure.
We'll see if they can finish the weekend 3-0 against Stanford Sunday afternoon.
What a start, though.
Join the Discussion