D1 Digest: Saturday, Feb. 24
Roundup

Want to get in-depth coverage? Subscribe to D1Baseball
---
Saturday's Coverage
• San Diego Dispatches: Fitt on Arkansas arms, Arizona's Alfonso Rivas; Spratling on Grand Canyon, San Diego and Cal Poly
• Rogers on LSU's Bain, Texas' Shugart, UConn/SE La.
---
Kendall Rogers' Five
1. Clemson does clean sweep of Dallas Baptist
The Tigers are putting together one of the weekend's best performances against a ranked Dallas Baptist squad. Clemson set the tone in the series opener on Friday with a dominant 12-1 victory. It followed up that victory with another demolition, this time 9-1 after jumping out to an 8-0 lead after just three innings. Tigers righthander Brooks Crawford put together a strong start, striking out five, not walking anyone and allowing just three hits in five shutout innings. On the flip side, DBU lefty Jordan Martinson had an afternoon to forget, allowing seven runs on four hits in 2.1 innings. Clemson's Drew Wharton led the offensive charge with a pair of homers and six RBIs. In Saturday's nightcap, which the Tigers won 3-2, starting pitcher Jake Higginbotham struck out seven, didn't walk anyone and allowed a run on five hits in seven innings. While Monte Lee's Tigers are making a statement this weekend, DBU appears to be a team that needs to go back to the drawing board.
Hear from the head man, the two starting pitchers who got wins today & Mr. Home Run of late after today's DH sweep —>https://t.co/fmdEzYJpzx

— Clemson Baseball (@ClemsonBaseball) February 25, 2018
2. Washington's Joe DeMers throws a perfect game
On Friday, we highlighted North Dakota State righthander Riley Johnson, who tossed the first no-hitter of the college baseball season. Well, Saturday afternoon, Washington righthander Joe DeMers threw the season's first perfect game. DeMers struck out nine in the complete game performance and 8-0 win over UC Riverside. He only threw 84 pitches in the perfect game, 64 of them for strikes. Heres a tip of the cap for NDSU's Johnson for getting it all started, and here's another tip of the cap to DeMers for taking it all to the next level.
• It wasn't a perfect game and it wasn't a nine-inning affair, but in a road doubleheader sweep of Lamar, Hofstra righthander Seamus Brazill struck out five, walked four and threw a seven-inning no-hitter.
• There also was a combined no-hitter on Saturday, as Jacksonville State did the deed in a 5-0 win over Radford. Colton Pate struck out eight in six shutout innings, while Grant Chandler struck out three in two scoreless and Trent Simpson struck out a pair of hitters in an inning of work.
Washington's Joe DeMers had a Saturday afternoon to remember. (Stephen Brashear/Red Box Pictures)
3. Florida leaves no doubt against Miami
Kevin O'Sullivan's Gators needed a comeback in the series opener to take care of the in-state rival Hurricanes. However, that wasn't needed on Saturday as the Gators cruised to an 8-2 series-clinching win over the 'Canes. UF righthander Jackson Kowar struck out three, walked three and allowed two runs on five hits in six innings, while the even bigger story was the relief performance by stud UF freshman Jack Leftwich. Leftwich, who was into the mid-90s, as we noted, earlier this week in midweek action, was electric yet again, striking out six and not walking anyone in three hitless innings. Meanwhile, the UF offense got a boost from Blake Reese and Jonathan India, who finished the night with two hits each — India knocking in a pair of runs and Reese knocking in three. With the win, the Gators have now won 11 of the last 13 and 25 of the last 30 games against the Hurricanes. They've also won six-straight contests and have four-straight series wins. How's that for some Sully ball in Gainesville?
Jack Leftwhich has been dominate in relief of Kowar for @GatorsBB. Struck out 4 in 2 innings w/out a hit yet. Up tempo, pounding zone with/FB 92-95 T97 w/heavy life. Showing above average slider and CH, with feel for both. pic.twitter.com/XDiKxfAVyu

— Doug Freeman (@DougFreemanPBR) February 25, 2018
4. Alabama begins Brad Bohannon era 7-0
What a tumultuous offseason it was for the Crimson Tide. They parted ways with head coach Greg Goff after one season, and looked to the former Auburn assistant for guidance. Well, it's a long season and anything can happen, but the Tide is earning rave reviews through the first two weekends after beating Washington State 9-3 in Saturday's series finale to improve to 7-0. UA footballer and baseball combo man Keith Holcombe kicked off Bama's scoring on Saturday with a two-run double. He finished the afternoon a whopping 4-for-4 with four RBIs. Meanwhile, Chandler Avant smacked a home run and knocked in two runs and Jett Manning had a strong afternoon with a pair of hits. There's no doubt that Bohannon was an elite assistant at Kentucky and Auburn. Now, he's in the process of working some early-season miracles with the Tide.
5. Oregon State succeeds without Nick Madrigal
One of the big storylines so far this weekend is that the OSU All-American potentially could miss four-to-six weeks with a left hand injury. OSU will know more on Monday when the heralded prospect meets with the team doctor back in Corvallis. But in Surprise, you'd never know Madrigal wasn't in the lineup, as the Beavers crushed Nebraska 10-3 to improve to 7-0. Hard-hitting outfielder Trevor Larnach walked twice and hit another home run (he's hitting .522), while table-setter Steven Kwan, Kyle Nobach, Jack Anderson and Michael Gretler each chipped in two-hit performances. Righty Bryce Fehmel also did his job on the mound, striking out three, walking one and allowing two runs on five hits in 6.2 innings. Clearly, the Beavers would like to get Madrigal back in the lineup as soon as possible, but today's performance was comforting in a way.
Aaron Fitt's Five
1. Cardinal rules
It's hard to win a four-game series in college baseball, especially against a quality opponent like Rice — most of the time, those sets seem to end in 2-2 splits. But Stanford clinched its four-game set against the Owls with a 7-4 win Saturday, and the Cardinal will try for a clean four-game sweep in Sunday's finale. Stanford got a strong start from preseason All-America lefthander Kris Bubic (6 IP, 5 H, 1 ER, 0 BB, 8 K) and took control of the game with a five-run sixth, sparked by fellow preseason All-American Nico Hoerner's go-ahead two-run homer.
To this point in the season, Stanford has built the most impressive resume in college baseball, racing out to a 7-0 start despite playing two challenging series against tough name-brand opponents (Cal State Fullerton and Rice). And Stanford's pitching has been utterly dominant, allowing just 2.7 runs per game to this point in the young season. David Esquer is making quite a first impression as Stanford's new head coach.
2. North Carolina gets off the mat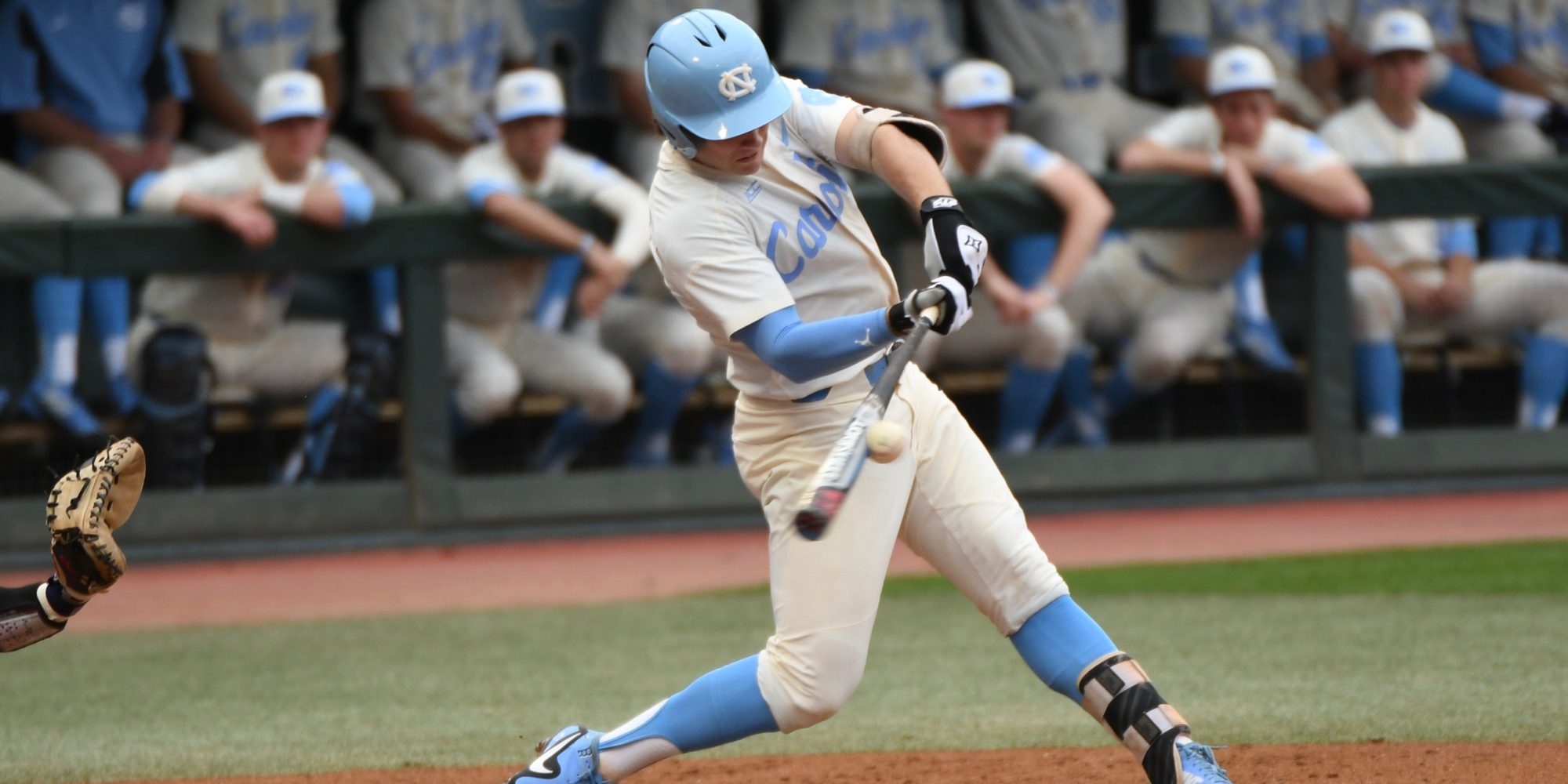 North Carolina's Kyle Datres (Aaron Fitt)
The sixth-ranked Tar Heels sure haven't played like the sixth-best team in the country over the last week, losing three straight games to fall to 2-4 heading into a crucial Saturday contest against undefeated East Carolina at the Durham Bulls Athletic Park. After mustering just one run on two hits in Friday's loss in Greenville, UNC rapped out 10 hits Saturday and won a white-knuckle thriller 5-4 to even the traveling rivalry series, which concludes Sunday in Chapel Hill. UNC built a 3-0 lead early, only to see ECU storm ahead with four runs in the fifth inning. But Kyle Datres hit a towering homer to tie it up in the seventh, and Brandon Martorano doubled off the Blue Monster in left an inning later and then scored the eventual game-winning run. Preseason All-America closer Josh Hiatt walked a tightrope over the last two innings to secure the save, escaping jams in the eighth and ninth with big double plays. A strong crowd of 4,508 attended the neutral-site contest; here's hoping these traveling series become more and more prevalent in college baseball.
3. Houston Evens Big Road Set
No. 24 Houston rebounded from a 15-inning loss Friday to cruise to a series-leveling 9-4 win at No. 22 Cal State Fullerton on Saturday. The Cougars jumped out to a 2-0 lead in the first two innings, as Lael Lockhart's two-run double opened the scoring, and Houston never looked back. Drew Minter also chipped in doubles in back-to-back plate appearances in the second and fifth. Aaron Fletcher worked a career-long six strong innings to earn the victory, allowing three runs (two earned). Lockhart made his first career mound appearance to finish the game, allowing an unearned run in 1.1 innings of work. Sunday's rubber game is particularly crucial for Fullerton, which needs to win in order to avoid a 1-6 start to the season.
4. Auburn Improves To 8-0
Auburn will factor strongly into our Top 25 deliberations this week after completing a three-game sweep of a quality Bryant club to improve to 8-0 on the season. The Tigers swept a doubleheader on Saturday to wrap up the series, 13-4 and 3-1. Conor Davis went 2-for-4 with four RBIs in the opener, and the Tigers got 5.1 innings of scoreless relief from the trio of Elliott Anderson, Cody Greenhill and Ryan Hoerter. Ultra-talented freshman Tanner Burns (7 IP, 2 H, 1 ER, 2 BB, 8 K) dominated in the finale, and Brendan Venter's two-run homer broke a 1-1 tie in the eighth. Venter leads the Tigers with a .462 average on the young season, pacing an offense that is hitting .309 as a team and averaging nearly a home run per game. Auburn's freshmen appear to be a special group, as Burns (1-0, 0.75, 14-2 K-BB in 12 IP) has drawn rave reviews and Steven Williams leads the team with 12 RBIs.
5. Quick Hitters
A few other things that caught my eye Saturday…
• Saint Mary's also deserves Top 25 consideration after clinching a road series at Arizona State with a come-from-behind 6-5 victory Saturday. Power-armed freshman  Michael Hobbs threw two innings of scoreless relief to earn his first career victory, and the Gaels overcame a 5-3 deficit in the final two innings. Dylan Robertson delivered a game-tying two-run homer in the eighth, and the Gaels scored the game-winning run on a wild pitch an inning later. Saint Mary's is now 4-2 with a pair of impressive road series wins at Long Beach State and ASU.
• Speaking of Long Beach State, the Dirtbags split a doubleheader at TCU on Friday, setting up a Sunday rubber game in Fort Worth. Zak Baayoun (7.1 IP, 6 H, 3 R, 2 ER, 1 BB, 7 K) bested Jared Janczak (6.1 IP, 5 H, 3 ER) in the opener, a 3-2 win for the Dirtbags. The Frogs got their bats going in the nightcap, as Michael Landestoy drove in three runs and Luken Baker drove in two more in support of Nick Lodolo (6 IP, 3 H, 3 R, 0 ER, 0 BB, 6 K), who improved to 2-0.
• Ole Miss clinched a nice series win against Tulane, winning the opener 5-4 (the resumption of a game suspended Friday) and taking Game Two 9-1. Solo homers by Cole Zabowski and Cooper Johnson keyed a three-run seventh in the first game, helping preseason All-American Ryan Rolison (5 IP, 3 H, 1 ER, 2 BB, 9 K) improve to 2-0. Grae Kessinger and Chase Cockrell had two hits apiece to lead a balanced 10-hit attack in the second game, helping a dominant Brady Feigl (6 IP, 2 H, 1 R, 0 ER, 0 BB, 6 K) pick up his second victory.
Join the Discussion