D1 Digest: Saturday, March 19
Roundup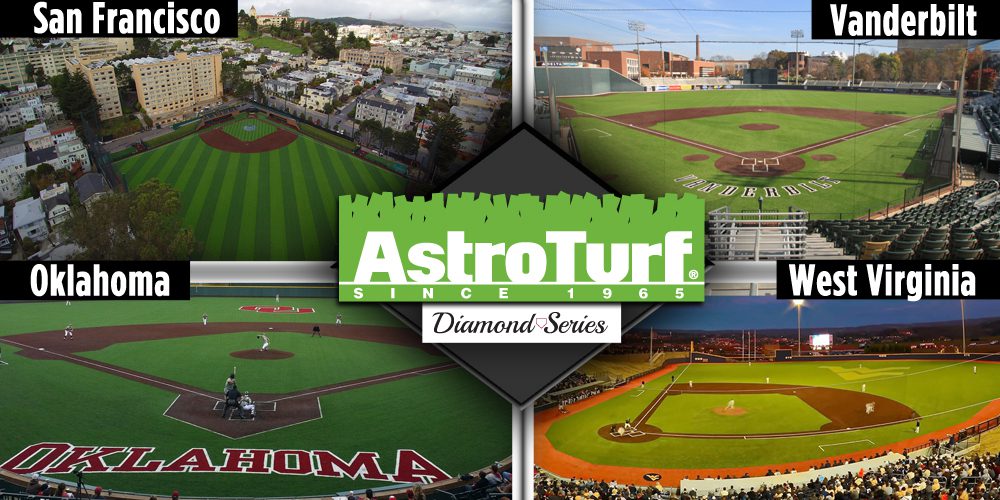 ---
Friday's Coverage
• Kendall Rogers on Texas-Texas Tech
• Mark Etheridge on Auburn's team chemistry
---
It was another turbulent day in our world of college baseball. In fact, more and more this 2017 season is starting to look like the 2016 postseason, with carnage and upsets and blowouts and jog-off finishes all around our sport.
Speaking of turbulence, Messrs. Fitt and Rogers have handed over the daily national wrap-up to me once again, mainly because I am sitting on a plane 35,000 feet above the Pacific Ocean. Yes, my islands adventure is done, I've been dazzled by the stunning beauty of the Hawaiian islands and also caught Indiana escaping with a pair of skin-tight wins at Hawaii as they took the series from the Rainbows. Now it's time to get home.
So let's put our seats and tray tables in their upright and lock position and get you caught up on the goings-ons of college baseball on this Saturday, the good, the bad and the ugly. Here's the three-up, three-down and etc. of the day in college baseball.
THREE UP
The best of the day in college baseball
1- Louisville is going streaking.
Like Frank the Tank in the movie Old School, the Cardinals are streaking big time. Oh sure, Snoop Dog and his pimp with the green hat aren't joining them, but the UofL's 6-4 win over Boston College on Saturday marked the 18th straight win, besting the 17 straight wins they accrued back in 1957. The ironic thing about that '57 squad was that they ended the season with a perfect 17-0 record (What, no College World Series bid? Gah!). They are still four wins off the program record 22 straight wins which spanned three seasons, the final game of 1956, the 17 wins in 1957 and four games into 1958. Beating BC today allowed the Cardinals to move to 5-0 in ACC play and also clinched its 34th consecutive regular season home win. Junior RHP Kade McClure tossed a career-high 8.0 innings, giving up just four hits and a single run. He also took a no-hitter into the sixth inning. McClure, who is now 16-1 for his college career, sports an ERA of 1.82 and has allowed just two runs on 13 hits with 31 strikeouts in his last 26.0 innings of work.
2- Oregon State Freezes Hell Over
Goodness. Who ARE these guys? The Orange and Black went into the Valley of the Demons and took all three games from Arizona State, capped by Saturday's 4-0 shutout. This time the main offender was Jake Thompson, who struck out a career-high 10 Sun Devil batters, earning his fifth win of the season, tied for the nation's best win total. He was guilty of three walks and just two hits as OSU will surely reach the No. 1 ranking in every baseball poll and rankings available come Monday. As a staff, the Beavers' mound crew tossed 27 innings at Phoenix Muni and held ASU to nine hits, one run and six walks while striking out 31. What a weekend.
3- Hot Flashes
Kent State got revenge for a 10-2 beatdown on Friday by discombobulating Western Carolina today by a 16-10 score. In the game, the Flashes launched six home runs and five doubles to ignite a track meet in Cullowhee. All nine starters got a hit on the day and also scored a run and picked up an RBI. In the 10-run third inning Josh Hollander, Luke Burch and Nick Kanavas went yard back-to-back-to-back to make it a 10-3 game. I have to admit, if I didn't have a little jet-lag here, I would use the company Leer Jet to go for the rubber match at WCU on Sunday.
Honorable Mentions
– Trevor McCutchin, UTL, Oral Roberts. 
This dude had a day and a half in the Eagles 5-1 win over North Dakota State. Not only did the sophomore dual-threat lead off the second and sixth innings respectively with solo home runs, he ended up going 2-for-4 at the dish while also pitching 2.1 innings of relief of starter Josh McMinn. He faced eight batters without giving up a hit and struck out half of them with just one walk. He did not factor in the decision.
– Another streaker. 
Southeastern Louisiana joins Louisville in the consecutive wins department having disposed of Lamar by a 4-1 count on Saturday afternoon at Kenelly Diamond and increasing its win streak to 10 straight games. And how about this factoid?… After surrendering a lead off home run to start the game, Corey Ganconi was able to shut down the Cardinals the rest of the way, holding them scoreless from the second inning onward and striking out six while not issuing a single walk on the day.
– Sweet Sweeney for GW.
George Washington routed Monmouth 12-0 today in Arlington, Virginia with the help of a complete game from Shane Sweeney, who gave up just three hits and three walks while getting all the run support he needed in the first inning as part of an early 6-0 lead the Colonials jumped out to. Thirteen of Sweeney's outs his cohorts recorded were by groundout to go with his three Ks and five pop-ups.
– Swing Sooners. 
Oklahoma improved to 20-3 on the young season by overcoming a 6-0 deficit to beat Kennesaw State 17-9. In the game, the Big Red slammed four home runs including a grand slam from Steele Walker which gave them their first lead of the game at 9-7 in the fifth inning. Walker accounted for a career-best five RBI on the day and Blake Brewster also hit a pair of ding-dongs in a three RBI effort.
– Hunter the Gatherer. 
Georgia State Freshman Hunter Gaddis took a no-hitter into the eighth inning today but eventually settled for a 2-1 win over UT-Arlington. Gaddis went three-up, three-down through the first seven innings, giving up just a single walk (which would be erased by a double-play) along the way. Gaddis had run his personal scoreless streak to 18 straight innings before the Mavericks got a solo home run from Quinton Rohrbaugh to lead off the eighth frame. Panther shortstop Justin Jones slapped a solo home run in the bottom of the eighth to account for the winning run.
– McCaughan leaves the Waves on the Beach
Long Beach State ace Darren McCaughan was stealth-like today in throwing a complete game two-hitter with seven Ks and just a single walk as the Dirtbags took down Pepperdine 2-1. McCaughan, last year's Big West Pitcher of the Year, threw 117 pitches, 74 for strikes and improved to 2-1 with the win. Long Beach State then went on to pound Grand Canyon 9-1 to sweep a doubleheader in Malibu.
– Bremer stellar out of the 'pen for Washington.
Washington's Noah Bremer had made 35 career starts on the mound in his Husky career. In fact, the last time he was used in a relief role was his first ever appearance as a freshman. But the junior from Berkeley, California came off the bench today and tossed seven innings of scoreless relief to help UW to a 3-1 win over Utah. Bremer allowed just three hits, zero walks and had eight punch outs in the 103-pitch effort. Washington then got a bases-loaded walk-off from Levi Jordan to win game two of the doubleheader 4-3 in 10 innings.
– Kentucky wins series at Texas A&M on squeeze bunt
The Wildcats won for the second day in a row in volatile Blue Bell Park, this time by a 7-6 margin. UK overcome a pair of two-run deficits in the seventh and eighth innings. Then in the ninth, the winning run was scored by Marcus Carson off the bat of Tristan Reks. This is the first road series win over a ranked opponent since winning two of three at No. 5 Florida in April of 2015.
– Brown claims Providential superiority.
Despite playing in mid-30s temps in Providence, Rhode Island today, Brown, a team that won just 15 games last season, won a pair of one-run games over crosstown rival Bryant, a team that won 47 games last season, 4-3 and 5-4 in 11 innings. Senior Josh Hundley accounted for the DH-sweeping run in the 11th with a jog-off single that scored Anchorage, Alaska's own Willy Homza just as darkness was starting to creep into the stadium.
– Central Connecticut's Mike Appel become yet another pitcher in college baseball to toss a no-hitter this season. Appel struck out three and walked one batter, but was otherwise flawless in a win over Mount St. Mary's. It was the first no-hitter in at least the last 18 seasons for CCSU.
– West Virginia entered the season with high hopes, and the Mountaineers put themselves on the map this weekend with a road series win over Baylor, 6-5 on Saturday. Cole Austin had four hits in the game, with his fourth a go-ahead RBI single in the top of the ninth inning. Michael Grove threw five solid innings for the 'Eers, while Braden Zarbnisky finished it off in style with two shutout frames.
– TCU righthander Jared Janczak has had a terrific season thus far and was at his best in a 5-1 win over Kansas. Janczak took a no-hitter into the ninth inning and finished the game with 14 strikeout, while allowing just a run on two hits in eight innings.
THREE DOWN
The worst of the day in college baseball
1- Jared Poche finally gives up a run
Oh the humanity, stop the presses!… or the laptops. The LSU ace finally, mercifully gave up an earned run in LSU's 5-1 win vs. Georgia. Keegan McGovern is the superhero responsible for it, smacking a fourth-inning solo home run into the stands ending the Saturday starter's scoreless streak at 32 innings. But Poche got the win to improve to 5-0 on the young season. Oh and Antoine Duplantis continued his scourge on opposing pitchers by hitting a home run and accounting for three RBI. In the two games vs. Georgia so far Duplantis is 8-for-10 with 10 RBI.
2- Florida State's huge lead evaporates
Mike Martin has seen everything in his long, illustrious career as the head honcho at FSU, so it probably won't be a big shock that his team today lost 13-12 to Virginia Tech despite having a 10-2 lead at the early point of the game. In fact, FSU led 10-4 in the fourth inning before Mother Nature intervened and the skies opened up vigorously. After a 90-minute pause in action, Tech mounted a furious comeback, outscoring the Seminoles by a 9-2 count the remainder of the way to pick up the win. It marked the first win over a No. 1-ranked team by the Gobblers since sweeping Virginia in 2015. Tech was leading the nation in double plays turned with 26 before gathering two more here on Saturday and also was tops in home runs with 33 yard calls, adding two more in this game. Tech hit just 34 homers all last year, by the way. Oh, one last note of note, FSU's Quincy Nieporte hit his school-record fourth grand slam this season in the third inning as part of that 10-2 lead.
3- Dartmouth's scattershot pitching
We've given the Big Green an awful lot of love here, especially after they beat Miami two games to one a few weeks ago down in Coral Gables. But now, hang your head smart boys. The Big Green issued 10 walks in their 8-7 loss at The Citadel here on Saturday afternoon. Yes, a one-run game, so you KNOW the base-on-balls is going to be a huge factor. Well to make matters worse, with the score knotted at 7-7 in the tenth inning, Bulldog batter William Kinney was given the 10th and final walk with the bases-loaded to score the deciding run. The 10 walks today was the most surrendered by the Dartmouth mound crew in nine years. And this stat will make head coach Bob Whelan want to pull his gray hairs out… Dartmouth entered the weekend leading the nation with just 1.59 walks per game. Oi vey.
Dishonorable Mentions
– Florida's road woes continue. 
For the second straight day the No. 5-ranked Gators fell at Auburn, this time by a 2-1 count as Casey Mize just slightly out-dueled UofF starter Brady Singer as both pitchers allowed five hits but Singer's two walks and two balks hurt his cause at the wrong time. Florida, the former No. 1 team in the country is now just 13-7 on the year with an 0-5 mark in games away from McKethan Stadium. See, I told you playing on the road was hard.
– Michigan takes a hit in the RPI. 
The Wolverines dropped an 8-5 decision to Northern Illinois, a team that came into this game with a 3-13 record. But UMich pitchers walked seven batters and the offense stranded 12 baserunners to key the loss. Matt Roberson slumped the shoulders of the Wolverines the most with his three-run homer in the fifth inning which pushed the Huskies lead to 7-0. Weekend games like this are tough for Michigan to lose since it has such an adverse affect on their RPI.
Join the Discussion