D1 Digest: Saturday, March 7
Roundup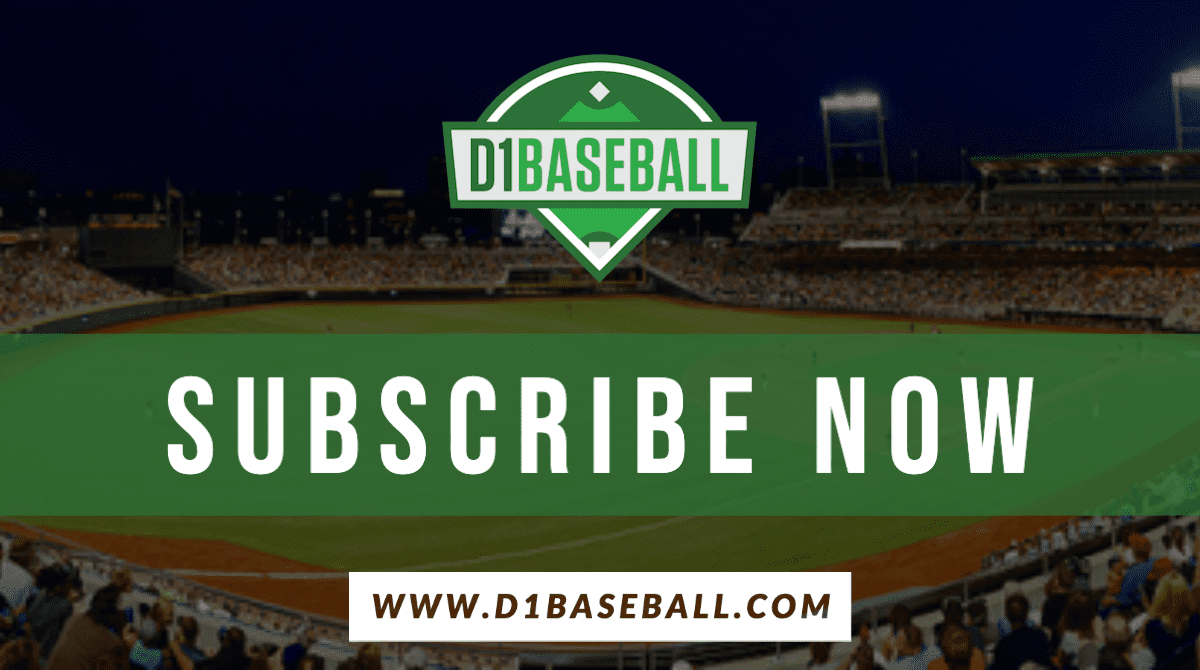 Saturday's Coverage
---
The Biggest Winner
USC
The Trojans entered the weekend looking to make a bold statement against a strong Southern Collegiate College Classic field, and they haven't disappointed. USC defeated TCU to open the tournament before improving to 2-0 Saturday with a 2-1 win over defending national champion and No. 2 Vanderbilt. USC lefthander John Beller was terrific against the 'Dores, striking out seven, walking two and allowing a run and two hits in eight innings. Ben Ramirez led the USC offense with three hits int he game. With the win, USC is 9-4 with another potential statement game coming up Sunday afternoon against UCLA.
HIGHLIGHTS | Check out highlights from today's win here…https://t.co/SLNLv74HLj

— USC Baseball (@USC_Baseball) March 8, 2020
The Undefeated
Entering Saturday's action, Alabama and Florida were the only two teams in college baseball with unblemished records. Well, that ended for one of the teams Saturday afternoon as Alabama dropped a tough 3-2 contest to Lipscomb at home. Alabama's Will Freeman tossed four shutout frames out of the bullpen, but that wasn't enough as the Lipscomb got strong performances from pitchers Max Habegger and Wyatt Folsom in the win.
Florida now remains the only unbeaten team in college baseball, as the top-ranked team in the land crushed South Florida, 15-5, to clinch a series win. UF starting pitcher Jack Leftwich allowed three runs in 6.2 innings, while offensively, Cal Greenfield hit a home run, Jordan Butler hit a home run and knocked in five runs and Jud Fabian and Kirby McMullen each had three hits.
With the win over USF, the Gators are now 15-0.
The Big Winners
* No. 24 Pepperdine picked up a huge home series win over Michigan. The Wolverines won the front-end of a doubleheader in Malibu before it was the Gunnar Groen show for Pepperdine in the series finale in a 6-1 victory. Groen was terrific on the mound outside of a couple of walks, allowing just a run and two hits in 6.1 innings, while Mike Malinchak had a home run, double and finished the afternoon with four hits.
SKIPPER! Hear from @coachHirty after today's big series win! #WavesUp pic.twitter.com/lLe1ObCXKL

— Pepperdine Baseball (@PeppBaseball) March 8, 2020
* No. 12 Duke clinched an impressive ACC opening series win over No. 11 Florida State with a 4-3 triumph Saturday afternoon. Bryce Jarvis was amazing in the series opener against the Seminoles, while Cooper Stinson struck out seven and allowed just a run and five hits in five innings. Thomas Girard also was filthy out of the bullpen with three strikeouts in 1.2 shutout innings.
* Just a day after dropping a tough game to USC, No. 22 TCU bounced back in impressive fashion with an 8-4 win over UCLA. Righty Charles King allowed four runs in 5.2 innings, but young and talented arm Austin Krob was terrific out of the pen with five strikeouts in 3.1 shutout innings. The Frogs' offense roughed up Nick Nastrini for four runs in two innings, with Gene Wood smacking a home run and fellow newcomer Gray Rodgers chipping in a three-hit performance.
Lupton Stadium West! Thanks #FrogFam for your support today! #FrogballUSA | #GoFrogs pic.twitter.com/uzTXnqzWXH

— TCU Baseball (@TCU_Baseball) March 8, 2020
* Wichita State is off to a terrific start in the Eric Wedge era, as it improved to 12-2 with its 11th straight win in a series-clinching 5-3 victory over a quality Louisiana Tech club. Aaron Bechtel and Foster Gifford were terrific out of the pen for the Shockers, while Hunter Gibson hit a home run and knocked in two runs for Wedge's club.
* Notre Dame is off to a strong start in the Link Jarrett era. The Fighting Irish were cruising against Notre Dame on Saturday before the Tar Heels made a furious rally. However, Eric Gilgenbach's base-clearing hit in the 10th inning made it 11-8 Irish. They'd finish off the Heels in the bottom half of the inning to claim an important road series win over the Tar Heels. Brooks Coetzee had a home run and three RBIs to lead the Irish offense, while Zack Prajzner and David LaManna each had two hits. The Irish are now 9-2.
* Just a day after getting dominated in the series opener against South Alabama, Arkansas showed its fans something Saturday afternoon with a 15-2 win over South Alabama. Curtis Washington and Cole Austin each hit home runs for the Razorbacks, while catcher Casey Opitz had three hits and outfielder Heston Kjerstad had two hits and knocked in three runs. The starting pitching was better, too, with righthander Caleb Bolden striking out six and allowing two runs in six innings.
* Nevada entered the weekend with a surprising 0-10 record, but it is no longer winless. The Wolf Pack defeated California Baptist on Friday and clinched at least a series tie Saturday afternoon with a 6-4 win over the Lancers. Tyler Bosetti and Connor Allard each knocked in two runs to lead the Pack to victory.
* No. 5 Texas Tech was tested a little bit Saturday afternoon against struggling Rice. The Red Raiders were down 8-1 going to the bottom of the fourth inning, but exploded for a run in the fourth, five runs in both the fifth and sixth innings, four more in the seventh and three more in the eighth in a 19-12 win over the Owls. Dylan Neuse hit a home run and walked three times, while shortstop Cal Conley had a huge day with a double, triple, three hits and five RBIs. As for the Owls, who are now 2-12, it was a rough day on the bump for reliever Cristian Cienfuegos, who allowed nine runs in just two innings of work.
No. 300 for the Skipper, and no signs of slowing down.

Congrats, @TimTadlockTTU!

🔴#WreckEm⚫️ pic.twitter.com/XVaZYcEo1D

— Texas Tech Baseball (@TTU_Baseball) March 8, 2020
* No. 7 Miami cooled off previously red-hot Pittsburgh this weekend, shutting out the Panthers 5-0 Saturday night to clinch a series win. Miami righthander Chris McMahon put together a strong start, striking out eight without a walk, while also allowing just five hits in seven innings. Meanwhile, Adrian Del Castillo had a double and three RBIs and Jordan Lala had two hits and an RBI.* In what was one of the more intriguing series out on the West Coast this weekend, surprisingly red-hot UC Santa Barbara headed to Corvallis to face Oregon State. Well, the Gauchos don't look like a team in a transition year, as they shutout the Beavers for the second-straight day, this time, 4-0. Zach Torra was brilliant in his start, striking out seven, walking two and allowing just four hits in 6.1 no-hit innings. Meanwhile, Conner Dand tossed 2.2 shutout innings out of the pen. While UCSB is now 12-2, the Beavs are in need of some wins with a 5-8 record.
* After narrowly going 1-2 last weekend in Houston, Texas has bounced back nicely this weekend against scuffling Cal State Fullerton, clinching that series with a 4-3 win on Saturday. UT freshman lefty Pete Hansen continues to dazzle, tossing 3.2 shutout innings out of the bullpen, while offensively, Murphy Stehly had a double with two RBIs. As for the Titans, they're in serious trouble (already) from a postseason standpoint with little to show for their non-conference slate and a dismal 4-11 record.
National Notables
* No. 8 NC State bounced back from Friday's loss to Virginia with a 6-2 win on Saturday. NC State lefthander Nick Swiney put together yet another high-quality start, striking out five, walking two and allowing two runs and five hits in seven innings.
* No. 15 Oklahoma bounced back from a series-opening loss to San Diego State with an 8-4 triumph Saturday afternoon. OU lefthander Levi Prater struck out 13, walked two and allowed a run and five hits in seven innings, while offensively, freshman Peyton Graham hit two home runs to lead the charge.
* Wake Forest's Will Simoneit saved the day for the Demon Deacons against No. 3 Louisville in a 3-2 win. The Cards tied the game at 2-2 in the top of the ninth inning, but Simoneit delivered the crushing blow in walk-off fashion with one out in the bottom half of the inning. It sets up a mighty intriguing series finale between the two teams. Wake's Jared Shuster was terrific with 13 strikeouts in 7.1 innings.
SEE 'YA LATER! 👋 William Simoneit comes through in the clutch for Wake!#GoDeacs #ACCBASE pic.twitter.com/NhrFtnea2k

— ACC Digital Network (@theACCDN) March 8, 2020
T4 | Shuster is dealing. Seven Ks through 4.0.

📺: ACCNX (https://t.co/TlaGLQ1V0S) pic.twitter.com/mVW31I7fgD

— Wake Forest Baseball (@WakeBaseball) March 7, 2020
* Eastern Kentucky's Jacob Ferris put together a sensational start in a 6-0 shutout win over Norfolk State. Ferris struck out 10, walked three and allowed just three hits in a complete game effort against the Spartans.
* No. 9 Ole Miss made easy work of Princeton, 18-4, Saturday afternoon, and hard-hitting Tim Elko had one of the more majestic and hard-hit home runs of the day with a shot to dead center field. Elko had a home run, two hits and four RBIs to lead the Rebels.
Are you kidding me, @TimElko?

cc: @OMBSBAnalytics

💻 https://t.co/JxI2Tkk7P6 pic.twitter.com/jMuiA7ZJSw

— Ole Miss Baseball (@OleMissBSB) March 7, 2020
* File this under the "I bet you didn't expect to see that" category for this weekend. FIU got off to a terrific start this season before losing a series to Pepperdine last weekend. Well, that series has apparently sent the Panthers, at least in the short term, into a tailspin, as they dropped two of the first three games to Penn this weekend. And how about this from the Quakers? They beat FIU 16-1 before dropping the nightcap 2-1. In the 16-1 win, Penn's Eduardo Malinowski had an outstanding performance, going 2-for-5 with a triple, home run and five RBIs. Peter Matt also had a big day at the plate with a 5-for-5 showing with five RBIs.
* No. 17 Long Beach State clinched its fourth-straight series win, beating Xavier 3-1 to win that series out West. LBSU starting pitcher Alfred Ruiz was terrific once again, striking out seven, walking one and allowing a run and four hits in five innings, while Tyler Gums was outstanding out of the pen with three shutout frames.
* In a nice Pac-12/Big Ten Showdown up at US Bank in Minneapolis, Utah evened up its series against Minnesota with a 6-3 win. Riley Pierce struck out nine in six shutout innings for the Utes, while Zack Moeller had three hits and four RBIs. As for Minnesota, it now sits at 6-9. There's no doubt the Gophers pass the eyeball test, but they definitely cannot afford to lose a home series to Utah.
* Stetson's Daniel Paret struck out 11 and walked just two in seven shutout innings in a dominant 5-0 win over Fairfield.
* Stanford got tough news earlier this weekend with sophomore righthander Alex Williams going down with a season-ending elbow injury. Well, the Cardinal are fighting to at least split a home series with Kansas State after winning the first game on Saturday and getting crushed, 11-1, in the nightcap. In the second game, KSU's Zak Herbers tossed 4.1 shutout innings out of the pen, while offensively, Terrence Spurlin had a home run and five RBIs, and Cam Thompson and Zach Kokoska each had three hits.
* Clemson scored 11 runs in the first five innings on the way to a series-clinching and dominant 12-5 win over Boston College. Bryar Hawkins and Chad Fairey each hit a home run with the two combining for four hits, while Elijah Henderson went 3-for-4 with a double and four RBIs.