D1 Digest: Tuesday, March 28
Roundup
Presented by: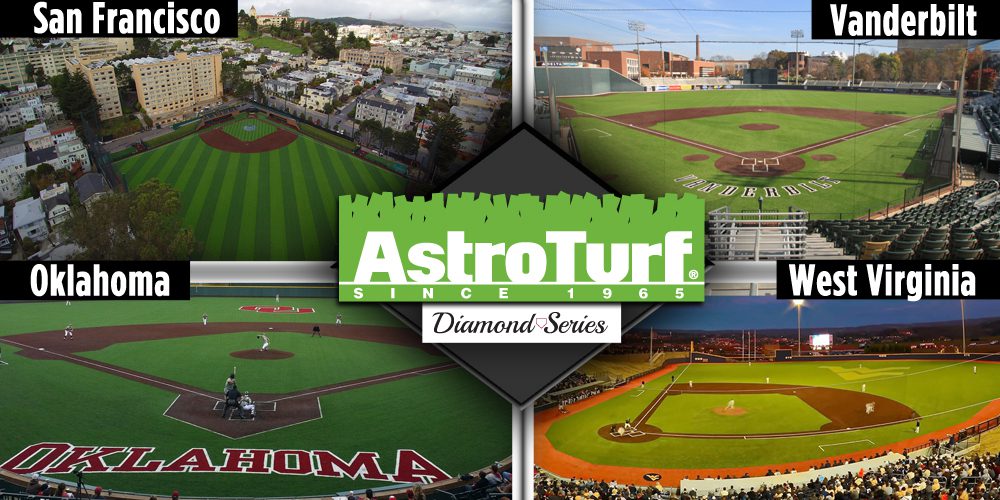 ---
Team of the Day: Florida
The Gators have been a bit up and down this year, but they continue to rule the Sunshine State with an iron fist. They've already swept a weekend series from rival Miami, and on Tuesday they improved to 2-0 this year against rival Florida State, beating the Seminoles 4-1 in Jacksonville. Florida went 5-1 against the Seminoles last year and 3-2 the year before; both of those seasons ended for Florida State in super regional losses in Gainesville.
What's more, Florida's pitching staff has simply dominated FSU's dangerous offense, just like it dominated Miami's weak offense earlier this year. Freshman Garrett Milchin threw 4.1 innings of two-hit, shutout ball to earn the win in his first career start Tuesday. Florida State didn't manage a run until the sixth inning, breaking a 36-inning scoreless streak against the Gators that dated back to the 2016 super regional matchup.
"Some things you just can't explain," Florida coach Kevin O'Sullivan said. "Florida State's got a very good team. They're very offensive, I think we've just pitched really well."
O'Sullivan said Milchin mixed an 88-92 mph sinker with a good breaking ball and changeup, and reliever Michael Byrne attacked more with his fastball rather than leaning on his slider, like he has been doing. Byrne worked the final 3.2 innings, allowing no runs and just one hit while striking out four.
The Florida offense, meanwhile, got all four of its runs in the first inning, highlighted by Mike Rivera's three-run homer.
Upset of the Day: Tulane over LSU
This rivalry matchup had lost some luster with Tulane getting off to a 9-15 start heading into Tuesday. Sixth-ranked LSU certainly looked like the favorite coming in, but Tulane slugged its way to a 7-6 win in Baton Rouge, taking the first of two meetings between the teams this season. After its miserable 3-12 start, Tulane has quietly won seven of its last 10, and it is inching toward respectability.
Long balls were the big story of this game, as Tulane rode three of them to the victory. Jake Willsey homered twice, including a go-ahead two-run shot in the sixth, and Lex Kaplan added a two-run homer in the fifth. That all helped Tulane overcome Mike Papierski's grand slam in the fourth for LSU.
Player of the Day: Morehead State's Niko Hulsizer
The high-powered Morehead State offense ranked 16th in the nation in scoring and 14th in slugging heading into Tuesday, and Hulsizer did his part to boost those numbers. Hulsizer smacked three homers and drove in six in a 13-6 victory against Alabama A&M, helping the Eagles improve to 18-6 on the year. Hulsizer's three-run shot highlighted Morehead's six-run second inning, and the Eagles never looked back. Hulsizer, a sophomore outfielder, leads the team with 10 homers and a .788 slugging percentage.
Morehead State's Niko Hulsizer (Morehead State Athletics)
Pitcher of the Day: Vanderbilt's Chandler Day
Few pitchers in college baseball have as much raw talent as Day, and the sophomore righthander seems to be learning how to harness his electric stuff as a sophomore. Day was simply dazzling in Tuesday's 10-0 win against Lipscomb, falling just one out shy of a no-hitter. Zeke Dodson's two-out single in the ninth broke up the no-no, but it was Lipscomb's only hit of the game, as Day finished with a one-hit shutout. He struck out seven, walked five and threw 115 pitches. On the season, Day improved to 4-0, 3.42 with 27 strikeouts and 13 walks in 26.1 innings over six outings (five starts).
Vandebilt's offense seems to be finding its stride, too. The Commodores have scored 52 runs over their past five games, and they rapped out 13 hits in Tuesday's win. Will Toffey led the way with three hits, and Jeren Kendall added a three-run homer in the ninth. Maybe Kendall hasn't been the best player in college baseball so far this year, but he's still been pretty darn good; he's now slugging .639 with eight homers and 25 RBIs to go along with nine steals in 11 tries.
Sun Devils Win On Barry Bonds Day
Arizona State drew 4,107 fans on Tuesday, its largest midweek crowd since it moved to Phoenix Municipal Stadium. The big draw? ASU was honoring former Sun Devil great and MLB home run king Barry Bonds. Tyler Williams made Bonds proud by hitting a go-ahead two-run homer in the sixth that lifted the Devils to a 5-4 win against UNLV. Power lefty Connor Higgins also had a big day, striking out a career-high six over a career-high 4.2 innings of shutout relief.
Bonds threw out the first pitch, and the Sun Devils honored him with throwback uniforms from adidas.
Serra ? Serra
ASU Baseball ? ASU Baseball
2️⃣4️⃣ ? 2️⃣4️⃣#PassingTheTorch@BarryBonds x @HunterBishop9 pic.twitter.com/81ovSPPN9y

— Sun Devil Baseball (@ASU_Baseball) March 29, 2017
Looking Good
• Top-ranked Oregon State stormed back from a 3-1 deficit with three runs in the ninth to earn a good road win at Saint Mary's, 4-3. Nick Madrigal's two-run single gave the Beavers the lead in the ninth, and Oregon State got super bullpen work out of Brandon Eisert, Max Engelbrekt and Jake Mulholland, who combined to work five innings of three-hit, shutout ball.
• If you dismissed UCLA after it lost the first two games of its series against Arizona to fall to 6-11 on the season, it's time to rethink that idea. The Bruins salvaged the series finale against the Wildcats and haven't lost since. They scored 38 runs in a three-game sweep of Cal, and they ran their winning streak to five games and evened their record at 11-11 with a 9-7 win against No. 10 Cal State Fullerton on Tuesday. The Titans led 5-1 heading into the bottom of the fourth, but UCLA stormed back with eight runs in the fourth, highlighted by Brett Stephens' three-run double and Sean Bouchard's RBI triple. That duo combined for five hits and five RBIs to lead the offense, and the pitching staff got some very good news with the return of Jake Bird after a monthlong injury absence. Bird, the Saturday starter over the first two weeks, worked one inning of relief and allowed a run. But his return is a welcome sight for the Bruins, who could sure use a boost in the rotation.
• Houston's Trey Cumbie threw seven shutout innings in an 8-1 win against Incarnate Word, stretching his scoreless streak to 19.1 innings. Cumbie allowed just four hits and a walk while fanning five. The sophomore lefthander gets my vote for best midweek starter in college baseball; he's now 4-0, 0.74 with a 30-6 K-BB mark in 36.1 innings.
• No. 12 Stanford followed up its series win against Utah with a quality 7-3 victory against Long Beach State, which was fresh off a sweep of Cal State Fullerton and a Monday win at Cal. Perhaps Long Beach's pitching was stretched thin in its fifth game in five days, but Stanford rapped out 10 hits, four of them courtesy of star outfielder Quinn Brodey (who tripled and homered).
• No. 8 North Carolina held off Coastal Carolina's late charge to win 7-6 in Chapel Hill. Tyler Baum (5.1 IP, 3 H, 2 ER) turned in a solid start for the Tar Heels, who broke a 2-2 tie with four runs in the seventh, highlighted by Kyle Datres' two-run single. The Chanticleers trailed by four runs heading into the ninth, but Corey Wood's three-run homer brought them within one, and they put the tying run in scoring position before UNC closer Josh Hiatt finally escaped with a groundout, ending his adventurous two-inning outing.
• UL Lafayette was just 1-4 in midweek games heading into Tuesday's road game at McNeese, which carried an 18-6 record into the contest. But the Cajuns got a strong start from Jack Burk (6 IP, 2 H, 1 R, 0 ER), who picked up his fist win of the season in Louisiana's 3-1 victory. Evan Guillory and Dylan Moore combined to work three hitless innings of relief, as the Cajuns combined on a two-hitter against a McNeese offense that ranked fourth in the nation in batting and 10th in scoring heading into the day. ULL did all of its scoring via the long ball: a two-run shot by Tyler Stover and a solo shot by Handsome Monica.
• Southern Miss earned a quality 4-2 victory against South Alabama. Two-way stars Taylor Braley (6.1 IP, 5 H, 2 ER, 1 BB, 7 K) and Matt Wallner (1 IP, 0 H, 0 R) bookended the pitching efforts for Southern Miss, which muzzled a Jaguar offense that had scored 79 runs over its previous seven games. Wallner also went 2-for-4 with two RBIs to lead the offense.
• Texas A&M has been in a funk of late, losing six of its past eight games heading into Tuesday's road game at upstart Texas State. But the Aggies out-hit the Bobcats 13-4 in a 9-3 victory, giving A&M back-to-back wins and a bit of momentum heading into a huge series at LSU that starts Thursday. The Aggies overcame a 3-1 deficit with four runs in the sixth, capped by Austin Homan's two-run single. Cason Sherrod and Mitchell Kilkenny combined to work five innings of one-hit, shutout relief for the Aggies.
• Auburn won its first meeting of the year against rival Alabama, 4-3 in Montgomery. Josh Anthony had two hits and Daniel Robert had two RBIs for the Tigers, who have won 11 of their last 12 games heading into a big showdown against South Carolina this weekend. Worth noting: there's a chance they could get ace Keegan Thompson back for that series. Auburn coach Butch Thompson told Kendall Rogers that Keegan has a bout of shoulder tendinitis but hasn't been ruled out for the Gamecock series.
• Mississippi State bounced back from a four-game losing streak with a four-game winning streak. The Bulldogs beat Memphis 8-3 on Tuesday, as Ryan Gridley and Josh Lovelady had two RBIs apiece in MSU's five-run first inning to set the tone. Cole Gordon earned the win with four hitless innings of relief.
• Nebraska's midseason run continued with an 11-1 win against Kansas State. Since starting the season 5-8, the Cornhuskers have won eight of their last 10. They out-hit the Wildcats 11-3 on Tuesday, and in a very encouraging sign, they got five combined innings of no-hit work from two key arms who had not gotten off to great starts: Matt Waldron and Chad Luensmann.
• Georgia Tech has opened ACC play with three straight series losses, so the Jackets were desperate for a quality win Tuesday against Mercer. The Tech offense responded by pounding out a season-high 18 hits in an 11-3 win against the Bears, who were 21-5 entering Tuesday. Star catcher Joey Bart went 5-for-5 with two homers and five RBIs to lead the onslaught.
• Loyola Marymount is sneakily building a nice little resume. The Lions own series wins vs. UC Santa Barbara, at Arizona State, at Cal Poly, at San Francisco and vs. BYU. And Tuesday, in their first game since Cory Abbott's perfect game against BYU, they added a nice midweek win against UC Irvine, 4-2. Relievers Ted Boeke, Braydon Salzman and Codie Paiva combined to work six innings of two-hit, shutout ball, and the Lions erased a 2-1 deficit with three runs in the ninth, scoring two of those runs on wild pitches.
Not So Good
• Baylor has lost two straight weekend series, both at home against conference foes West Virginia and Oklahoma. The Bears lost again Tuesday, getting drubbed 15-9 by UTSA, a .500 team entering Tuesday. Kevin Markham (4-for-4, 4 R) and Bryan Arias (5-for-6, 2 HR, 2 2B, 7 RBI) had huge days to lead UTSA's 21-hit barrage.
• Missouri State has also lost back-to-back series, vs. Memphis at home and on the road against 10-13 Central Michigan. MSU's losing streak reached three games with a 3-1 loss Tuesday against Oral Roberts. The Eagles are pretty good, so there's no shame in this loss, but Missouri State is in a bit of a funk. Logan Michaels (6 IP, 3 H, 1 R, 0 ER, 3 BB, 8 K) turned in a strong start to earn the win for ORU.
• Sam Houston State had been cruising along pretty good, and then it lost a home series this weekend to Buffalo, a team that was just 4-13 heading into the weekend after getting swept in a four-game set by UT Rio Grande Valley. The Bearkats lost again Tuesday against another team with an unsightly record — Rice (which was 7-19 heading into Tuesday). It's strange to thing of a loss to Rice as a "bad loss," but that's the reality right now. Ford Proctor had three hits and three runs to lead the Rice offense, and the Owls broke a 3-3 tie with two runs in the eighth.
Join the Discussion