D1 Digest: Saturday, Feb 29
Roundup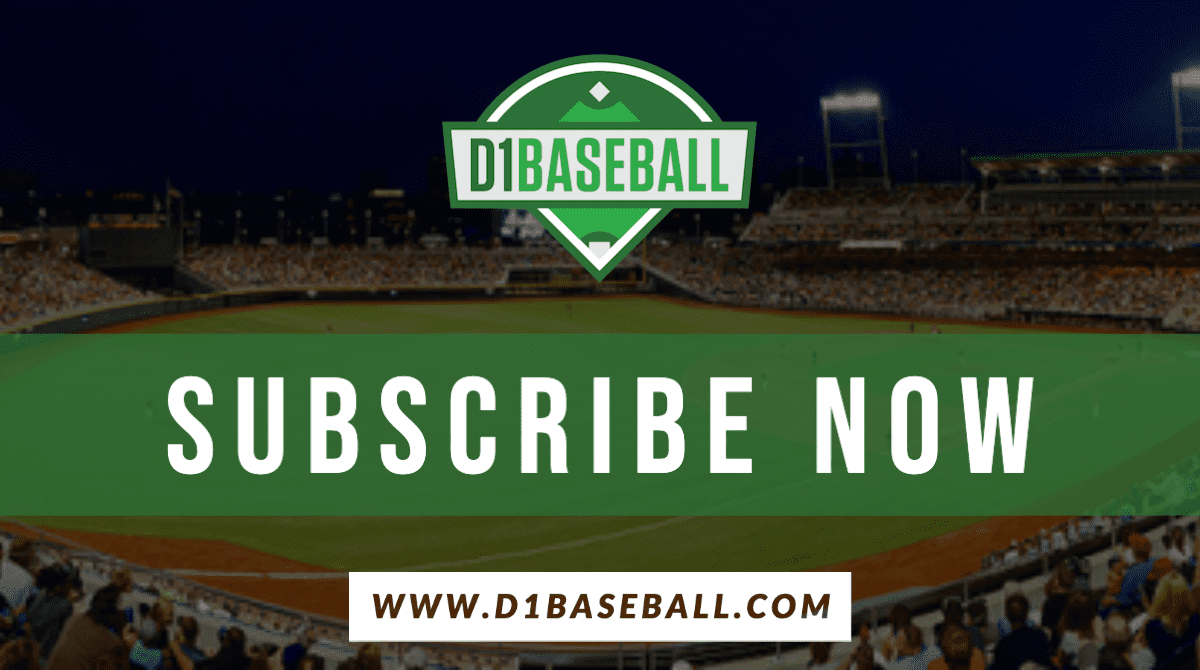 Saturday's Coverage
• Shriners College Classic: Rogers' Day Two Observations
• Fitt Bits: Saturday Notebook from the Frisco Classic with observations on impressive UCLA and Illinois
• Eric Sorenson on a day full of great pitching in Minneapolis
---
New Mexico State sensation Nick Gonzales hit five home runs in Aggies' doubleheader sweep of Purdue Fort Wayne. The first-team preseason All-America second baseman hit two dingers in game one's 19-5 triumph before cranking three, including an inside-the-park grand slam, in the 14-5 nightcap victory.
Absurdity. @Nick_Gonzales13 just clobbered his fifth homer of the day over the wall in right center.

FIVE HOME RUNS TODAY! pic.twitter.com/taxGJTOoCT

— NM State Baseball (@NMStateBaseball) March 1, 2020
Rocker scratched, Vandy loses
Vanderbilt wunderkind Kumar Rocker, he of the 19-strikeout no-hitter in super regionals and the reigning CWS Most Outstanding Player, was scratched from his scheduled start Saturday for Vanderbilt. Rocker is said to have arm soreness, and fans are already nervous after Mississippi State lost its sophomore ace JT Ginn. Hopefully, this is just precautionary.
"He's gonna be ok, nothing to be alarmed about… A little bit of soreness, nothing more, nothing less. He actually wanted to pitch… but we're not gonna push it too far right now." -more Tim Corbin on Kumar Rocker

Full interview on the pregame show @ 1:45 (I'll tweet it later)

— Max Herz (@MaxHerzTalks) February 29, 2020
Vanderbilt played without him Saturday and pitched fine with Thomas Shultz getting the nod and allowing only three hits and a run in five innings. The Commodores lost the game, however, falling 3-1 to Hawaii, who held them to six hits. Aaron Davenport allowed only three hits in his six inning start while Cade Smith worked the seventh and Carter Loewen collected three strikeouts getting the final six outs.
In-State Showdowns
Georgia handed the ball to Cole Wilcox, and he blanked Georgia Tech 12-0 Saturday to clinch the season series for the Bulldogs in front of a sellout crowd of 3,718 at Russ Chandler Stadium. After allowing a 1-out single in the first, Wilcox retired 14 straight, including eight strikeouts until Tech had a leadoff baserunner in the sixth. He tied his career high with seven innings pitched and a career-high 11 strikeouts for the win. Cam Shepherd went 2-for-4 with a home run and four RBIs, and Tucker Bradley added a home run to lead the UGa lineup.
Pretty strong showing by @BaseballUGA this afternoon, clinching a series win over rival Georgia Tech with a blowout win. https://t.co/X1qXbWVoQ8

— Kendall Rogers (@KendallRogers) February 29, 2020
Meanwhile, South Carolina's Thomas Farr allowed just two hits in a five-inning start, and his offense belted out 12 hits in an 8-5 win over Clemson in front of 8,986 fans at Segra Park, home of the Columbia Fireflies. The series is now tied at a game apiece heading to Clemson tomorrow. Wes Clarke homered for South Carolina while Jeff Heinrich added three RBI's. Davis Sharpe, who started on the mound, led the Tigers at the plate with a home run and three runs knocked in.
Tournament Rundown
Houston
Missouri shocked Oklahoma, rebounding from a five-run, fifth-inning deficit to walk off the Sooners 8-7 in 10 innings. The victory evens the Tigers' record at 5-5 while Oklahoma fell to 8-3. Senior Peter Zimmerman ended the game with a ground-rule double in the 10th inning to cap a 3-for-3 day.
FINAL | @MizzouBaseball's Peter Zimmerman hits a walk-off ground rule double in the 10th inning to give #Mizzou an impressive comeback win.#Big12 2, #SEC 2 so far in the Shriners College Classic.

— Kendall Rogers (@KendallRogers) February 29, 2020
In the next game in Houston, Baylor rallied from a 4-0 deficit to defeat LSU 6-4. The Bears used three home runs to erase the deficit with Ricky Martinez, Nick Loftin and  Chase Wehsener all going deep. Giovanni DiGiacomo had three hits to lead LSU.
Texas jumped out to a eight run, second inning lead but had to cling to life as Arkansas rallied. Texas win 8-7 as a potential game-tying, three-run home run by Matt Goodheart hit the top of the wall for a one-out, two-run, ninth inning double. He would remain there as Longhorn reliever Andre Duplantier got the final outs to clinch the win.
For more from the Shriners Hospitals for Children College Classic, check out Kendall's coverage.
Frisco
Fantastic crowd tonight in Frisco. But it sure hasn't fazed the Bruins, who lead the Aggies 9-2 after 6 very long, slow innings. https://t.co/zZGWTpEnpv

— Aaron Fitt (@aaronfitt) March 1, 2020
UCLA held Texas A&M to one hit in a 10-2 victory in Frisco. Nick Nastrini started and went five innings and four relievers shut down the Aggies from there. Kyle Cuellar was the offensive hero with three hits including a home run. Jarron Silva added three hits while Matt McLain homered.
Illinois beat a ranked team for the second consecutive day at the Frisco Classic with a 4-2 win over Oklahoma State.
For more from the Frisco College Baseball Classic, check out Aaron's coverage.
Minneapolis
Nick Swiney tossed a career-long eight innings, struck out a career-high 15 batters and yielded just one base hit in the first at-bat of the game in NC State's 6-0 victory over Purdue. Starting with the last out of the first inning, Swiney retired 22 in a row.
Duke scored four runs in the 10th inning to beat Minnesota 7-3. Erikson Nichols led the Blue Devils with three hits. Zack Raabe had four hits for the Gophers.
Iowa got a walk-off 5-4 victory over North Carolina, scoring all five runs in the final two frames. The Hawkeyes trailed 4-0 in the bottom of the ninth but rallied to tie the game at 4. The Hawkeyes had more hits in their final two innings (2) than in their first eight innings (1).
For more from the Cambria College Classic, check out Eric Sorenson's coverage.
Greenville
…and the bottom drops out.@GunnarHoglund | #RebsBSB pic.twitter.com/t8J9BeRiOr

— Ole Miss Baseball (@OleMissBSB) February 29, 2020
Gunnar Hoglund held East Carolina to five hits in his six-inning start to help Ole Miss win 2-1 in the Keith LeClair Classic. Hoglund struck out eight and allowed one run in the victory, the Rebels' second of the weekend.  Anthony Servideo and Tyler Keenan led the Rebels with two hits each. Alec Burleson had two hits and an RBI for ECU.
Indiana pushed its winning streak to six games with a 5-1 victory over High Point on Saturday afternoon.
Tallahassee
In a matchup between two 2019 CWS squads, Texas Tech defeated Florida State 6-5 on an unearned run in the 11th after a throwing error. Dru Baker homered for the Red Raiders while Cole Stilwell had two hits and drove in four.  Robby Martin went 4-for-6 to lead the Seminoles.  TTU closer Josh McMillion struck out seven in 2.1 innings (allowed one hit and one walk) to earn the win.
In the earlier game, Florida State had its best offensive performance of the season, with 14 hits, 10 walks and four hit by pitches in a 16-6 win over FAU.
Bulldogs even series
After being held scoreless for the first 14 innings of the series, Mississippi State exploded for consecutive four-run innings on the way to a 9-0 victory at Long Beach State. MSU pitchers Christian MacLeod and Will Bednar were superb to get the shutout. MacLeod allowed one run and walked three in five innings. Bednar fanned six and didn't walk a batter in four innings. Rowdey Jordan had four hits for the Bulldogs while Tanner Allen had a double, a triple and three RBI's.  Justin Foscue added two hits and a home run.
Quick Hits
• Landen Roupp and Adam Smith combined on a three-hit shutout as UNCW earned a series win on Saturday against Kentucky with a 3-0 road win. Roupp (3-0) scattered two hits and four walks over seven shutout innings for the win and he lowered his earned run average to 0.47 on the season. Smith pitched the final two innings, striking out three for his team-leading third save of the season. Wildcat starter Mason Hazelwood was the tough luck loser. He allowed seven hits and three runs, only one of which was earned. He struck out nine and did not walk a batter.
• Florida used a six-run seventh inning for its second consecutive comeback victory over Troy, 10-7. The Trojans chased Gator starter Jack Leftwich with six runs in three innings. Four UF relievers shut out Troy over the last five innings. Jud Fabian homered for the Gators while Austin Garofalo and William Sullivan had three hits each for Troy. Rigsby Mosley had a double, a homer and four RBI's for Troy. The Gators used four Troy errors to score four unearned runs.
• Gonzaga feasted off the South Alabama bullpen in a 13-3 victory to even the series in Mobile. Ernie Yake had three hits and a home run to pace the Zag attack. Gonzaga had 14 hits and 11 runs in four innings off six USA relievers. Zag starter Alek Jacob fanned eleven but walked six in his 6.1 inning, 114-pitch start.
• Ryan Bliss hit a pair of home runs in Auburn's 20-6 victory over Wright State.
• Taison Corio ignited the game-tying ninth-inning rally with a leadoff double and drove in the winning run in the 10th with a long single to deep center field with the bases loaded as Cal Poly defeated Michigan 5-4.
• Behind seven shutout innings from Charles King, TCU locked up the series victory over Cal with a 3-0 win on Saturday afternoon at Lupton Stadium. Tommy Sacco went 3-for-3 and drove in two runs in the win.
• Well, here's something you don't see everyday. Liberty earned yet another no-hitter this weekend in college baseball in a 6-4 win over Marist. Yes, that's right, six … to four? The Flames tossed the no-hitter, but also had eight walks as a staff. Liberty starting pitcher Noah Skirrow struck out five, but also walked six in 5.1 innings. You'll take a no-hitter anyway you can get it, I guess.
• For the third time in the last five games, ULM topped 20 runs, this time tallying 26 runs, as the WarHawks cruised to a series-tying 26-8 win over Illinois State .
What's better than one grand slam?

Two grand slams in the same inning!#NCAABaseball | @ULM_BSBpic.twitter.com/twrfuKISrK

— NCAA Baseball (@NCAACWS) February 27, 2020