Stat Roundup: Sunday, March 1 Top Performers
Roundup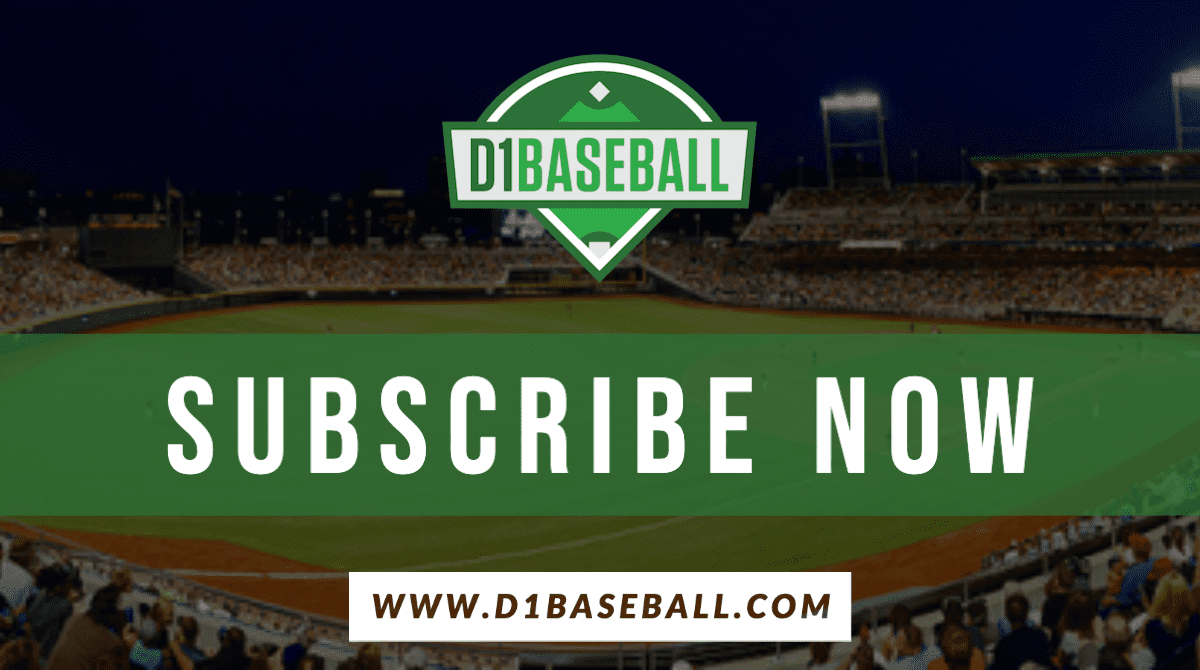 ---
SCORES: Friday | Saturday | Sunday
THE DEAN'S LIST: Which teams aced Week Three?
Check out our latest podcast!
---
Our partners at CollegeSplits.com provide statistical roundups of the previous day's action. Pitchers are sorted by Game Score, a metric for rating pitching performances developed by Bill James (here's an explanation). The hitting leaderboard prioritizes multi-homer games, extra-base hits and RBIs. Here are the top performers from Sunday's games.
Top 30 Hitters
| Hitters | School | Opponent | AB | R | H | RBI | BB | SO | Notes |
| --- | --- | --- | --- | --- | --- | --- | --- | --- | --- |
| Taylor Young | Louisiana Tech | Maine | 6 | 6 | 5 | 4 | 1 | 0 | 2 HR |
| Steele Netterville | Louisiana Tech | Maine | 4 | 2 | 3 | 7 | 0 | 1 | 2 HR |
| Austin Baskin | Memphis | Western Illinois | 6 | 4 | 4 | 3 | 0 | 1 | 2 HR |
| Isaiah Thomas | Vanderbilt | Hawaii | 6 | 2 | 3 | 4 | 0 | 1 | 2 HR; SB |
| Bryson Worrell | East Carolina | High Point | 2 | 3 | 2 | 2 | 1 | 0 | 2 HR; SB |
| Shane Muntz | Wake Forest | Sacred Heart | 4 | 3 | 3 | 2 | 0 | 0 | 2 HR |
| Cody Morissette | Boston College | Fairfield | 4 | 2 | 2 | 4 | 0 | 1 | 2 HR |
| Hunter Goodman | Memphis | Western Illinois | 6 | 2 | 4 | 11 | 0 | 1 | 2 2B; HR |
| Ryan Mantle | Creighton | UNLV | 4 | 2 | 2 | 2 | 0 | 0 | 2 HR |
| Jake Gehri | Yale | Old Dominion | 5 | 2 | 5 | 7 | 0 | 0 | 3B; 2 HR; SB |
| Ashton King | East Tennessee State | Georgia State | 4 | 3 | 4 | 5 | 1 | 0 | 2B; 3B; 2 HR |
| Leighton Banjoff | Nebraska | Arizona State | 6 | 2 | 4 | 6 | 0 | 0 | 2B; 2 HR; SB |
| Jon Clines | VMI | Quinnipiac | 5 | 2 | 3 | 9 | 0 | 1 | 2B; 2 HR |
| Angel Jimenez | Alabama State | Toledo | 5 | 3 | 4 | 3 | 0 | 1 | 2B; 2 HR |
| Brock Anderson | Murray State | Bowling Green | 4 | 2 | 2 | 9 | 0 | 1 | 2 HR |
| Parker Nolan | Davidson | Lafayette | 4 | 2 | 3 | 5 | 0 | 0 | 2 HR; SB |
| Austin Kryszczuk | UNLV | Creighton | 3 | 3 | 2 | 4 | 2 | 0 | 2 HR |
| Eli Rawlinson | Bradley | Tennessee Tech | 5 | 2 | 3 | 4 | 0 | 1 | 2 HR |
| Dan Bolt | Bradley | Tennessee Tech | 4 | 2 | 2 | 5 | 1 | 1 | 2 HR |
| Joe Fitzhugh | Pacific | Seattle | 6 | 3 | 5 | 4 | 0 | 0 | 2B; 3B; HR |
| Trevor Minder | Tulane | Middle Tennessee | 4 | 4 | 4 | 3 | 1 | 0 | 2B; 3B; HR |
| Parker Bates | Louisiana Tech | Maine | 4 | 6 | 4 | 3 | 2 | 0 | HR |
| Taylor Howell | Memphis | Western Illinois | 5 | 4 | 4 | 2 | 0 | 1 | 2B; 3B; HR |
| Ben Metzinger | Louisville | Western Michigan | 4 | 3 | 3 | 4 | 2 | 0 | HR |
| Paul McIntosh | West Virginia | Richmond | 3 | 3 | 3 | 3 | 1 | 0 | 2B; HR |
| Tyler Keenan | Ole Miss | Indiana | 4 | 2 | 4 | 2 | 0 | 0 | HR; SB |
| Caleb Ricketts | San Diego | Monmouth | 5 | 2 | 5 | 2 | 0 | 0 | 2 2B |
| Trevin Esquerra | Loyola Marymount | UC Davis | 4 | 2 | 3 | 2 | 2 | 0 | HR |
| Max Hildreth | Memphis | Western Illinois | 5 | 5 | 4 | 1 | 1 | 0 | SB |
| Christian Kirtley | UC Santa Barbara | Illinois-Chicago | 3 | 3 | 2 | 2 | 2 | 0 | 2B; HR |
Top 30 Pitchers
| Pitchers | School | Opponent | IP | H | R | ER | BB | SO | Dec | Notes |
| --- | --- | --- | --- | --- | --- | --- | --- | --- | --- | --- |
| Dane Acker | Oklahoma | LSU | 9 | 0 | 0 | 0 | 1 | 11 | Win | Game Score: 97 |
| Aaron Funk | Little Rock | North Alabama | 9 | 4 | 1 | 1 | 1 | 17 | Win | Game Score: 91 |
| AJ Labas | LSU | Oklahoma | 8 | 1 | 1 | 1 | 0 | 7 | Loss | Game Score: 83 |
| Will Warren | Southeastern Louisiana | Stony Brook | 8 | 3 | 0 | 0 | 0 | 6 | Win | Game Score: 82 |
| Richie Holetz | Omaha | Chicago State | 8 | 3 | 0 | 0 | 2 | 5 | Win | Game Score: 79 |
| Joseph Battaglia III | Southern | Prairie View | 7 | 0 | 0 | 0 | 4 | 6 | Win | Game Score: 79 |
| Nick Durgin | Stetson | UMBC | 8 | 5 | 0 | 0 | 0 | 6 | Win | Game Score: 78 |
| Michael McGreevy | UC Santa Barbara | Illinois-Chicago | 7 | 2 | 1 | 0 | 2 | 8 | Win | Game Score: 77 |
| Mason Gray | Utah Valley | San Jose State | 8.7 | 5 | 0 | 0 | 2 | 4 | Win | Game Score: 76 |
| Mark Moyer | Central Arkansas | SIU Edwardsville | 7 | 4 | 1 | 0 | 1 | 10 | Win | Game Score: 76 |
| Jonathan Harmon | Northwestern State | Eastern Illinois | 8 | 4 | 1 | 1 | 0 | 6 | Win | Game Score: 76 |
| Blake Beers | Michigan | Cal Poly | 8 | 2 | 2 | 1 | 2 | 6 | Win | Game Score: 76 |
| Will Tomlinson | Brown | La Salle | 7 | 2 | 1 | 1 | 1 | 7 | | Game Score: 75 |
| Luke Smith | Louisville | Western Michigan | 7 | 3 | 0 | 0 | 1 | 4 | Win | Game Score: 74 |
| Eli Morse | Portland | Stephen F. Austin | 7 | 3 | 1 | 1 | 2 | 7 | Win | Game Score: 72 |
| Russell Smith | TCU | California | 6.3 | 4 | 1 | 0 | 0 | 8 | Win | Game Score: 71 |
| Emmet Sheehan | Boston College | Fairfield | 7 | 5 | 1 | 1 | 0 | 8 | Win | Game Score: 71 |
| Trevor Kniskern | Pepperdine | Florida International | 6 | 4 | 0 | 0 | 1 | 7 | Win | Game Score: 70 |
| David Harrison | NC State | Minnesota | 5 | 1 | 0 | 0 | 1 | 6 | Win | Game Score: 70 |
| CJ Fernandezees | Loyola Marymount | UC Davis | 6.3 | 2 | 1 | 1 | 1 | 6 | Win | Game Score: 70 |
| Brett Walker | Oregon | Milwaukee | 6 | 3 | 0 | 0 | 0 | 4 | Win | Game Score: 70 |
| Dalton Ponce | Saint Mary's | UC Riverside | 7.3 | 4 | 1 | 1 | 1 | 4 | Win | Game Score: 69 |
| Carter Rustad | San Diego | Monmouth | 5 | 0 | 0 | 0 | 1 | 3 | Win | Game Score: 69 |
| Nick Krauth | Connecticut | New Orleans | 7 | 6 | 2 | 0 | 1 | 8 | Win | Game Score: 68 |
| Brock Guffey | Alabama | Harvard | 3 | 0 | 0 | 0 | 0 | 7 | Win | Game Score: 66 |
| Will Mercer | Notre Dame | Presbyterian | 5 | 3 | 0 | 0 | 1 | 5 | Win | Game Score: 65 |
| Tevin Murray | Rutgers | Washington State | 5.7 | 2 | 1 | 0 | 3 | 5 | Win | Game Score: 65 |
| Matt Gilbertson | Pittsburgh | Central Connecticut | 5 | 3 | 0 | 0 | 4 | 7 | Win | Game Score: 64 |
| Jake Carr | West Virginia | Richmond | 6 | 3 | 1 | 1 | 1 | 3 | Win | Game Score: 64 |
| Jackson Leath | Tennessee | George Washington | 4 | 2 | 0 | 0 | 0 | 6 | Win | Game Score: 64 |