2019 Conference Previews: ACC
Season Preview
WHAT'S INCLUDED:
• Projected order of finish
• Preseason awards
• Top Prospects ($)
— Top 50 2019 Draft Prospects
— Top 50 2020 Draft Prospects
• Top 50 Impact Freshmen ($)
• Team-by-team breakdowns ($)
Projected Standings
Bold indicates 2018 regional team, and records are from 2018. Teams are listed in order of projected 2019 finish.
| ATLANTIC DIVISION | CONFERENCE | OVERALL |
| --- | --- | --- |
| Louisville | 18-12 | 45-19 |
| Florida State | 16-13 | 43-19 |
| Wake Forest | 13-17 | 25-32 |
| Clemson | 22-8 | 47-16 |
| NC State | 19-11 | 42-18 |
| Notre Dame | 12-18 | 24-30 |
| Boston College | 7-22 | 17-32 |
| COASTAL DIVISION | CONFERENCE | OVERALL |
| --- | --- | --- |
| North Carolina | 22-8 | 44-20 |
| Duke | 18-11 | 45-18 |
| Georgia Tech | 14-16 | 31-27 |
| Miami | 16-13 | 28-26 |
| Virginia | 12-18 | 29-25 |
| Virginia Tech | 8-22 | 21-33 |
| Pittsburgh | 11-19 | 29-26 |
Projected Regional Teams (9): Louisville, North Carolina, Florida State, Wake Forest, Clemson, Georgia Tech, Duke, NC State, Miami
Player of the Year: Logan Davidson, SS, Clemson
Pitcher of the Year: Graeme Stinson, LHP, Duke
Freshman of the Year: Elijah Cabell, OF, Florida State
Top Prospects/Impact Freshmen
Projected Regional Teams
• For an in-depth report on the five ACC teams in our Top 25 rankings, you can find expansive team breakdowns below:
No. 4 Louisville
No. 7 North Carolina
No. 13 Florida State
No. 20 Wake Forest
No. 24 Clemson
• SEE ALSO: Georgia Tech Fall Report
Injuries to key arms have played a big role in Georgia Tech missing back-to-back regionals in 2017-18, for the first time since 1983-84. But heading into 2019, the Jackets are healthier, more talented and deeper than they have been in years. This group of players lacks postseason experience and must prove it knows how to win, but this Tech roster has legitimate Omaha upside if it all clicks. Even after losing leading hitter Wade Bailey (a four-year stalwart at second base) and No. 2 overall pick Joey Bart to the draft, Tech has a chance to improve upon an offense that ranked second in the ACC in batting (.291), because the lineup looks deeper and still has high-end firepower in the heart of the lineup.
Jr. C Kyle McCann (.300/.423/.600, 15 HR) and Jr. OF Chase Murray (.343/.360/.452, 7 HR) are proven lefthanded run producers who hit for average and power, while fellow junior Tristin English (a second-team preseason All-American as a two-way player) and physical sophomore breakout candidate Oscar Serratos (.311/.393/.437) bring righthanded power and hittability to the infield corner spots. A huge key for the Yellow Jackets is the middle infield, where a pair of 5-foot-9 dynamos look primed to take big leaps forward: 2B Luke Waddell and SS Austin Wilhite. They figure to be reliable playmakers who can dazzle at times in the heart of a defense that has some questions to answer on the corners and behind the plate, where McCann must replace the elite Bart after spending the last two years at first base. The outfield is wide open aside from Murray in left, but Tech has some intriguing speed options in Colin Hall (son of head coach Danny Hall), Nick Wilhite (Austin's twin brother) and Michael Guldberg, plus a still-developing wild card with big raw power in Baron Radcliffe, who could also see action at first base when English pitches.
Georgia Tech lefthander Connor Thomas (Aaron Fitt)
But Georgia Tech boasts a powerful offense almost every year; the biggest difference in 2019 is a pitching staff that should be dramatically improved from the unit that ranked 10th in the ACC and 171st in the nation with a 4.95 ERA last year. Juniors Connor Thomas and Xzavion Curry should serve as one of the ACC's best one-two punches in the rotation, and they provide opponents with dramatically different looks from one day to the next. The lefty Thomas (7-4, 3.34 with a dazzling 106-10 K-BB mark in 97 innings last year) is an elite strike-thrower with superb command of an 87-90 sinker from a low three-quarters slot, an 80-84 slider with late tilt that eats up lefties, and feel for a changeup that flashes plus. Curry, a compact and athletic righthander with a high slot, has more electric raw stuff, with a 91-93 fastball that can bump higher, an effective power changeup at 82-86 and a 78-82 breaking ball that can be a wipeout pitch when it's on, though he must command it better this spring. Heading into spring practice last week, the coaches still weren't sure how they plan to use English, who could easily thrive in the weekend rotation or as the go-to bullpen stopper. Now that he's more than two years removed from Tommy John surgery, English figures to take another step forward with his stuff, which was already good last year: a low-90s fastball, cutter, slider, curveball and changeup, all of which can be effective weapons for him.
All the other roles should fall into place once Tech settles on a job for English that best accommodates his critical two-way duties. Big-bodied So. LHP Brant Hurter could wind up as the closer or the Sunday starter; he can run his heater up to 91 and has worked hard to improve his slider, though his changeup still lags behind, which could make him a better fit for the bullpen (especially since his arm bounces back well). Juco transfer Amos Willingham (a 6-foot-4, 220-pound workhorse) showed a three-pitch starter's arsenal in the fall, working downhill at 90-93 along with a quality 12-to-6 curveball and solid 80-83 changeup. He seems like a very strong bet to start, either Sunday or Tuesday. Freshman righty Cort Roedig also is strongly in the starting mix, as a hard-nosed competitor with a 90-92 fastball and feel for two good secondary offerings. Fellow high-profile recruit Luke Bartnicki figures to begin as a power lefty in the bullpen; he and redshirt freshman lefty Will Shirah both can pitch in the low 90s and the makings of putaway breaking balls, though Bartnicki's slider remains a work in progress. Changeup specialist Andy Archer brings valuable experience to the bullpen, along with seniors Keyton Gibson, Jake Lee, Robert Winborne and Micah Carpenter.
• SEE ALSO: Duke Fall Report
A veteran lineup and an elite bullpen led Duke to its first super regional appearance last spring, and the 2019 Blue Devils will have a dramatically different look after losing six key everyday regulars along with twin bullpen monsters Jack Labosky and Ethan DeCaster. Even so, Duke has a chance to make serious noise once again this spring, because its pitching staff might be the ACC's deepest, and its new-look lineup is well stocked with emerging talent.
That loaded pitching staff begins with the No. 1 pitching prospect in college baseball: first-team preseason All-American Graeme Stinson, who spent most of last year as the third member of Duke's dominant bullpen triumvirate, posting a 1.89 ERA and a ridiculous 98 strikeouts in 62 innings. He held his stuff for six shutout innings against Texas Tech's explosive offense during a start in super regionals, then struck out 12 over five innings of one-hit ball in his lone Cape Cod League start, showing Duke just how good he can be in that role. Exceptionally physical and durable at 6-foot-5, 250 pounds, Stinson can dominate hitters with a fastball that sits comfortably at 93-96 and bumps 97 from the left side, along with college baseball's best slider (often a plus-plus pitch in the 83-87 range). He should be even better now that he's developed a better changeup and two-seamer to his arsenal. Fellow junior lefthander Adam Laskey teams with Stinson to give Duke a potentially special one-two punch atop the rotation. Laskey really came into his own in the Cape last summer, showing a quality three-pitch mix highlighted by an 89-92 fastball and swing-and-miss 81-84 slider.
Duke righty Bryce Jarvis (Aaron Fitt)
The Sunday starter job looks like a competition between sophomore righty Bryce Jarvis and two advanced power freshmen: Jack Carey and Cooper Stinson. Jarvis was a strikeout machine in the bullpen last year, fanning 67 in 47.2 innings thanks largely to one of college baseball's best changeups — but he has a full three-pitch arsenal and could thrive as a starter should Duke choose to use him in that capacity. Cooper Stinson is built like his brother at 6-foot-6, 250 pounds, and he sat 91-94 over extended outings in the fall, along with an emerging power slider up to 86 and a developing change. His mound presence and pitchability are more advanced than Graeme's were at the same age. Carey worked at 87-92 in the fall and impressed the Devils with a knockout 76-79 breaking ball with exceptionally tight spin. Two of those three righties could wind up in the bullpen, assuming Duke sticks with strike-throwing lefty Bill Chillari in the Tuesday role, which worked well last year. Graduate transfer Ben Gross and sophomore two-way talent Matt Mervis give Duke's deep bullpen two more power options who can reach the mid-90s from the right side, and quick-armed sophomore RHP Thomas Girard is a pick to click after a breakout summer in the NECBL, pounding the zone with a lively 90-92 fastball and a tight swing-and-miss slider at 81-84.
Certainly Duke will miss mainstays Jimmy Herron, Grifin Conine, Zack Kone, Chris Proctor, Max Miller and Labosky in the lineup, and this team figures to be less offensive, and less consistent on defense because of its downgrade in experience. But sophomores Michael Rothenberg and Joey Loperfido should provide the star power in the heart of the order, and the supporting cast is very athletic, with impact speed in the outfield (rock-solid senior CF Kennie Taylor plus sophomore breakout candidates Chase Cheek and Steve Mann). Rothenberg figures to establish himself as one of the ACC's best prospects now that he'll have a chance to play every day behind the plate, where he has a rocket arm that routinely generates sub-1.8-second pop times. He's also a switch-hitter with real power from both sides and a mature plate approach. Loperfido (.315/.408/.475) led all Duke regulars in batting as a freshman, and he has the look of a can't-miss rising star. A 6-foot-4, 195-pound lefthanded hitter, Loperfido played first base last year, and he's a 6.6 runner who profiles best in the outfield, but he's sliding to second base for this Blue Devils team to fill a need, and he showed aptitude for the position in the fall. Athens Regional hero Chris Crabtree was a revelation down the stretch last year and will assume an everyday job at first base this year, giving Duke another dangerous lefty run producer.
• SEE ALSO: NC State Fall Report
After a successful 42-win season that ended with a home regional and a loss to Auburn in the regional finals, NC State had to dramatically retool its lineup and its pitching staff. The Wolfpack lost arguably college baseball's best outfield (Brett Kinneman, Josh McLain and Brock Deatherage), plus ACC Pitcher of the Year Brian Brown and longtime pitching mainstays Johnny Piedmonte and Joe O'Donnell. Just three returning regulars are back in the lineup heading into 2019, but two of them are preseason All-Americans at premium up-the-middle positions (powerful switch-hitting catcher Patrick Bailey and and do-it-all shortstop Will Wilson), and the third is a mature senior slugger (first baseman Evan Edwards). That trio combined to hit 43 home runs last year, and they'll anchor an otherwise unproven lineup this spring.
NC State shortstop Will Wilson (Aaron Fitt)
There's plenty of exciting young talent on this roster, however, and the Wolfpack will be counting on those underclassmen to provide lineup depth. Sophomores Terrell Tatum and Devonte Brown bring high-end athleticism and good bat speed to the outfield mix, where Tatum's 6.3 speed is a huge asset, and so is Brown's arm strength. Brown could also wind up at third base, where physical freshman Vojtech Mesik (one of two newcomers from the Czech national team, along with similarly physical outfielder Marek Chlup) looks like the front-runner thanks to his excellent defensive instincts and ability to pepper the whole field with hard line drives. Another freshman, switch-hitting spark plug Tyler McDonough, will factor into the outfield and second base mix thanks to his high motor and advanced feel for his barrel at the plate. Sophomore J.T. Jarrett is the more advanced defender at second base and figures to team with Wilson to form a slick double-play tandem, especially if his offseason strength gains translate to more offensive production. Veteran Dillon Cooper is another quality defender at multiple positions who needs to take a step forward with the bat. Perhaps the team's biggest X-factor is junior DH/catcher Brad Debo, who posted a .335/.387/.493 slash line as a freshman in 2017 and then struggled as a sophomore, logging just 83 at-bats. He injured his thumb in the Cape League last summer, then saw his fall cut short by another injury — but if he can return to full strength and get himself rolling again, he could serve as a valuable, physical run producer in the heart of the order.
Competition for jobs on the mound are pretty wide open heading into the fall, aside from staff bookends Reid Johnston (a rock-solid workhorse starter who will take over the Friday job) and Kent Klyman (NC State's third preseason All-American, a premier lefthanded bullpen stopper). Johnston is a high-end strike-thrower whose calling card is his ability to spot up his 88-92 fastball to either side of the plate, and he's worked hard in the offseason to improve his slider, which as passed his changeup as his No. 2 pitch. Klyman is a 6-foot-7 southpaw with unflappable mound presence and a slingy arm action that helps his 87-93 heater jump on hitters. His slider is also a legitimate out pitch, and his changeup has developed to the point that NC State hasn't ruled out the possibility of using him as a weekend starter. The pitcher with the highest upside on the staff is redshirt sophomore righthander Dalton Feeney, who looked like an emerging ace with a fastball up to 96-97 before having Tommy John surgery that cost him all of last season. He has progressed well in his recovery, and his early bullpen sessions have been very encouraging — he sat 90-92 with command this weekend and touched as high as 94 at the end of the fall, along with an 82-84 slider that has a chance to be a plus pitch. Expect the Wolfpack to build him up slowly, but he could wind up as the staff ace by season's end. Juco transfer Alec Barger and sophomore lefty Evan Justice are two more intriguing rotation options with power stuff — fastballs in the 90-94 range and improving secondary stuff. Barger even bumped 96 in the fall and made huge strides with his slider, which is now an 80-84 mph offering with sharp bite. Justice is still working on his ability to command his promising 80-82 slider as well as his fastball, but he flashes tantalizing upside.
One or two of that Barger-Justice-Feeney trio figures to join Klyman in a deep, varied bullpen that also includes quality, mature seniors Nolan Clenney and ECU transfer Joe Ingle. Sinkerballer Michael Bienlien and changeup specialist Mathieu Gauthier also have the ability to start or come out of the bullpen as needed, giving new pitching coach Clint Chrysler (formerly of Winthrop) plenty of combinations to experiment with. Also keep an eye on sophomores David Harrison (a quick-armed lefty with an 88-91 fastball and good changeup but a below-average breaking ball) and Nick Swiney (a righty whose knockout breaking ball and solid changeup should get him plenty of innings).
• SEE ALSO: Miami Fall Report
After making a record 44 consecutive trips to regionals from 1973-2016, Miami has now missed back-to-back NCAA tournaments despite rallying late both seasons to finish with winning records in ACC play. But Miami fell into a deep first-half hole last spring with a very young roster that was saddled with some crippling injuries, falling to 12-18 as late as April 7, and its late surge against the softer part of its schedule proved too little, too late. After the season, longtime coach Jim Morris retired, ending a Hall of Fame career that included 13 CWS trips (more than any other program in the last quarter century) and two national titles in 25 years at Miami. But Miami had been grooming longtime recruiting coordinator Gino DiMare to take over for Morris, and the transition should be seamless, because DiMare has spent more than two decades wearing a Hurricanes uniform, first as a player and then as an assistant coach.
Miami shortstop Freddy Zamora (Aaron Fitt)
DiMare has a chance to make a splash with his first team as head coach, because all of those high-profile freshmen got better and gained confidence down the stretch last year as they became acclimated to Division I competition, and collectively they should take off as sophomores. The best performer in that class last year was shortstop Freddy Zamora (.303/.388/.412, 20 SB), a premium athlete with plus speed and silky-smooth actions at shortstop. Two or three other sophomores will join him in the infield: first baseman Alex Toral, versatile and speedy Willy Escala, and perhaps third baseman Raymond Gil, depending upon how he recovers from a wrist injury that sidelined him all fall. Gil and Toral could provide real thump on the infield corners if they can make more consistent contact as sophomores; Toral spent the offseason working hard to improve his timing and bat-to-ball skills after hitting a woeful .161 last year. If Gil isn't back to form by the start of the season, Escala could man the hot corner, and instinctive freshman Anthony Vilar could handle second base. Center fielder Tony Jenkins is yet another tooled-up sophomore primed for a breakout after hitting .218 as a freshman; he has a tantalizing power/speed tool set and really impressed the coaches with his plate discipline in the fall. Likewise, redshirt sophomore Michael Amditis struggled in his return from injury last year (.225) but dramatically improved the quality of his at-bats in the fall, while showing high-end catch-and-throw skills. He'll likely handle the bulk of the catching but could be spelled by blue-chip freshman Adrian Del Castillo, whose elite lefthanded bat and power will keep him in the lineup at DH when he's not behind the plate. Newcomers Chet Moore and Chad Crosbie (a pair of high-energy grinders with good bat-to-ball skills) will compete for time on the outfield corners with powerful but raw sophomore Gabe Rivera and fellow soph Dylan Clooney.
While Miami's lineup has intriguing upside but a lack of proven performers after ranking last in the ACC in scoring in 2018, the pitching staff looks like a safe bet to be among the ACC's best, led by a half-dozen serious high-powered arms. Jr. RHP Evan McKendry (7-6, 3.52, 114 K in 87 IP) is a proven workhorse who figures to replace departed senior Jeb Bargfeldt as the Friday starter job thanks to his ability to pound the zone with an 89-93 heater that bumps 95, an outstanding changeup that rates as the best secondary pitch on the entire staff, and a serviceable short slider in the low 80s. Miami was expecting huge things from marquee recruit Chris McMahon as a freshman last year, but a winter knee limited him to 26.1 innings, dealing the Canes a big blow. He's back to full strength now and ready for takeoff as the Saturday starter, with a low-to-mid-90s fastball, advanced feel for his changeup and a breaking ball that got much better in the fall. Jr. RHP Greg Veliz, the expected Sunday starter, has always tantalized with his electric raw stuff — a heater up to 96 and the makings of a plus slider — but inconsistent command held him back from stardom over his first two years. The Canes say he made progress in that area during fall ball.
A fourth power righthander, Slade Cecconi, was one of the crown jewels of this fall's eighth-ranked recruiting class, and he'll battle for a weekend starter spot as well, with a 91-94 fastball that peaks at 97 and the ability to throw three pitches for strikes. Fellow blue-chip recruit JP Gates stands out most for his advanced command of an 88-90 fastball that can bump 92 from the left side, along with a sharp-breaking 76-78 curveball and a quality changeup. It's weekend starter stuff, but he likely fits best at the back of the bullpen on this veteran staff. He'll be joined in the late innings by So. RHP Daniel Federman (2.25 ERA in 60 IP last year), a tenacious strike-thrower with an 88-93 heater and a tough cutter. Juco transfers Tyler Keysor (who owns a 90-94 fastball, good 11-to-5 curveball and quality changeup) and Mark Mixon (who has uncommon low-90s velocity from a submarine slot and a tight slider to go with it) look ticketed for key bullpen roles as well. The darkhorse is Jr. RHP Daniel Rivero, who was the most improved pitcher on the staff in the fall, showing better stuff and command.
Keep An Eye On …
• SEE ALSO: Virginia Fall Report
Injuries to Virginia's two best players — Cameron Simmons and Jake McCarthy — torpedoed the Cavaliers before they ever really left the dock in 2018, and those losses proved too much to overcome, as they slumped to 12-18 in the ACC and missed regionals for the first time in coach Brian O'Connor's 15 years at the helm. Simmons is back now as a fourth-year junior with a strong track record as a run producer (.354/.432/.563 in 2017) to anchor the lineup this spring; he brings righthanded power and plus speed, uncommon for a 6-foot-4, 205-pounder. That speed plays well in center field, where he'll shift to replace McCarthy. Sophomore Alex Tappen manned right field in Simmons' absence last year and took a big step forward in the summer, setting the Cal Ripken League record for doubles. He's an obvious breakout star candidate, and so is fellow sophomore Devin Ortiz, a former blue-chip recruit who struggled to show a consistent approach as a freshman and hit just .167 in 60 at-bats. He has real bat speed, and Virginia is hoping he can join Simmons and Tappen as reliable righthanded run producers. The top lefthanded threats are senior corner infielder Nate Eikhoff (.290/.386/.394) and sophomore shortstop Tanner Morris (.298/.397/.374), who busted out on the national prospects stage last summer in the Cape Cod League, hitting .331/.404/.449 with wood. Morris stands out for his instinctive defensive skills and above-average arm at short, where he is the infield glue. Junior Cayman Richardson could join him in a rock-solid middle infield, though Richardson's versatility could also make him a valuable super-utilityman capable of playing all around the diamond. The Cavs were very excited in the fall about freshmen Zack Gelof, Nic Kent and Drew Hamrock, three key building blocks who will push for playing time right away at third base, second base and catcher, respectively. Gelof has the most power and most advanced bat of the trio, and Kent has premium defensive skills and plus speed. Hamrock gives UVa. an agile, athletic backup for steady veteran Cameron Comer.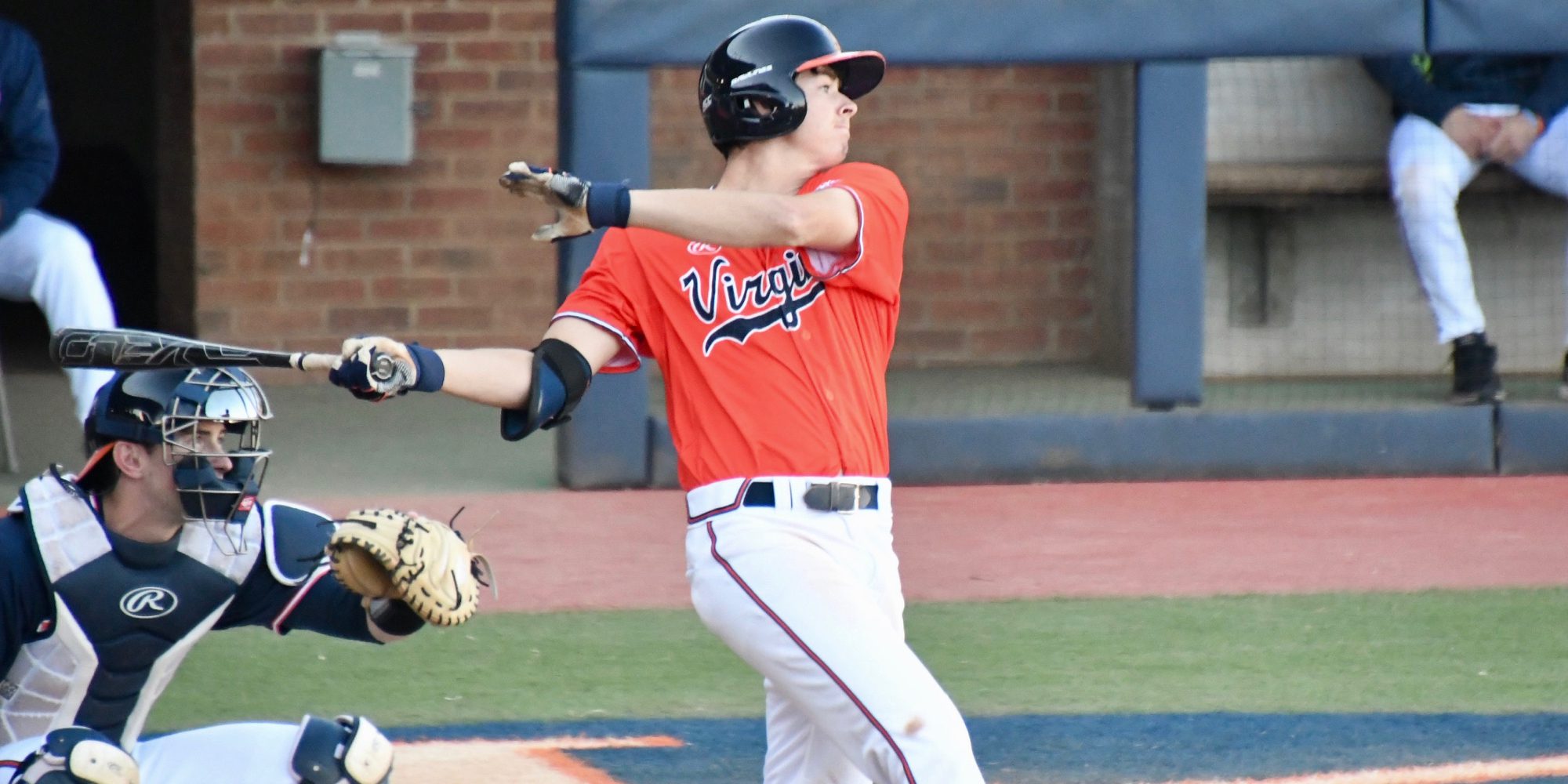 Virginia shortstop Tanner Morris (Aaron Fitt)
Virginia's pitching wasn't up to its usual standards last year either, ranking eighth in the ACC and 80th in the nation with a 4.15 ERA. Six-foot-8 junior righty Noah Murdock, who was limited to just 13.1 innings last season after coming back from Tommy John surgery, should be ready to assume the Friday starter duties now that he's further removed from his injury; he showed 89-92 mph heat in the fall and could make another jump this spring, and O'Connor raved about his advanced ability to command three or four pitches on any given night. Another big-bodied Tommy John survivor, senior righty Evan Sperling, could also factor into the starting mix, as he did early last season — if he can stay healthy and consistently harness his command. When he's on his game, as he was opening weekend against Rice last year, Sperling's 87-92 fastball has tough angle, and he can miss bats with a high-70s slurve. The two other leading contenders for rotation jobs are emerging sophomore righty Griff McGarry and blue-chip freshman righty Mike Vasil. McGarry has taken a huge leap forward after posting an 8.15 ERA in 17.2 innings as a freshman — he showed command of a 90-93 fastball, diving power changeup and average 11-to-5 curveball in the fall. Vasil, the Cavs' latest prize from the Northeast, throws strikes with ease using a very promising three-pitch mix, and he ran his heater up to 95 now and then in the spring, though he worked at 88-92 in the fall. He also showed a sharp downer curveball at 73-77 with good depth, and he has feel for a solid changeup.
The bullpen figures to be anchored by talented sophomore lefty Andrew Abbott, an undersized but loose and athletic lefty with a quick arm that produces low-90s heat, a very good mid-70s curve with depth and a useful low-80s changeup. Sophomore slurve-monster Kyle Whitten and seasoned veterans Riley Wilson and Chesdin Harrington should also see plenty of innings, and freshman two-way talent Ben Harris could be another key bullpen lefty with a fastball that has bumped 92 and a quality curveball.
It all adds up to a team that will unquestionably be much improved from a year ago, and it seems like folly to bet against O'Connor and his veteran coaching staff figuring out how to guide the Cavs back to regionals — but the ACC is deep, and the Cavs are counting on a great many players who still need to prove themselves. If they do, this team is certainly capable of making a run at hosting a regional — it seems like there is little separation between teams No. 4 through No. 10 in the ACC pecking order, and it's easy to envision those seven teams finishing in any order.
Rest Of The Pack