| | |
| --- | --- |
| Overall | 29-11 |
| Home | 15-3 |
| Away | 14-8 |
| Neutral | 0-0 |
| Conference | 21-3 |
| Non-Conf | 8-8 |
| Postseason | - |
| | | |
| --- | --- | --- |
| RPI | 125 | 0.5061 |
| Non-Conf RPI | 165 | |
| SOS | 283 | |
| Non-Conf SOS | 227 | |
| | |
| --- | --- |
| 1-25 | 0-0 |
| 26-50 | 0-0 |
| 51-100 | 0-0 |
| 101-200 | 12-9 |
| 201+ | 17-2 |
Team News
2020 WAC Preview: Sac State, Grand Canyon The Headliners
The WAC has an exciting race atop the standings this spring with Sacramento State and GCU leading the way, while NMSU and others hope to surprise.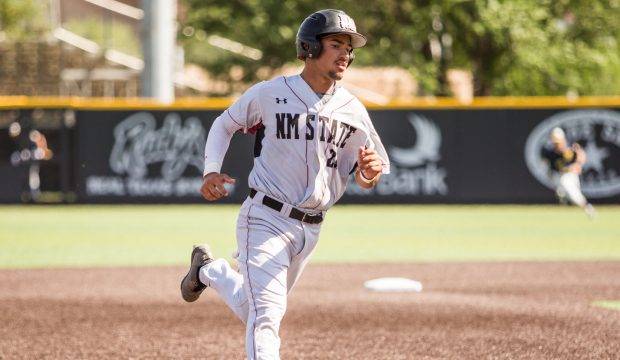 Week 6 Power Rankings: Second Base
New Mexico State's Nick Gonzales has taken over the No. 1 spot in our updated ranking of the top 30 second basemen in college baseball.
2019 Conference Previews: WAC
New Mexico State looks to make it two-straight postseason appearances as it headlines the WAC entering the 2019 campaign.