| | | | | |
| --- | --- | --- | --- | --- |
| Date | Loc | Opponent | Results | Notes |
| Fri, Feb 15 | at | LSU | 12 - 7 | LSU Tournament, Baton Rouge, LA |
| Sat, Feb 16 | vs | Air Force | 1 - 0 | LSU Tournament, Baton Rouge, LA |
| Sun, Feb 17 | at | Army | 10 - 3 | LSU Tournament, Baton Rouge, LA (8 innings, travel curfew) |
| Sat, Feb 23 | vs | SIU Edwardsville | | CCD, inclement weather |
| Sun, Feb 24 | vs | SIU Edwardsville | 12 - 3 | |
| Sun, Feb 24 | vs | SIU Edwardsville | 12 - 4 | |
| Mon, Feb 25 | vs | SIU Edwardsville | 4 - 1 | |
| Tue, Feb 26 | at | Northwestern State | 15 - 0 | |
| Fri, Mar 1 | at | Tennessee | 7 - 2 | Cox Diamond 9 Invitational, Pensacola, FL |
| Sat, Mar 2 | at | Western Kentucky | 4 - 3 | Cox Diamond 9 Invitational, Pensacola, FL |
| Sat, Mar 2 | vs | North Florida | 7 - 4 | Cox Diamond 9 Invitational, Pensacola, FL (moved from 3/3, impending weather) |
| Tue, Mar 5 | at | Southeastern Louisiana | 10 - 3 | |
| Wed, Mar 6 | at | Southeastern Louisiana | 7 - 1 | |
| Fri, Mar 8 | vs | McNeese | 13 - 12 | |
| Sat, Mar 9 | vs | McNeese | | Suspended to 3/10, fog |
| Sun, Mar 10 | vs | McNeese | 10 - 5 | resumption of suspended game |
| Sun, Mar 10 | vs | McNeese | 10 - 2 | |
| Tue, Mar 12 | vs | Southern | 10 - 6 | |
| Fri, Mar 15 | vs | Coastal Carolina | 13 - 3 | |
| Sat, Mar 16 | vs | Coastal Carolina | 14 - 2 | |
| Sun, Mar 17 | vs | Coastal Carolina | 15 - 7 | |
| Tue, Mar 19 | at | Southern Miss | 5 - 4 | |
| Fri, Mar 22 | at | Texas State | 5 - 1 | |
| Sat, Mar 23 | at | Texas State | 6 - 5 | |
| Sun, Mar 24 | at | Texas State | 13 - 1 | |
| Tue, Mar 26 | at | Louisiana Tech | 9 - 4 | |
| Wed, Mar 27 | vs | Jackson State | 10 - 1 | |
| Fri, Mar 29 | vs | Georgia Southern | 9 - 8 | |
| Sat, Mar 30 | vs | Georgia Southern | 4 - 2 | |
| Sun, Mar 31 | vs | Georgia Southern | 8 - 5 | |
| Wed, Apr 3 | at | Mississippi State | 21 - 8 | |
| Fri, Apr 5 | at | Georgia State | 16 - 8 | |
| Sat, Apr 6 | at | Georgia State | 10 - 3 | |
| Sun, Apr 7 | at | Georgia State | 9 - 3 | |
| Wed, Apr 10 | vs | Northwestern State | 8 - 4 | moved from 4/9, field conditions |
| Fri, Apr 12 | at | Appalachian State | 3 - 2 | |
| Sat, Apr 13 | at | Appalachian State | 10 - 8 | |
| Sat, Apr 13 | at | Appalachian State | | Suspended to 4/14, fog (moved from 4/14, impending weather) |
| Sun, Apr 14 | at | Appalachian State | | CCD, inclement weather (resumption of suspended game) |
| Tue, Apr 16 | vs | Louisiana Tech | 5 - 0 | |
| Thu, Apr 18 | vs | Little Rock | | PPD to 4/20, rain |
| Fri, Apr 19 | vs | Little Rock | 5 - 2 | |
| Sat, Apr 20 | vs | Little Rock | 7 - 3 | makeup of 4/18 game |
| Sat, Apr 20 | vs | Little Rock | 4 - 2 | |
| Tue, Apr 23 | at | Southern | 5 - 4 | |
| Fri, Apr 26 | at | Arkansas State | 11 - 4 | |
| Sat, Apr 27 | at | Arkansas State | 4 - 3 | |
| Sun, Apr 28 | at | Arkansas State | 4 - 2 | |
| Tue, Apr 30 | vs | Alcorn State | 11 - 4 | |
| Fri, May 3 | vs | UT Arlington | 10 - 2 | |
| Fri, May 3 | vs | UT Arlington | 8 - 0 | moved from 5/5, impending weather |
| Sat, May 4 | vs | UT Arlington | | PPD to 5/5, inclement weather |
| Sun, May 5 | vs | UT Arlington | 6 - 3 | makeup of 5/4 game |
| Fri, May 10 | at | Troy | 15 - 4 | |
| Sat, May 11 | at | Troy | 10 - 4 | |
| Sat, May 11 | at | Troy | 14 - 6 | moved from 5/12, impending weather |
| Tue, May 14 | vs | Northwestern State | | CCD, field conditions |
| Thu, May 16 | vs | Louisiana | 6 - 3 | |
| Fri, May 17 | vs | Louisiana | 13 - 9 | |
| Sat, May 18 | vs | Louisiana | 19 - 8 | |
| Tue, May 21 | at | South Alabama | 12 - 7 | Sun Belt Tournament Game 1, Conway, SC (South Alabama eliminated) |
| Wed, May 22 | at | Texas State | 8 - 0 | Sun Belt Tournament Game 6, Conway, SC |
| Thu, May 23 | vs | UT Arlington | 18 - 5 | Sun Belt Tournament Game 10, Conway, SC |
| Sat, May 25 | vs | Coastal Carolina | 26 - 10 | Sun Belt Tournament Game 14, Conway, SC |
| Sat, May 25 | at | Coastal Carolina | 10 - 6 | Sun Belt Tournament Game 16, Conway, SC (UL Monroe eliminated) |
| | |
| --- | --- |
| Overall | 27-31 |
| Home | 13-13 |
| Away | 8-14 |
| Neutral | 6-4 |
| Conference | 12-17 |
| Non-Conf | 15-14 |
| Postseason | - |
| | | |
| --- | --- | --- |
| RPI | 136 | 0.5043 |
| Non-Conf RPI | 112 | |
| SOS | 82 | |
| Non-Conf SOS | 55 | |
| | |
| --- | --- |
| 1-25 | 0-3 |
| 26-50 | 0-1 |
| 51-100 | 9-17 |
| 101-200 | 9-9 |
| 201+ | 9-1 |
Team News
2019 Conference Previews: Sun Belt
Louisiana and others are tracking Coastal Carolina as we prepare for the 2019 campaign in the Sun Belt.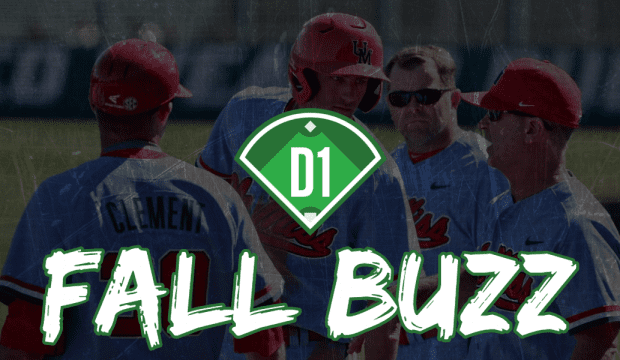 Fall Workouts Buzz: October 19
Our latest fall nuggetbook has inside scoop on Ole Miss, Texas, TCU, Clemson, Cal, UCSB, VCU, South Florida, Louisiana Tech, UL Monroe and Kent State.
2018 Conference Previews: Sun Belt
Travis Swaggerty and South Alabama are the clear-cut favorites to win the Sun Belt, but several teams hope to spoil their season. How should the Sun Belt stack up?