Weekend Preview: March 24-27
Weekend Preview
• Want more D1Baseball.com coverage? Subscribe Today

What's Included
• Fitt on Long Beach State-Cal State Fullerton
• Rogers on Sun Belt Showdown w/ South Alabama-Texas State
• Top 25 Schedule
Fitt: Big West Contenders Collide In Fullerton
The official start of Big West Conference play is still a week away, but this weekend offers a fascinating sneak preview, as two of the league's powers collide in a nonconference series. Cal State Fullerton and Long Beach State entered the season as the two teams we projected to make regionals out of the Big West, and both teams still look like top contenders for the conference crown, but they should have plenty of competition from UC Santa Barbara, UC Irvine, Cal Poly and Cal State Northridge in a conference that looks stronger at the top than expected.
But this annual nonconference showdown between the Dirtbags and Titans always gives both teams a chance to gauge where they are heading into Big West play.
"This series, we always like to schedule it right before conference because it gives you that final barometer of what you need to do," Long Beach coach Troy Buckley said. "The road to the championship still goes through Fullerton, however they're playing, they're still the champs."
The Titans have had a topsy-turvy season to this point against a rugged schedule, losing series at Stanford and home against Maryland, but sweeping Indiana and Wichita State and taking two of three at Texas Tech. They're also just 1-4 in midweek action, making them just 11-9 overall.
Fullerton does two very important things at an elite level: pitch and defend. The Titans rank second nationally in ERA (2.18), fewest hits allowed per nine innings (5.66) and fielding percentage (.987), and they lead the nation in WHIP (0.91).
"When you field .987 and you pitch with a low-2s ERA, you should win a few more games," Fullerton coach Rick Vanderhook said.
The problem is, the Titans have struggled mightily on offense, ranking 246th nationally in batting (.240) and 259th in scoring (4.0 runs per game). Shortstop Timmy Richards has gone from being a light-hitting defensive whiz to a very good all-around player, leading the team in homers (three) and slugging (.531) while ranking second on the team in batting (.313). Dalton Blaser is hitting a soft .328, and speedster Tyler Stieb is hitting .291, but no other Titan is hitting better than .250.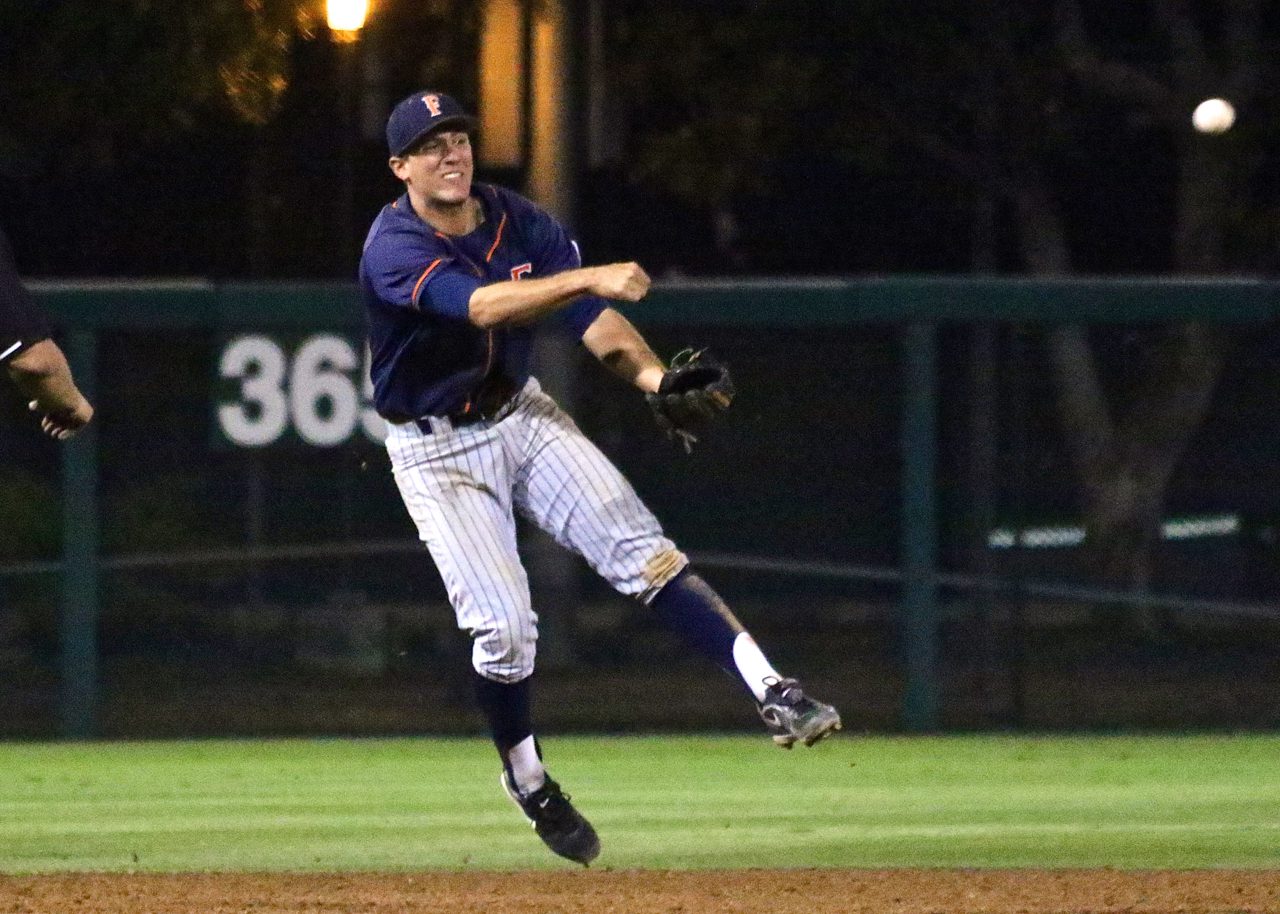 Fullerton shortstop Timmy Richards (Shotgun Spratling)
"I think it is a little contagious," Vanderhook said. "I think trying to do too much has led into it a little bit. The best thing is, the only way to go is up."
And it seems like only a matter of time before some of Fullerton's established veterans — who formed the core of an Omaha team last year — start performing better. Tanner Pinkston, Chris Hudgins, Josh Vargas and Jerrod Bravo all contributed plenty of big hits last year, and they are capable of doing a lot more offensively than they have thus far in 2016.
Once the Titans get their bats going, they've got a chance to make another deep run, because they prevent runs as well as anybody. It is incredibly difficult to field .987 without benefitting from the room-service hops that teams get on artificial turf, but the Titans have pulled it off despite playing on dirt.
That elite defense makes the pitching staff better, but it's not like the Titans only pitch to contact — they have plenty of power arms that can miss bats, too. Righthander Blake Quinn, a transfer from Fresno State who sat out last year, has made a huge impact at the top of the rotation, going 3-1, 1.93 with 35 strikeouts in 28 innings.
"He does everything solid — holds runners solid, fields his position solid," Vanderhook said. "It's 91-93, it's a good enough fastball, a good college fastball. He pitches with it in four locations. He locates it good most of the time … Quinn throws fastballs, that's his pitch, his best pitch even though the curveball's pretty good."
Blake Quinn heads the Fullerton staff this year. (Shotgun Spratling)
The Titans like to give opponents different looks later in the game, so they might follow Quinn with breaking ball specialist Scott Serigstad (a juco transfer with a 0.00 ERA and 20 strikeouts in 18.1 innings). When Serigstad arrived at Fullerton, his fastball was a complete afterthought, a mid-80s pitch that didn't fool anyone. He's gotten stronger in the weight room, and now he can touch 90-91 at times, giving him enough fastball to keep hitters honest. Then Fullerton can bring in a pair of flame-throwers at the back in Dylan Prohoroff (who sits 92-94 and has been up to 97, according to Vanderhook) and closer Chad Hockin (who pitches in the mid-90s and features a wipeout 83-85 slider).
Sophomore Connor Seabold and freshman Colton Eastman have done solid work as the No. 2 and No. 3 starters, and lefty John Gavin has been outstanding as the midweek starter. Eastman is a rising star, with uncommon polish and feel for his quality three-pitch mix. So if you were worried that the Titans would struggle on the mound without Thomas Eshelman and Justin Garza around, rest easy. Fullerton will always pitch at an elite level with pitching coach Jason Dietrich around.
Long Beach also relies heavily upon its pitching and defense, ranking 28th in the nation in ERA (2.85) and 10th in fielding (.981). This figures to be a very low-scoring series considering neither team is explosive on offense (the Dirtbags rank 215th in scoring, 4.6 runs per game), and both teams prevent runs at an elite level.

In Thursday's opener, Quinn will face off against one of the Big West's most accomplished aces, righthander Chris Mathewson (3-2, 3.30). Mathewson recovered quickly from ACL surgery last year, getting back in eight months, but then he tweaked his hamstring a week before opening day. Buckley said he has lost some mobility and strength in his post leg, which has hindered his fastball command some.
"So he's just had high volume of pitches, had trouble commanding the fastball, and at times controlling the fastball," Buckley said. "He's so talented that he's still going seven innings or six-plus. He's a top 91-92 guy. I thought he had a great fastball the other night against Columbia, but the gun didn't show that. So he will continue to get better. Is it a slam-dunk guy? Yeah, it is because he's talented."
Mathewson also flashes a very good curveball when he gets out in front of it properly, and occasionally shows an average changeup, but it's inconsistent. Buckley said he'll need to use that pitch more in conference play. Behind him, righthander Darren McCaughan (4-0, 1.62) has blossomed into a fantastic weekend starter as a sophomore, after working mostly in the bullpen a year ago. He's a bit like Seabold — not overpowering velocity, but he really knows how to pitch, and his 85-89 fastball has good sink. He also throws his slider for strikes and can get righties to chase it out of the zone, and he uses his changeup well.
"He's really not afraid," Buckley said. "It's not a big league arm, by any means, but he can pitch, he can get through the lineup three times. He has a little more margin for error this year than last year."
Sunday starter Tanner Brown (3-1, 3.23) has been the biggest surprise, routinely giving the Dirtbags five to seven solid innings. He's a slinger who can cut and sink the ball, and he's tough to square up when he locates down in the zone.
Like Fullerton, Long Beach's bullpen has been a strength, too. With Ty Provencher sidelined for some of the fall and early spring with a partial tear in his elbow, undersized freshman righty Chris Rivera (3.72 ERA, 8 saves) has emerged as the closer. He's another fearless competitor who can throw three pitches for strikes and has good movement. The Dirtbags don't have any fireballers in their bullpen like the Titans do, but they have a quartet they trust in tight spots. Low three-quarters slinger Provencher (0.00 ERA in 7.1 IP) is an accomplished sinker/slider guy who figures to share closing duties with Rivera going forward. Stocky righty Josh Advocate (0.79 ERA in 11.1 IP) works at 88-90 and has a big, sharp curveball that can be an out pitch. And righty Austin McGeorge (0.55 ERA, 16.1 IP) also sits in the 88-90 range but relies heavily upon a good, hard slider in the low 80s.
Offensively, the Dirtbags are still waiting for some of their key veterans to find their stride (like the Titans), as Luke Rasmussen, Brock Lundquist and Garrett Nelson have gotten off to slow starts, though Rasmussen and Nelson have flashed some power. But the Dirtbags are built around perhaps the best all-around player in the Big West: junior shortstop Garrett Hampson (.390/.489/.455), who has taken a big step forward offensively to complement his stellar defense.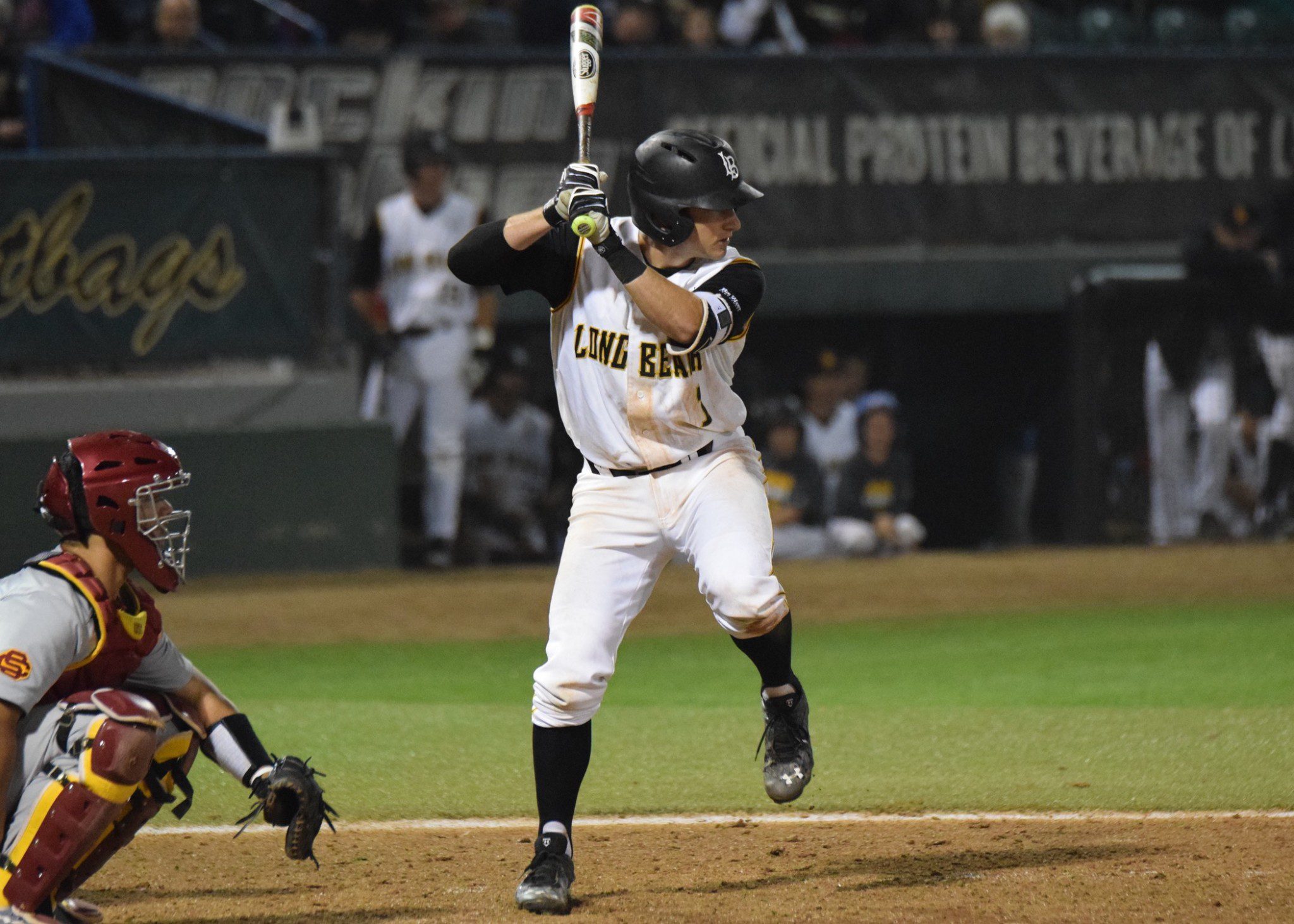 Long Beach State shortstop Garrett Hampson (Aaron Fitt)
"He's been unbelievable, shown a lot of leadership, motivating, support, a lot of those things that we've been working hard to try to bring out. He's really kind of our guy, I don't think there's any question," Buckley said. "He's been fantastic defensively … And his walks are up, strikeouts are down, simplicity, he's just gotten less busy at the plate, not a lot going on. He's way more direct. He's gonna go pretty good (in the draft). Not because he's gonna be a franchise player, but you catch it and put the ball in play, and you can run and have makeup, there's so little risk there. He's not going to wow you with everything, but one hell of a baseball player."
Hampson makes the offense go out of the leadoff spot, and freshman second baseman Jarren Duran (.282/.393/.388) has been a perfect fit in the No. 2 hole. The lefthanded hitter is an accomplished bunter who can really run and wreak havoc on the basepaths, and he looks like a huge part of Long Beach's future, as well as its present. But his availability for this weekend is in question after he tweaked his back sliding into a base Sunday against Columbia.
Long Beach's other most productive hitter has been third baseman Zack Domingues (.388), a pesky out hiding lower in the lineup. Buckley said he's done a good job turning in quality at-bats consistently. Another emerging player is right fielder Alex Muzzi, a "non-descript type of guy who makes you feel really good when he comes to the plate." Muzzi has found himself hitting in the No. 3 hole lately, helping make up for the loss of physical first baseman Lucas Tancas to injury.
It's certainly not a flashy lineup; this team lives up to the Dirtbag moniker. That isn't to say Long Beach is devoid of talent, but it stands out more for its ability to execute small ball on offense and defend at a high level than for its offensive firepower, which is a bit lacking.
"We're not the most talented group, but I do like this team a lot," Buckley said. "They remind me a little bit of the '14 team, but the '14 team kinda figured it out a little bit later. This team's got a little more character to it at the beginning. We've got a lot to accomplish, and I know they certainly have high aspirations as well. But it has been fun. A little nerve-wracking too, of course, but fun."
Rogers: Texas-sized Sun Belt Showdown
Texas State has looked at 2016 as somewhat of a redemption campaign.

The Bobcats have a proud history under the tutelage of head coach Ty Harrington. However, they were forced into an unlucky situation last season, as Coach Harrington had a bout with cancer off the field, while on the field, the team just couldn't find a way to get into a consistent groove. The result? The Bobcats finished the season with a 24-32 overall record and failed to meet their own expectations.
It's a new year and a look for Harrington's club. They possess a trio of seniors in the weekend rotation, they've got a real spark plug in the lineup in freshman second baseman Jonathan Ortega, and veteran slugger Granger Studdard is providing the expected and needed production in the middle of the lineup. In other words, all systems are a go to compete for the Sun Belt crown at 6-0 in league play, 15-6 overall and with Sun Belt foe South Alabama, also 6-0, coming to town this weekend for a huge series.
"The theme for this bunch so far is that we've had a chance to win every game we've played expect for maybe one and it has been a lot of fun with a strong mix of seniors and freshmen," Harrington said. "We've got some youthfulness in the lineup and we've got some older guys in the starting rotation. It's just a really fun group to be around and it's some high energy. When they have that, and they feel good, there's some great engagement into the game."
Lucas Humpal is having a quality season for the Bobcats. (Texas State)
One could point to a variety of factors as to why the Bobcats have made significant strides thus far. Some would say that having Harrington back and healthy on a full-time basis exudes confidence and provides relief for the players, allowing them to experience more success. Meanwhile, the root cause is the maturation of the offensive lineup. Last season, the Bobcats finished the year with a .257 bating average and struggled to be consistent. They are hitting .309 so far this spring and have a terrific one-two punch in Ortega and Studdard, while Luke Sherley (.3000/.364/.367) and Tanner Hill (.300/.370/.563, five homers) also have made strides.
"I think we have some better hitters involved right now, and I think Steven Trout (first-year assistant) did a good job of engaging these kids," Harrington said. "He's running the offense and he has connected with them really well. There's some creativeness out there right now, too.
"Jonathan is a great, instinctive player and he's high energy. He just really loves to compete out there," he continued. "Granger has been what he has been throughout his career for us, while Sherley has been a bright spot. He played shortstop as a freshman last season and he's been a rather offensive player this year."
The Bobcats also have one more luxury with this team – three seniors in the weekend rotation. That doesn't occur often, but it's reality for this club. Righthander Lucas Humpal has always had a premium arm, and he's finally putting all the pieces together with an 1.85 ERA in 39 innings, along with 31 strikeouts and six walks. Humpal will sit anywhere from 90-92 with his fastball, and has gotten higher than that in the past. He also has improved his fastball command, while the changeup continues to be a go-to offering. Meanwhile, fellow righty Jeremy Hallonquist has impressive numbers with an 0.60 ERA in 30 innings, while he will sit mid-to-upper 80s with a sinking fastball, with improved secondary command a big key to his ascension. There's also Cory Geisler, who works his way back to the weekend rotation after dealing with some bumps and bruises the past few weeks. Geisler is another upper-80s, consistent, arm for the Bobcats.
"Lucas is just reengaged in his career again, he's showing what it's like sometimes to be a senior and just having so much value as a senior in the system. He's done a great job and has been very professional in his approach. His ability to locate his fastball has been critical, along with the development of his changeup" he said. "Jeremy has been hurt throughout his whole career here, but is healthy and looking good with his secondary command, while Cory is finally healthy and he gives us a lot of experience on the back end of the rotation."
With experience and youthful exuberance around the diamond, the prognosis on Texas State looks promising the rest of the spring. However, after last season and the trials and tribulations this program had to deal with, they are taking nothing for granted.
"It's been fun, the thing for me, is just having an opportunity to be around the guys. It's allowed me to be the kind of coach I want to be," Harrington said. "They've got a good idea of what they want to become, and though I don't bounce back after games the way they used to, they sure do inspire me, and they allow me to get up and be ready for the next one."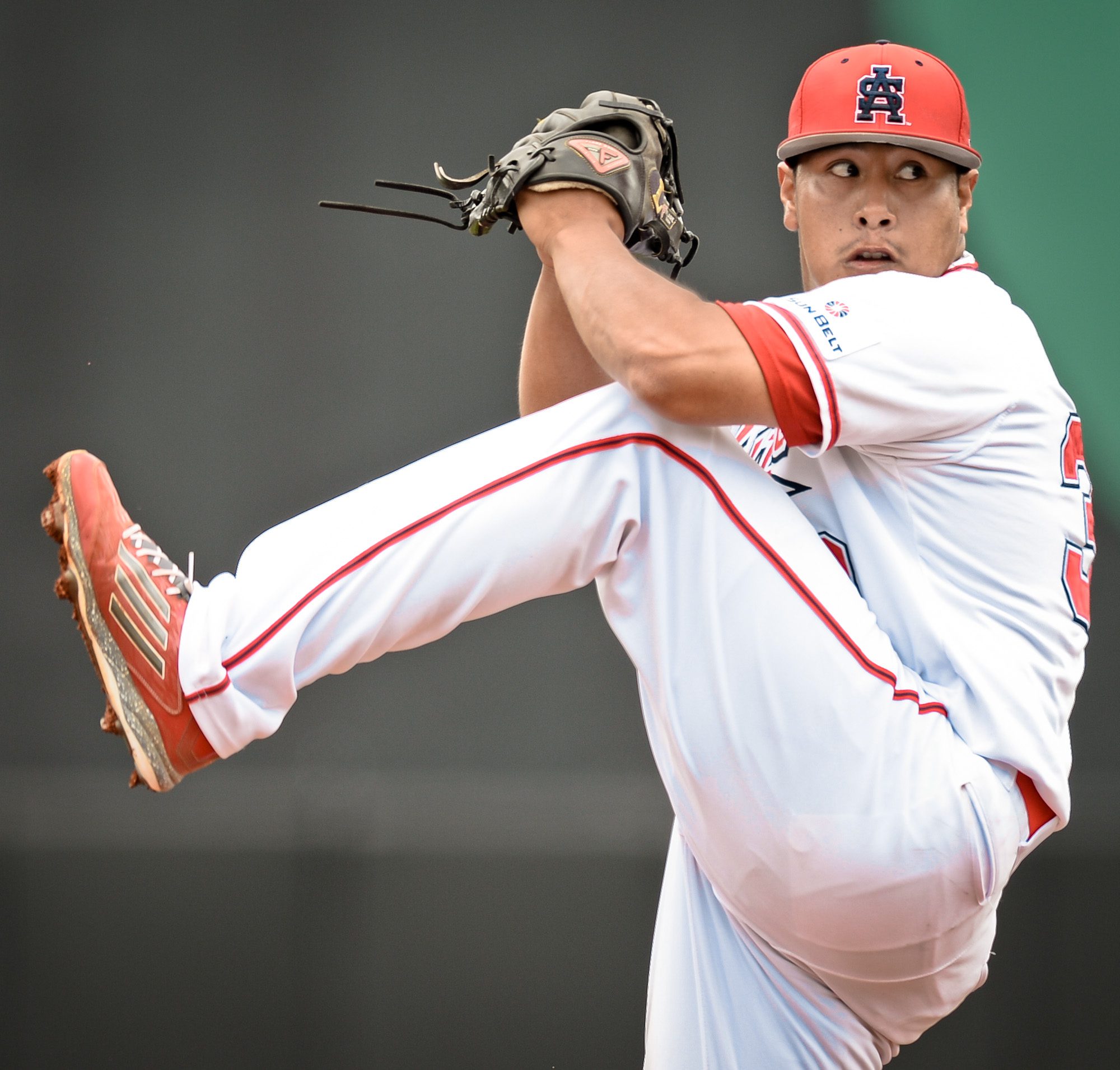 South Alabama ace Kevin Hill is doing his usual things this spring. (South Alabama)
Speaking of teams on a mission, how about South Alabama? Mark Calvi's club put together quite an impressive 2015 campaign, finishing with a 37-20 overall record, 19-9 mark in the Sun Belt. However, when the dust settled on Selection Monday, the Jaguars, who didn't win the conference tournament, were left out of the field of 64. Needless to say, Calvi was infuriated, and that snub has served as a source of motivation for this club so far this season.
The Jaguars don't have the most impressive splits across the board. For instance, they are hitting just .264 as a club and have just one everyday hitter – Drew LaBounty – hitting over .300. But as Calvi will reiterate, don't let the stats fool you. While it's true the batting averages aren't overly impressive, the Jags' power numbers are up with 13 homers already as compared to 12 last season, while conventional wisdom suggests Jared Barnes and Cole Billingsley, who are each hitting under .265, will get rolling sooner rather than later, while even Danny Martinez, who's hitting just .284, leads the team with 22 RBIs. There's plenty of potential with this unit.
"We've played a pretty good schedule and we've got a good RPI. We're getting good timely hits, but if you look at our numbers, I feel like we have a much better offense than the numbers indicate," Calvi said. "We've played good defense and pitched it pretty well, and though we're off to a slower start than expected offensively, our guys play hard and understand the game.
"We just try to manufacture some runs," he continued. "We're striking out a little too much, but the big difference from last season is that we're starting three freshmen in the lineup. We've got some new guys in there, but overall, I'm pleased with where we're at."
On the mound, righthander Kevin Hill continues to lead the charge with a 2.17 ERA in 37.1 innings, along with 47 strikeouts and just eight walks, while the rest of the weekend rotation hopes to soon follow suit. They've each had their strong moments, but also have had iffy outings, the duo including righthanders Randy Bell (4.91) and Hunter Soleymani (4.15). Meanwhile, the Jags hope to get Austin Bembnowski back to his usual velocity soon. He's coming back from an ankle sprain and his velocity hasn't been thus far what it was last season.
"I brought Randy out of the pen to start the year and he was just OK, he just had a couple of bad innings that got his ERA down. He's a guy that will sit in the upper-80s and touch some 90s, along with a good curveball and changeup," he said. "Kevin is doing his usual thing, though this is a strange weekend that we've had to shake up our weekend rotation."
Overall, it will be intriguing to see what the Bobcats and Jaguars bring to the table this weekend. Louisiana-Lafayette was the clear-cut favorite to win the Sun Belt crown coming into the season, but has since fallen into waves of inconsistency and is coming off a home series loss to Little Rock. Suddenly, the Sun Belt regular season title race appears to be up for grabs entering Week Three.
"I really like this team, they are very, very competitive and we've got pretty good team chemistry," he said. "I don't think we've played our best baseball just yet and we haven't put together our best games. This team is stronger than last year's club, that's for sure. Look at times out there that are successful, and 20-25 percent of their hits are for extra bases. I think if we can stay on that path, we're in good shape."
Top 25 In Action
No. 1 Florida at Kentucky
No. 10 LSU at No. 2 Texas A&M
No. 3 Oregon State at No. 17 California
Georgia Tech at No. 4 North Carolina
No. 5 Vanderbilt at Missouri
No. 6 TCU at Texas
No. 12 Clemson at No. 7 Miami
No. 14 South Carolina at No. 8 Ole Miss
No. 16 Virginia at No. 9 Louisville
No. 13 NC State at No. 11 Florida State
Georgia at No. 15 Mississippi State
No. 18 UCLA at Arizona
Jacksonville at No. 19 East Carolina
Auburn at No. 20 Arkansas
No. 21 Long Beach State at Cal State Fullerton
No. 22 Oklahoma State at Kansas State
Minnesota at No. 23 Missouri State
UAB at No. 24 Florida Atlantic
George Washington at No. 25 Houston
Join the Discussion