Minnesota Takes Marquee Showdown In VikingLand
At The Ballpark
MINNEAPOLIS — Heady praise? Back-patting? A simple attaboy?
Minnesota head coach John Anderson was having none of it. After his Gophers rode the coattails of their All-American pitcher Max Meyer and a punch-and-Judy offense to pull off a 4-1 win over North Carolina, he didn't want to hear how much this win could mean in the month of May.
"It's way too early to think about those things right now," Anderson said after I suggested this could be a huge win when it comes time to get the at-large bids to the NCAAs in line. "It's a long season and we have a lot of things to work on and a lot of wins to get between now and then."
Either way, whether he wants to admit it or not, this IS yet another solid W that the Gophers can hang their hats on in nonconference play. Coupled with wins over Oregon, Arizona and TCU, the Gophers have a handful of what could be RPI-friendly Ws. And if coach is reading this right now, I'm sure he's cringing just a little. That's not what coaches want to think about in February. Too much ball to play.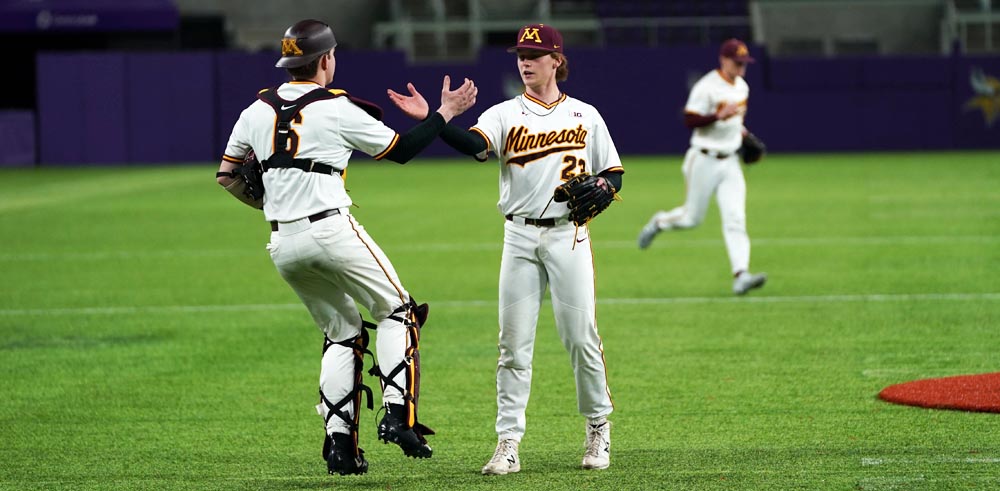 Max Meyer gets the plaudits for a complete-game, 14-K effort vs. UNC.
All things considered, this third game between the Gophers and the Tar Heels was the marquee game of this weekend here at the Cambria College Classic and Minnesota ace Max Meyer was acting like this was his 1,000th show under the big lights of Broadway. It has become old hat for him. The junior righty cooly struck out 14 Tar Heel batters, while giving up just five hits and only a single base-on-balls. He did it all on 112 pitches. …
--- Already a subscriber? Log In
.
Join the Discussion