| | | | | | | | | | | | | | | | | | | |
| --- | --- | --- | --- | --- | --- | --- | --- | --- | --- | --- | --- | --- | --- | --- | --- | --- | --- | --- |
| Year | Team | W | L | ERA | APP | GS | CG | SHO | SV | IP | H | R | ER | BB | SO | WP | HP | OBA |
| 2020 | | 1 | 3 | 4.50 | 5 | 4 | 1 | 1 | 1 | 24.0 | 26 | 13 | 12 | 4 | 9 | 0 | 2 | .271 |
| 2021 | | 3 | 3 | 5.07 | 16 | 16 | 0 | 0 | 0 | 65.2 | 67 | 39 | 37 | 22 | 69 | 3 | 8 | .268 |
| 2022 | SALA | 6 | 5 | 4.82 | 15 | 15 | 1 | 0 | 0 | 84.0 | 79 | 46 | 45 | 19 | 92 | 2 | 11 | .245 |
Player Wire
Fall Report: South Alabama
South Alabama was one game away from a super a year ago. Now, with the return of Jeremy Lee and others, the Jags aim for the next step.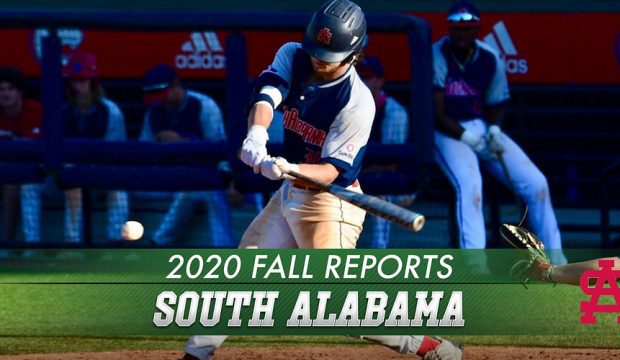 Fall Report: South Alabama
Potential first-round slugger Ethan Wilson leads a balanced, dangerous lineup for South Alabama, which has designs on Sun Belt supremacy.