Year In Review: Top Stories Of 2016
Analysis
• Want more D1Baseball.com coverage? Subscribe Today

Our look back at 2016 in college baseball included the top 10 postseason stories, the top 10 draft stories, the 10 quirkiest stories, and our staff picks. Today, we wrap it all up with a look at the year's 10 biggest college baseball stories overall.
MORE YIR: Postseason moments | MLB draft | Quirkiest stories
---
Aaron Fitt's Five
1. Coastal's journey for the ages
Mark Etheridge recapped Coastal's postseason run earlier this week, but it was the biggest story of 2016, so let's touch on it again. I felt like I had a front-row seat for Coastal Carolina's magical ride, because I watched the Chanticleers grow from fall ball to opening weekend to the super regionals to Omaha. The players were on a mission to get long-time coach Gary Gilmore to the CWS for the first time, and when they won the Baton Rouge Super Regional in walk-off fashion, it was one of those very special, cathartic moments. It turned out, that was not the end of the ride — it was just another beginning for the Chants, who captivated the college baseball world with their harrowing run through the losers' bracket in Omaha.
2. Augie Garrido's storied career comes to an end
The winningest coach in college baseball history left the dugout behind at the end of the 2016 season. Texas asked living legend Augie Garrido to accept a new assignment as special assistant in the athletics department after the Longhorns missed regionals for the third time in five seasons. Garrido graciously accepted, ending his Texas coaching tenure on good terms.
The writing had been on the wall for a while, so nobody was surprised when Garrido was forced out as head coach, but it was still a monumental story. As I wrote in June, when you look back at Garrido's storied career, the tale of the tape is astounding. In his 48-year coaching tenure, he led teams at Cal State Fullerton, Illinois and Texas to 15 College World Series, 33 regionals, 25 conference championships and 16 regional titles. He won national championships at Fullerton in 1979, 1984 and 1995. He won national championships at Texas in 2002 and 2005. He started the Fullerton program from scratch and almost instantly turned it into a national superpower. And he restored Texas to glory during his 20 years in Austin.
3. Upstarts make noise in the West
Jay Johnson has headed a remarkable one-year turnaround at Arizona. (Shotgun Spratling)
For much of the spring, a prominent narrative in college baseball centered around it being a down year for the West — and it was. It was still surprising that no team in the West hosted a regional, even though Arizona was the only one with a viable hosting resume. It's hard to deny that there was a lot of mediocrity in the West, but while some of the region's established powers struggled, some unexpected upstarts took college baseball by storm.
Arizona was picked to finish ninth in the 11-team Pac-12 Conference by the league's coaches in the preseason, and we picked the Wildcats to finish 10th. After all, Arizona finished just 12-18 in 2015, and that was with college baseball's best middle infield (Kevin Newman and Scott Kingery, both of whom headed to pro ball after the season). But Jay Johnson worked wonders in his first season as Arizona's head coach, getting veterans like Cody Ramer, Ryan Aguilar and Zach Gibbons to believe in themselves and put together career years. The Wildcats made it all the way to the CWS Finals, where they fell one ninth-inning base hit short of a walk-off win in the decisive third game.

Utah was picked to finish dead-last in the preseason coaches poll, but instead the Utes won the Pac-12 for the first time. They got off to a brutal 3-11 start to the season, and most everybody wrote them off. The Utes never did climb back above .500 overall, finishing 26-29, but they went 19-11 in the Pac to win it by two games. That earned them the No. 4 seed on the Oxford Regional, where they made one more statement by knocking off host Ole Miss in front of 10,000-plus fans in their regional opener.
And then there's UC Santa Barbara, the plucky Big West club that lost seven everyday starters, its top two weekend starters and top two relievers from the club that hosted a regional in 2015. Expectations were very modest for the Gauchos after that exodus, but a strong showing in nonconference play helped them build one of the best RPI rankings in the West, and got them into a regional even after they lost three of their final four Big West series to finish in third place. After winning a regional at Vanderbilt, the Gauchos stunned the college baseball world by sweeping a super regional at Louisville — one of the most talented teams of the last decade, and a club that had been 36-1 at home before the series. But Sam Cohen's walk-off grand slam to beat Louisville wasn't the final highlight for the Gauchos, which also eliminated perennial power Miami to earn their first CWS win in their first trip.
4. Upstarts surge in ACC, too
Boston College ace Justin Dunn (Aaron Fitt)
A year after winning its first national championship since 1955, the Atlantic Coast Conference had one of its best regular seasons ever, sending 10 teams to regionals for the first time. Louisville and Miami lived up to their preseason top-10 billings by running away with their respective divisions and reaching the 50-win plateau. Florida State and Virginia also turned in characteristically strong seasons, and each hosted a regional. But the big story in the ACC last year was the performance of teams that are not traditional powers.

Under the leadership of head coach Chris Pollard, Duke made regionals for the first time since 1961, ending one of the more notorious droughts for a major-conference program. Wake Forest, led by D1Baseball Player of the Year Will Craig, ended a much shorter but still significant drought, earning a regional bid for the first time since 2007. And Boston College not only made its first regional since 2009, it also won that regional — which was hosted by SEC power Ole Miss and also included a strong Tulane club and Pac-12 champion Utah. First-round pick Justin Dunn set the tone in that regional opener, and BC took care of business in its next two games to reach its first super regional.
5. Honoring World-Herald scribe Steve Pivovar
The TD Ameritrade Park grounds crew paid tribute to Omaha World-Herald writer Steve Pivovar this year (Eric Sorenson)
This one was personal for us at D1Baseball, because we counted Steve Pivovar as a good friend. But his passing in August touched a great many people, not just those of us who knew him. Over the course of 45 years at the Omaha World-Herald, Pivovar became the unofficial historian of the College World Series. He covered approximately 1,700 games at Rosenblatt Stadium as the paper's Omaha Royals beat writer and lead CWS writer.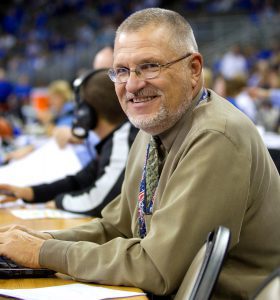 Steve Pivovar was a true professional and a great friend (Kent Sievers/The World-Herald)
He was the driving force behind the World-Herald's outstanding book, "Rosenblatt Stadium, Omaha's Diamond on the Hill." For decades, visitors to Omaha for the College World Series would wake up in the morning and read Pivovar's latest story in the newspaper at their hotel. He was a veritable institution, and when kidney cancer kept him from covering the 2016 CWS (just a few games shy of his 500th consecutive CWS game), the grounds crew etched "PIV" into the dirt to honor him, and the press box gave him a standing ovation when he was honored between innings.
Piv was one of my heroes, in addition to being a good friend. I'll miss him greatly, and so will college baseball.
---
Kendall Rogers' Five
1. The Donny Everett Tragedy
Donny Everett/Vanderbilt Column
Most years, the top stories of the college baseball season center around positive happenings and those stories that grab our attention and warm our hearts. But unfortunately, the 2016 season also will always be remembered by the tragic loss of standout Vanderbilt freshman righthander Donny Everett.
As Vanderbilt was preparing for Friday's Nashville Regional opener against Xavier, a few teammates went to a nearby lake for some down time before the always rigorous postseason. Everett was one of those guys. Late in the afternoon on Thursday, June 2nd, Everett was playing around with some friends when he drowned in a lake in Coffee County, Tenn.
I'll remember the following morning for quite some time. A couple of text messages came through asking me about it. I didn't know anything, and I certainly didn't want to reach out to anyone at Vanderbilt about it in such short order. But I put the emotions aside and the professional in me kicked in and I finally did reach out. The news about Everett was true. I was crushed. We were all crushed.
Donny Everett was primed to have a great career for the Commodores. (VU photo)
Vanderbilt went on to struggle mightily that weekend in Nashville, but honestly, I'm not sure there's a single person on that team that cared about the Road to Omaha at that point. How could they? They had just lost one of their brothers way too soon.
The way Vanderbilt coach Tim Corbin handled that entire ordeal was impressive. I'm not sure I could do it on an individual level, much less trying to be a father figure for an entire baseball team.
It's important for the college baseball community to remember Donny Everett. He was on a path that so many players strive for. He was a big 6-foot-2, 230-pounder, who had a fastball that certainly would've made scouts drool his sophomore and junior campaigns.
He'll be missed.
2. The Big 12 Rises Again
It was a tough year for most of the Big 12 Conference. Texas entered the season with high expectations, but went 25-32 overall and parted ways with legendary head coach Augie Garrido as a result. And the league's postseason success hinged on just three teams — TCU, Texas Tech and Oklahoma State.
All three played at an extremely high level the month of June.
TCU won the Fort Worth Regional before heading to College Station and knocking off heavily favored Texas A&M again, Texas Tech won the Lubbock Regional before hosting East Carolina and actually winning the series after losing the first game and trailing late in Game Two. Then, Oklahoma State won the Clemson Regional in impressive fashion before traveling just up the road in the Palmetto State and disposing of South Carolina.
TCU had yet another magical postseason. (Kendall Rogers)
While none of those teams played for the national title once in Omaha, the statement had already been made for a league that most folks discounted heading into the NCAA tournament.
3. First-year Coaches Make Big Statements
You fully expect new coaches to turn the tide of the program at some point in their tenures. Administrators just hope it's sooner rather than later. While some first-year coaches went through their fair share of growing paints, others took their programs to new heights in their first seasons.
No pair of coaches accomplished that goal quite like Arizona's Jay Johnson and Clemson's Monte Lee. Johnson did a terrific job during his time at Nevada and made a smooth and impactful transition to Tucson, Ariz., where as Aaron documented above, the Wildcats stormed to the CWS Championship Series. Meanwhile, Lee had a strong tenure at College of Charleston and parlayed that into a magical first year with the Tigers, going 44-20 overall and finishing the regular season and conference tournament strong enough to earn a top eight national seed.
Monte Lee and Clemson worked their magic in 2016. (CU photo)
Sure, the Wildcats fell just short of a national title and the Tigers fell just short of a super regional appearance, but both campaigns were magical.
There's also New Orleans head man Blake Dean. The former LSU standout had a tough chore with the Privateers after they went 14-40 last season. However, he guided them to a miraculous turnaround with a 31-26 record this past season.
Which first-year coaches will make those same type of statements in 2017? We'll soon find out.
4. Coaching Carousel Goes Wild
We've had this discussion a few times over the past year, but as salaries continue to increase for head coaches and some assistants in college baseball, administrators want to see a higher rate of return on their investment.
Though some of the coaching changes in 2016 were because of retirement and other personal reasons, it's striking how different the offseason was from 2015. For instance, there were 19 head coaching changes two summers ago. But this year, the list totaled 32 and many of those openings were from power conferences, with four new coaches coming to the vaunted Southeastern Conference — Kentucky's Nick Mingione, Mississippi State's Andy Cannizaro, Missouri's Steve Bieser and Alabama's Greg Goff.
Andy Cannizaro hopes to work his magic at Mississippi State. (MSU photo)
All four of those coaches have a tough road ahead in the SEC, but all have major pluses. Mingione was a ball of energy during his time at MSU, Cannizaro was one of the nation's top hitting coaches in his two seasons at LSU, Bieser worked wonders at Southeast Missouri State and Goff had one of the more impressive turnarounds I can remember during his short stint at Louisiana Tech.
There were plenty of noteworthy hires during the past few months. For instance, we thought Florida International hit the ball out of the park so to speak with the addition of Mervyl Melendez. Melendez did a terrific job in previous stops at Bethune-Cookman and Alabama State and is a natural, proven fit for the Panthers.
Texas and Tulane also were on the prowl this offseason with the Longhorns nabbing Lone Star State product David Pierce from the Big Easy, while the Green Wave responded by hiring one of the more heralded assistants in the country in Vanderbilt's Travis Jewett. Seeing how both fare in 2017 will be fascinating considering both coaches inherit some serious talent. The Longhorns should have one of the better pitching staffs in the country, while the Green Wave welcomes some quality arms along with some key returning position players.
Other hires that particularly stood out to me include UCF's Greg Lovelady, San Jose State's Jason Hawkins, Purdue's Mark Wasikowski, Army's Jim Foster, Liberty's Scott Jackson and Louisiana Tech's Lane Burroughs.
You can see a full list of the crazy coaching carousel moves.
5. Charleston Southern's Singleton Serves As Inspiration
We all should be a little more like Charleston Southern outfielder Chris Singleton.
Singleton has experienced the worst of humanity, but he didn't let him hold it down. For me, I'd rather not even mention the guy's name. But a summer ago, a troubled young man walked into a church in Charleston, South Carolina, on a mission. His mission? To incite some racial violence and essentially kick-start a racial war not only in Charleston, but across the country. Therefore, he shot and killed nine completely innocent people who were just trying to get through a bible study while welcoming this animal to the group.
One of those welcoming souls was Chris' mom, Sharonda Coleman-Singleton.
I'll be honest, I wouldn't be forgiving, at least not initially, in that situation. But, I'm not as kind-hearted as Singleton. While there was plenty of sincere anger, and rightfully so, across the country, the Charleston Southern outfielder was always trying to bring things into perspective. He didn't want violence. His mom Sharonda would've loved her killer like any other person. Like family. So, Chris spoke out against racism and admitted, without hesitation, that he forgave his mom's killer.
What a young man he is.
This man lost his mother last night in #CharlestonShooting. Unbelievable poise and strength shown by Chris Singleton. pic.twitter.com/9m9Bv5Sm9o

— Daren Stoltzfus (@DarenStoltzfus) June 19, 2015
While Singleton made a name for himself by handling that situation with such grace and maturity, he spent the spring producing at a high level in honor of his mother. Singleton, a 6-foot-1, 180-pounder, had a terrific season, hitting an impressive .332 with eight stolen bases, 12 doubles, four homers and 34 RBIs.
This world could use a lot more Chris Singletons these days.
Join the Discussion