Brainstorming Potential MLB Draft Solutions; Let's Talk About Fall Games That Count
Columns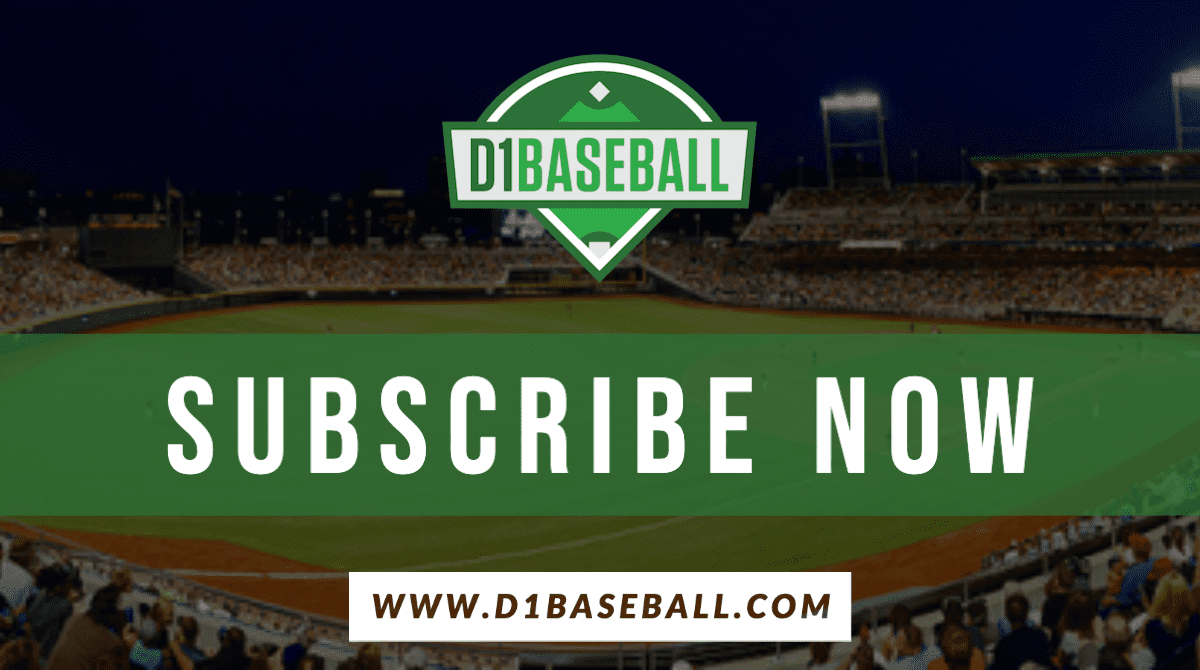 ---
The Athletic's Ken Rosenthal reported Monday that Major League Baseball is temporarily prohibiting all scouting activity — no tryouts, public or private; no attending amateur games, showcases or workouts; no in-home or in-person visits; not even any scouting remotely.
What impact will that scouting prohibition have on the timing of the draft? We see four possibilities regarding draft scheduling; let's examine them:
1. Leave the draft scheduled for June, but make it a remote affair. Obviously MLB's plan for a big live draft event in Omaha have been dashed, but MLB could still choose to hold the draft in June via teleconference, like in the days before the telecast. Instead of gathering in a physical war room, scouting staffs could make their decisions using virtual war rooms.
Under this scenario, all picks would be based upon just four weeks of Division I spring competition, a couple additional weeks of juco competition, plus practices and scrimmages in the fall and the preseason, plus 2019 summer ball competition and any early follow reports that scouts might have filed on underclassmen last spring. That's in addition to the 2019 summer and fall showcase circuit for high school players, plus maybe a couple of looks early this spring. It's certainly an incomplete body of work to base major decisions on, but it's something.
2. Push the draft back to August. If the coronavirus pandemic is under control by June — which is starting to seem less and less likely — MLB could hope that wood-bat summer leagues hold their seasons as scheduled. If juniors and seniors got to play in the Cape Cod League, the Northwoods and other summer leagues, MLB scouts could at least get more chances to evaluate players before a potential draft in August. Yes, that timing could be difficult for college coaches trying to get a handle on their rosters, but these are unprecedented times, and everyone is going to have to deal with some inconvenience. Perhaps an early to mid-August draft date would make sense in this scenario, so that most drafted players would be able to sign pro contracts before the start of fall classes.
Some top arms would likely choose to sit out summer ball out of precaution, particularly the top-end guys who have already proven themselves against top competition like Reid Detmers, Asa Lacy and Emerson Hancock. Those guys have no reason to ramp back up in June just to make a few summer starts before an August draft. But plenty of other players need chances to prove themselves and improve their stock, and they would likely jump at the chance to get in a season of summer ball.
But given the latest information from the Centers for Disease Control and Prevention, I'm not feeling optimistic that we'll have any summer ball in 2020.
3. Cancel the 2020 draft. I think this is the least plausible scenario. Even if there are no more amateur games this spring or summer, 21-year-old premium prospects are still ready to go out and sign pro contracts. Given how much MLB clubs value talent procurement, it's very difficult to imagine them agreeing to cancel the draft and let those 21-year-olds sit around for another year getting older. Better to have a draft based on incomplete scouting evaluation periods than no draft at all.
4. Push the draft back to late fall. This is the most radical proposal, and it would take the most creativity. But right now, we've got nothing but time, so let's take some time to kick around a big, outside-the-box idea.
The NCAA has already indicated it wants to provide some eligibility relief for athletes in spring sports, even if only granting seniors another year of eligibility. Many coaches are concerned about the effect of cramming five classes into four, but they still want to allow seniors to finish their careers properly. So one interesting idea has been circulating in the coaching community. Wofford coach Todd Interdonato crafted this proposal:
Resume the 2020 season on Aug. 28 and play the remaining 10 weeks as scheduled. Conference tournaments could take place in early November, followed by regionals and super regionals at warm-weather sites, perhaps spring training facilities in Florida and Arizona. Then play the College World Series in a warm-weather (or domed) major league park.
Fifth-year players would only have to return for one semester (and receive scholarship money for just one additional semester). Teams would use the same 35-man rosters they submitted in February; fall newcomers would be allowed to practice and train with the team but would not be allowed to participate in fall games. One option would be to allow a newcomer to fill any spot vacated by a fifth-year senior who chooses not to return, although that could lead to some complications.
Then, the draft would take place in late November, giving scouts an entire fall of real, meaningful competition to evaluate players. Drafted players would report to their new organizations after the conclusion of the fall semester.
Certainly there would be plenty of logistical issues to figure out, involving scheduling and staffing. MLB, the NCAA and individual schools would all have to work together to make all the pieces fit together. And if the NCAA takes that route for baseball, would it then be obligated to do something similar for all spring sports? Would schools have the capacity to essentially run a spring season and a fall season concurrently? This seems rather unlikely. But I think it's worth discussing seriously.
"It's not perfect but it's better than what we are about to enter with 2021-2025 if we proceed with it this way," Interdonato said, alluding to the potential trickle-down effect of eligibility relief. "There are holes in it but the issues raised in this scenario are short term, less expensive, and have us back to zero by the time we start the 2021 season. Which goes as normally scheduled."
Viewed that way, this fall proposal might actually be the best way to transition back to normalcy in 2021 — for schools as well as for major league teams. It's a big idea, but these dramatic times call for big thinking.
So let's discuss it. Got any other big ideas? Send them our way, and let's discuss those too. This crisis gives us a rare opportunity to step back and do some serious brainstorming. Let's make the most of it.
Join the Discussion